Top Iditarod contender says he's done mushing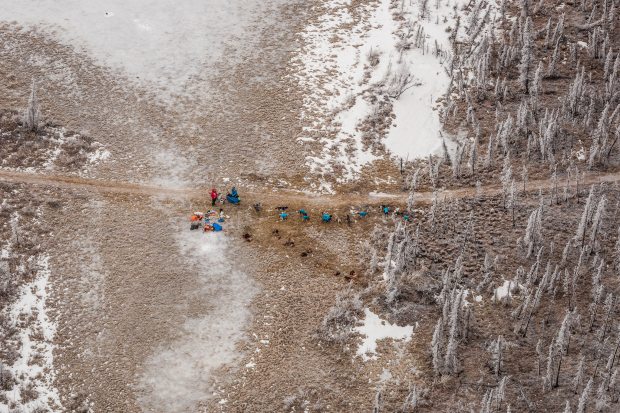 Perennial Iditarod contender Jake Berkowitz says when it comes to mushing he's done — at least for now.
In a Facebook post Tuesday, the Big Lake musher announced he had sold his dog team to two mushers outside of Alaska. His racing team is going to Jason Campeau of Calgary, Alberta, who is planning to race the 2015 Iditarod. His yearling team will go to Ed Stielstra of Nature's Kennel in McMillan, Mich.
Berkowitz said both offers came to him before he advertised he was selling the kennel. Last month, Campeau won the Tug Bar 150 in Knik by three hours with a team leased from Berkowitz. Speaking Tuesday during a vacation in Minnesota, Berkowitz admitted the decision was bittersweet, but he was excited for the future.
"There are other opportunities," he said. "We want to do other things beyond dog mushing."
Success and setbacks
In recent years, Berkowitz made a mark on sled dog racing. He won a handful of mid-distance races, including the Knik 200 in 2012 and the 2011 Copper Basin 300. He also made serious gains in long-distance races over the past six years.
In 2012, Berkowitz was the Yukon Quest International Sled Dog Race rookie of the year, finishing fourth. A year later, he was fourth again. In five Iditarods, he went from finishing in 68th in 2008 to eighth in 2013. Going into this season, Berkowitz's strong team finished well in mid-distance races, placing as high as second in the Denali Doubles just weeks before the Iditarod.
But he's had his share of setbacks, too. In 2012, Berkowitz was in sixth place when he was withdrawn from the Iditarod after cutting his hand open on the trail between Kaltag and Unalakleet.
Then last May, a dog in Berkowitz's kennel attacked a 2-year-old girl left unattended in the dog lot. The dog, a 1-year-old husky named Wizard, was euthanized following the attack, but only after emotional hearings involving both families over the dog's fate.
Despite all that, Berkowitz had hoped to be competitive in 2014. Coming into the Iditarod, he hadn't dropped a single dog from any of the mid-distance events he raced this year, and he looked to be a serious contender. Despite some early missteps along the trail in this year's race — he lost his team navigating the Happy River Steps after his gangline snapped — he seemed to be staying competitive. That all changed on the trail between Rohn and Nikolai.
Berkowitz's sled disintegrated on the notoriously rough section of trail between the two checkpoints. Unable to continue, he deployed his SPOT tracker emergency beacon and was airlifted off the trail. Since then, Berkowitz has been considering his options. He said in his Facebook post Tuesday that the decision was "incredibly tough," but was in no way a "knee-jerk" reaction to events of the last year.
'Time to try something else'
Berkowitz said he's been gone from his family, including wife Robin and 8-month-old daughter Ruby, much of the year. When other options became available, he decided to pursue them. "I didn't want to be 50 or 60 years old and the only thing on my resume was dog mushing," he said.
Berkowitz wouldn't say what those next options are at this point, or whether he and his family would stay in Alaska. Robin has a job with the Alaska Department of Fish and Game this summer, but the future for the family after that remains to be seen. Still, Berkowitz said don't count him out. Maybe he'll make a comeback in a decade or so.
"I've done dog sledding for a third of my life," he said. "It's time to try something else. I want to experience different things. I've had an incredible career."
Contact Suzanna Caldwell at suzanna@alaskadispatch.com or on Google+
Related Links: