Competition Bureau to review First Air, Canadian North merger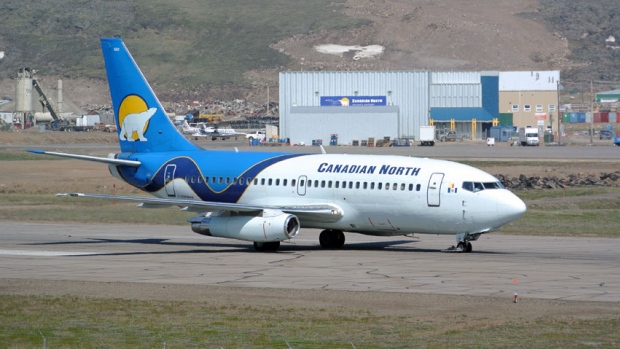 The federal Competition Bureau says it will undertake a review of the proposed merger between northern airlines First Air and Canadian North to determine whether it is likely to substantially lessen or prevent competition.
But even with that reassurance, northerners are wondering how a single airline could affect passenger and cargo rates, and ultimately, the cost of living in the North.
Peter McCart, Canadian North's vice-president of marketing and communications, has said the goal of the merger is "to take two very good airlines and really combine them into sort of a one plus one equals three scenario."
He says the new airline could see growth: first by taking on extra charter work, which would lead to adding additional aircraft, and eventually, more staff.
First Air's president and CEO, Brock Friesen, has echoed that statement.
"I don't believe there will be job loss," he told the CBC. "In fact, I believe there will be an increase in operating people. Yes, there will be some changes in the types of people we'll need, but we're not looking at wholesale job loss."
Arctic Co-ops forecasts 'efficiencies'
Duane Wilson, vice-president of merchandising and logistics with Arctic Co-operatives Ltd., says the merger could produce efficiencies that ultimately save his company money.
For example, he says a single airline could probably cut the weekly number of Ottawa to Iqaluit flights from 14 to 10 by consolidating its freight and passengers, instead of relying on combi jets that carry a combination of both.
"Anything that can help drive costs out of that system… is something that can help our member co-ops reduce the cost of freight," Wilson says.
Other observers see things differently.
Kenn Harper owned and operated Arctic Ventures in Iqaluit, the capital city of Canada's eastern Arctic territory of Nunavut,  for many years.
Harper says the two airlines have been in "a race to the bottom" with the big retailers, Arctic Co-operatives Ltd. and the North West Company, who are known to play the two airlines against each other when negotiating freight rates.
"If there were one strong company, it'd be interesting to see whether those two giant retailers can actually succeed at playing their game anymore, because there's nobody to shop their rate to."
He says a newly merged airline need not result in higher passenger fares or cargo fares, but could produce more fairness for smaller cargo customers.
Right now, he says those customers and passengers are paying more than they should to make up for the large discounts the big retailers can negotiate.
Harper says what could emerge is one strong airline.
"The alternative would be for one of them to go bankrupt, and then you have the same situation: you have one airline left."
Related Links:
Canada:  Canadian airlines ready to compete on northern route, CBC News
Finland:  Finnair descends into loss, Yle News
Greenland: Air Greenland nixes helicopter order , Eye on the Arctic
Iceland:  Porter Airlines signs deal with Icelandair, The Canadian Press
Sweden:Developing quieter supersonic airliners in Sweden's Arctic, Radio Sweden
United States:World's largest blimp headed for Alaska, Alaska Dispatch