U.S.-Russia tensions create worries for Arctic scientists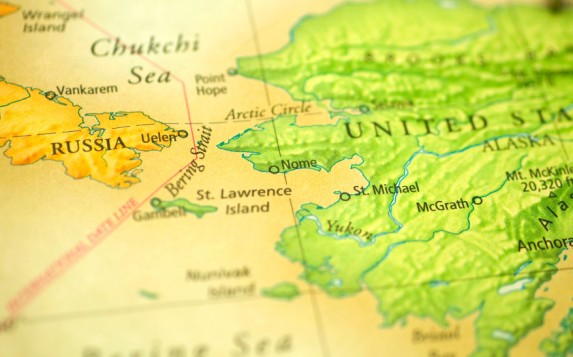 For a week in June, about 20 Russian emergency-management experts and scientists and their U.S. counterparts were planning to tour Alaska natural disaster landmarks, sharing information about lessons learned and risks avoided.
They were to have viewed areas of Seward where tsunamis swept in after the 1964 earthquake, toured part of Anchorage rebuilt after that massive quake, inspected the site where the trans-Alaska pipeline was shaken by the magnitude-7.9 Denali Fault earthquake of 2002 and examined other hazard spots before convening in Fairbanks to compare notes on wildfire and flood management.
Now the summit is off. The U.S. State Department pulled the funding, making the Alaska hazards-reduction workshop a casualty of the conflict over Ukraine.
"I'm very disappointed," said geologist and volcano expert John Eichelberger, graduate school dean at the University of Alaska Fairbanks and one of the workshop organizers. Russia and Alaska have similar natural hazards — like earthquakes, erupting volcanoes and spring floods on ice-jammed rivers — so "it's an ideal area for cooperation," he said.
The June event was one of several multinational Arctic projects that have been damaged — or are at risk of being damaged — by political tensions in Ukraine. The head of Russia's emergency services agency was a no-show at an international meeting last month at UAF that focused on emergency response, despite previous plans to attend.
"There wasn't any reason given," Eichelberger said. "It was obvious what was going on."
He worries about other cutbacks, possibly to federal funding that in the past has paid for Alaska students to travel to Russia in a "peer-to-peer" program. "It's incredibly disappointing to see this turn of events," he said.
Political winds chill more than science
Continuing important Arctic collaboration while properly responding to Russia's Ukraine activities appears to be a delicate balance, according to a statement emailed on Thursday from the State Department.
"Given Russia's ongoing violation of Ukraine's sovereignty and territorial integrity, the U.S. government has taken a number of actions, to include curtailing official government-to-government contacts and meetings with the Russian Federation on a case-by-case basis," the statement said. "The Administration is keenly aware of the value of maintaining scientific cooperation on collaborative research projects, especially in the Arctic, and will assess our interactions consistent with that awareness."
Fran Ulmer, chair of the U.S. Arctic Research Commission, acknowledged that researchers are worried about new impediments to their work. At an Anchorage energy conference last week, she said she remains hopeful that Arctic issues will be kept separate from wider conflicts, "but obviously, everyday decisions are being made in Moscow and Washington and other capitals that could set us back," she said.
One of those capitals is Ottawa. Canadian officials last month boycotted an Arctic Council working-group meeting in Moscow, a decision intended to show what that nation's environmental minister said is a "principled stand" against Russian actions.
The Ukraine crisis' effects in the Arctic extend beyond the scientific world. In Finland, a country partly dependent on Russian markets and investment, they have cast a pall. Economists at Denmark's Danske Bank in March downgraded forecasts for Finland, slashing the projected growth rate by half.
Nevertheless, some international Arctic activities are more buffered from U.S.-Russia conflicts, Eichelberger said. An example is the University of the Arctic, a consortium of 150 universities and research institutes for which he serves as academic vice president. UArctic gets much of its financial support from Scandinavia, so cutbacks from the U.S. government, if they occur, would have only muted effects, he said.
Just this spring, Eichelberger was in the Russian city of Archaengelsk on UArctic business, helping create an online course in natural-hazards management.
Eichelberger's ties to Russia go deeper than science and academia. He married a Russian volcanologist and lived for a year in Petropavlovsk-Kamchatski on Russia's volcanically active Kamchatka Peninsula. His wife, now a U.S. citizen, is among the numerous Russian-born and Russian-educated scientists living in Alaska.
'Arctic-8' the only way
The strong personal ties give him special cause for sadness about the U.S-Russia rift, he said. But he said there are also abundant practical reasons to continue working with Russia, which holds more Arctic territory than any of the other seven Arctic nations.
"We can perhaps function with a G-7 instead of a G-8, but an Arctic-7 instead of an Arctic-8 would be pointless," he said in an email sent earlier in the week.
Lawson Brigham, former chairman of the Arctic Council's Arctic Marine Shipping Assessment and a current UAF professor specializing in Arctic issues, makes a similar pitch for continued engagement.
It is fortunate, he said, that the eight-government Arctic Council has long avoided involvement in military and defense issues, said Brigham. Instead, the council kept its focus on environmental protection and people's health and safety, he said.
"There are enough environmental issues and enough people issues to keep us busy and keep us together," Brigham said.
He said he hopes tensions will ease enough and U.S. leaders will be diplomatically adroit enough to pull off one of the goals articulated in the White House's recent Arctic strategy implementation plan — a 2016 "Presidential Arctic Summit" attended by the heads of Arctic nations to mark the Arctic Council's 20th anniversary.
"I still think it would be a good thing to show the world that we still do it and we are still cooperating — the eight Arctic states — in the Arctic," said Brigham, who pointed out that the United States will be soon be chairing the Arctic Council. "I think it's a win-win. But you never know."
Related stories from around the Arctic:
Canada: Canada boycotts Moscow Arctic Council meeting over Ukraine, Eye on the Arctic
Finland: Ex-President Ahtisaari calls on Finland to join NATO with Sweden, Yle News
Norway:  Nordics rethink security after Ukraine crisis, Yle News
Sweden: Sweden providing jets to NATO, Radio Sweden
Russia:  Blog – Russia puts countries on edge in the Arctic, Cryopolitics
United States: Can an aggressive Russia remain U.S.'s nice Arctic neighbor?, APRN