Biologists expect module will help them treat sick, injured polar bears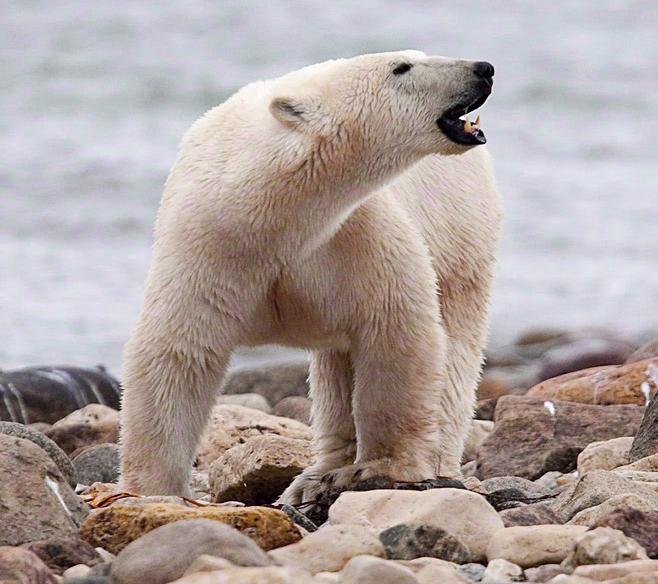 If a sick or distressed adult polar bear is spotted on Alaska's North Slope, wildlife managers have few options.
They can observe the bear from afar and hope it recovers or, if conditions deteriorate, they can euthanize it.
But soon there will be another possible response. A mobile, foldable and easily transported bear-holding module, with two attachable transport cages, will soon be sent to the North Slope and added to the equipment arsenal available for use when emergencies strike on the oil fields or outlying areas.
The custom-built module will allow biologists and veterinarians working in the field to assess and treat ailing polar bears, said Charles Hamilton, acting lead for the U.S. Fish and Wildlife Service's polar bear program. The service, which is responsible for polar bear management in Alaska, and the environmental group Defenders of Wildlife paid the estimated $130,000 cost of the module, he said.
The module could be flown or driven to wherever an ailing adult polar bear is spotted, and experts could use it to treat the animal quickly, with as little stress as possible, Hamilton said at a news conference Tuesday at the Alaska Zoo.
A potential future emergency could be the spread of spilled oil to a polar bear's fur, Hamilton said. In such a case, experts could use the module to hold the bear and clean its fur, "then release it out into the wild, which would be the ideal situation," he said.
Biologists have, in the past, rescued orphaned polar bear cubs and taken them to new homes at the Anchorage zoo or elsewhere. But such relocations of adult bears are not feasible, Hamilton said. "Obviously, an adult polar bear poses a lot of challenges," he said.
Up to now, the Fish and Wildlife Service has faced very few emergencies on the North Slope involving adult polar bears, Hamilton said. But as animal distributions change and as development spreads across the Arctic coast, the risks to polar bears will increase, he said.
"There are more bears onshore. They're onshore for a longer amount of time because of reduced sea ice," he said.
The module will be stored and maintained by Alaska Clean Seas, the main oil-spill response organization operating on the North Slope, officials said. Alaska Clean Seas is donating storage space for the module, officials said.
Contact Yereth Rosen at yereth(at)alaskadispatch.com
Related stories from around the Arctic:
Canada:  Wildlife endangered by Yukon warm weather, Eye on the Arctic
Finland: Rains force bears out of hibernation in Finland, Yle News
Sweden:  Family of moose attack schoolboy in Sweden, Radio Sweden
United States:  Controversial moose relocation program under way in Alaska, Alaska Dispatch