Finland's Talvivaara posts seven million euro loss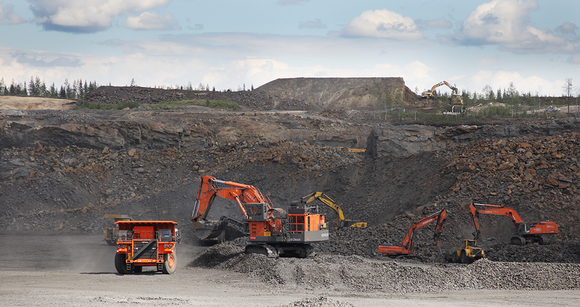 Wednesday's first-quarter results for the beleagured mining company show some improvement, with an operating loss of 7.1 million euros compared to 20 million a year earlier.
Yet while the firm's nickel and ore production were at the highest levels since autumn 2012, Talvivaara's ongoing debt restructure meant the company refused to give an output forecast for the current year.
The nickel-mining company Talvivaara posted its first-quarter results on Wednesday, announcing net sales of 29 million euros, but an operating loss of 7.1 million euros.
The operating loss is smaller than a year ago, when the company posted a 20 million operating loss, and the write downs of the company's debts, as part of the ongoing debt restructure, have resulted in a huge jump in the debt-to-equity ratio down to -181.3 percent compared from 159.1 percent a year previously.
A slight rise in demand for nickel – helped by an Indonesian ban on nickel ore exports – also contributed to the company's best production figures for 18 months, with over 3,000 tons of nickel and 5,700 tons of zinc being
Corporate restructure hangs in the balance
CEO Pekka Perä attributed the smaller losses to the company's efficiency drive, but said: "We cannot be content with the results achieved, but must strive for further improvements with the target of eventually being able to operate profitably also during the lows of the commodity cycles.
However, the seemingly improved figures mask the fact that the outcome of Talvivaara's corporate restructure, overseen by administrators, still hangs in the balance as the company seeks to negotiate a funding solution to its financial woes. Recently the Espoo District Court agreed to push back the deadline for an agreement to be reached until the end of September this year.
In the absence of a financing deal, the company said it is unable to give a forecast of its production or its economic outlook for the current year.
Perä also said that funding will be needed in the longer term to meet the firm's environmental commitments, including those relating to water management. In 2012 a chemical leak from Talvivaara's mine in Sotkamo, Eastern Finland became one of Finland's largest ecological disasters in recent years.
Related stories from around the Arctic:
Canada: Arctic mining – unexpected social negatives for Inuit women, Radio Canada International
Greenland: Analysis: Implications of Greenland's decision to allow uranium mining, Blog by Mia Bennett
Norway:  Sustainable future for Arctic people?, from Deutsche Welle's Iceblogger
Russia: Analysis – Putin shutters Russian indigenous peoples', Blog by Mia Bennett
Sweden:  Artists boycott market in Arctic Sweden over mining conflict, Radio Sweden
United States:  Oregon mining company says it can build Arctic port for Alaska, Alaska Dispatch