ExxonMobil has high expectations for Point Thomson oil production in Alaskan Arctic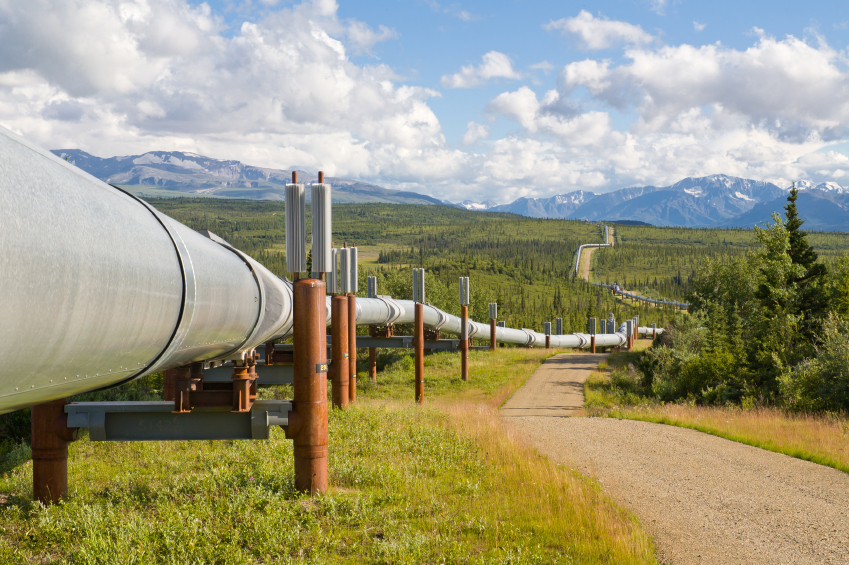 FAIRBANKS — An ExxonMobil executive said Tuesday the company is on schedule to begin shipping about 10,000 barrels of oil a day from Point Thomson to the trans-Alaska pipeline in early 2016.
Speaking to the Fairbanks Chamber of Commerce, Karen Hagedorn, ExxonMobil's production manager for Alaska, said about 700 people worked at the site this past winter and finished a 22-mile pipeline to connect the field to the existing North Slope infrastructure at the Badami field. About 300 people are working there this summer.
The 12-inch pipeline has a capacity of 70,000 barrels a day, but initial production calls for shipping 10,000 barrels of oil. More than 500,000 barrels a day currently flow from Prudhoe Bay to Valdez.
Contractors installed about 2,300 vertical support members in the winter of 2012-13 to hold the elevated pipeline. The pipeline was put into place this past winter.
"With that pipeline, for the first time the trans-Alaska pipeline system is now connected all the way from the National Petroleum Reserve on the west side all the way to the edge of ANWR (Arctic National Wildlife Refuge) on the east side of the North Slope," said Hagedorn. "That's a really important development."
Hagedorn earned a bachelor's degree in petroleum engineering from the University of Texas, which she completed in three years, and she went on to earn a master's and doctorate in the same subject at Stanford. She has held a variety of positions within ExxonMobil in Alaska and elsewhere. She has been the Alaska production manager since early 2013.
$ 2 billion spent so far
In her review of the Point Thomson project, she said the company has spent about $ 2 billion so far, with surface development set for a 55-acre site. One of the next major stages in development is to complete four "football-field size" processing modules in Korea that are to be moved by barge next summer.
Hagedorn said the modules are too big to be built in Alaska, but she said 130 smaller modules were built in the state. Exxon has built a 5,000-foot airstrip on the site, as there is no all-weather road to Point Thomson, which is about 60 miles east of Prudhoe Bay.
"We're really putting in the infrastructure for both this development but also for the long term," she said.
She said the company plans to extract about 200 million cubic feet of natural gas per day with one production well and two reinjection wells. About 25 percent of the North Slope's discovered natural gas reserves are at Point Thomson.
While Exxon will inject the natural gas back into the reservoir, the liquid condensate, a light form of oil, will be shipped west to the trans-Alaska pipeline.
Hagedorn said that the upcoming vote on the repeal of SB 21, the oil tax cut, has major implications for Alaska. She said that a fiscal structure has to be competitive, predictable and durable. The former state tax structure — Alaska's Clear and Equitable Share– was not competitive, predictable or durable, she said.
"ACES was not competitive, particularly at high prices. High prices is when you want to be competitive because that's when people have money to invest," she said.
Contact Dermot Cole at dermot@alaskadispatch.com or on Twitter
Related stories from around the Arctic:
Canada: Oil and gas consultations in Canada's eastern Arctic next week, CBC News
Finland:  Greenpeace slams Finland oil drilling deal, Yle News
Norway:  Norway gives 29 companies oil and gas licenses, mostly in Arctic region, The Associated Press
Russia: Putin signs law allowing oil and gas corporations to defend infrastructure, Blog by Mia Bennett
Sweden:  Crews scramble to contain oil spill off Sweden's west coast, Radio Sweden
United States: Buccaneer files for bankruptcy, ending bid to produce Cook Inlet oil, gas in Alaska, Alaska Dispatch