Study: Port Clarence development not economically feasible without offshore oil drilling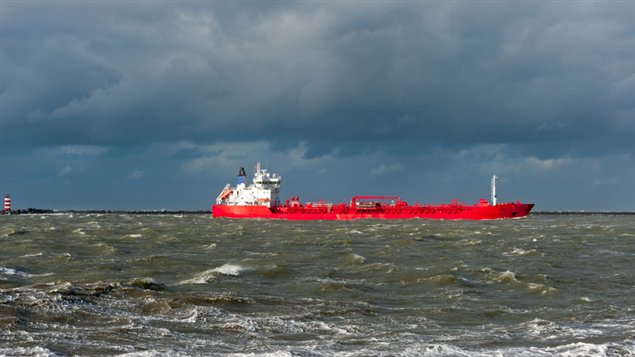 Development of a deepwater port along the Bering Strait is economically feasible in the coming decade only if oil development proceeds in Alaska's Arctic waters, an area where once-promising drilling campaigns have stumbled in recent years, a new study concludes.
The study, by Anchorage-based Northern Economics, evaluates the economic viability of a major buildup at Port Clarence, a bay and narrow peninsula about 80 miles northwest of Nome. The study, released Friday, was commissioned for the Bering Straits Native Corp., the regional Native organization with pending claims to selected lands at Port Clarence.
While future facilities at Port Clarence could serve a variety of vessels — cruise ships, fishing boats, cargo shippers and research vessels among them — only the oil and gas sector has the wherewithal to support such an operation, according to the study.
"The project team believes oil and gas development activities are the only market segment with sufficient potential revenue to support development of Port Clarence within the next 10 years," the study says.
Building a modern deepwater port — potentially to be operated by BSNC and co-investors — at the site would cost $34 million to $72 million, with a mid-point estimate of $50 million, the study says. Annual operating costs would be $1.4 million and loan payments, assuming half the capital cost is financed with debt, would be $2.75 million a year, the study says.
"The team believes Port Clarence development and revenues must be directly linked to oil and gas exploration in order to justify capital expenditures for a dock, tank farm, and other support activities," the study says.
A bleak short-term outlook
Prospects for offshore Arctic oil and gas development have dimmed, at least in the short term.
No oil and gas exploration operations are planned this year in the Chukchi, and representatives of companies with leases in the Chukchi and Beaufort Seas told the study's authors that future development will be slower than originally envisioned.
At least one company — which the report does not name — has disbanded its offshore Alaska exploration and development team, the study says.
Shell, the most active offshore explorer, has been beset by very public problems, the study points out. Shell was able to do preliminary drilling in 2012 on one well in the Chukchi and another in the Beaufort, but further work has been stalled by the fallout from the Dec. 31 grounding of one of its drill ships, the Kulluk, investigations into operational problems and permit violations that year and an appeals court ruling that cast doubt on the validity of the entire Chukchi Sea oil and gas leasing program. The company in November filed a revised exploration plan for Chukchi-only drilling, but in January announced that it will not attempt to drill in 2014.
ConocoPhillips, which at one time had planned to start drilling a Chukchi Sea prospect as early as 2013, is also delaying its work. The company last year asked federal agencies to halt their review of the exploration plan and oil-spill plan submitted for its proposed Devils Paw prospect. ConocoPhillips has "concluded that it would not be prudent to make the financial commitment necessary to preserve the option to drill in 2014," the company said in a May 10, 2013 letter to regulators. There have been no formal proposals or plans submitted by ConocoPhillips since then.
ConocoPhillips continues to plan for Chukchi exploration, albeit with a smaller team than previously assigned to the program, spokeswoman Natalie Lowman said in an email sent Monday.
Statoil — a multinational oil company majority-owned by the Norwegian government — is the other major oil company that had plans to drill in the Chukchi. In 2010, the company entered a partnership with ConocoPhillips on some Chukchi leases. But in 2012, after Shell's high-profile troubles in the Arctic, the Norwegian company announced that it was deferring those plans. At least one news report suggested that Statoil may abandon its Chukchi plans entirely.
A Statoil spokesman said the company retains its interest in 66 Chukchi leases and its options for future work in Alaska.
"Our office in Anchorage remains open. We're simply taking a pause in our activities in Alaska," Jim Schwartz, a Houston-based Statoil spokesman, said Tuesday. "We haven't made a decision about drilling or timing."
With Arctic ship operations growing steadily as summer ice recedes and companies seek to develop the region's natural resources and take advantage of improved shipping routes, government and industry leaders are eyeing Port Clarence as a potential center for serving the marine traffic. The U.S. Army Corps of Engineers, for example, has been studying potential Arctic ports and considers Port Clarence a top contender for such a development.
An ongoing history
Port Clarence has a long history of supporting northern mariners.
It was used in the 19th century by vessel operators traveling in the region. A reindeer-herding station was set up there in the early 20th century. The U.S. Coast Guard operated a long-range navigation station on a spit in the bay from 1961 to 2010. Many of the Coast Guard facilities remain intact, though the station's communications tower, at the time the tallest structure in Alaska, was demolished.
Although there are no longer any government or commercial operations on shore, the area continues to be used as a deep-water refuge site for larger vessels that need it, the Northern Economics study points out.
Today, the site would be "ideal" as a much-needed staging area for search-and-rescue operations and oil spill response operations, the Northern Economics study says. But such activities are not dependable revenue sources, the study says.
Contact Yereth Rosen at yereth(at)alaskadispatch.com
Related stories from around the North:
Canada: Canada's Arctic patrol plan 'disaster:' report, CBC News
Finland: Dockers' strike shuts down Finnish ports, Yle News
Norway: Norwegian company looks to Alaska for Arctic shipping port, Alaska Disptach
Russia: New port in Murmansk, Russia slated for coal exports, Blog by Mia Bennett
United States:  Alaska senator calls for investment in Arctic Ports, Alaska Public Radio Networks