Replanting the sea in Sweden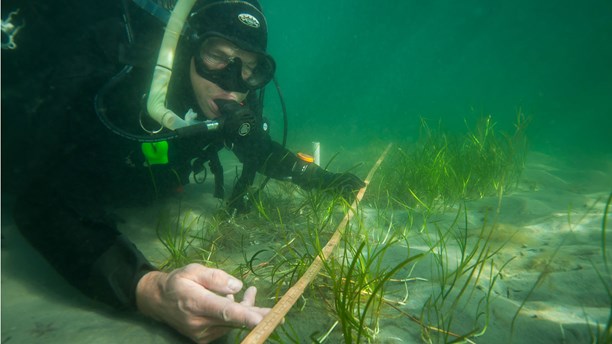 Environmental damage on land is usually visible, a powerful reminder. But there are serious problems out of sight on the sea bottom.
Now, however, steps are being taken to reverse the damage off the Swedish west coast.
Unlike seaweed, seagrass grows on the bottom of the sea, where it forms large flowering meadows. These can provide havens for young fish as they grow up, and contribute to clearer water for coastal swimming, and can even reduce the effects of the over use of fertilizers, washing down from the land.
'Sea meadows under threat'
The most common seagrass here is eelgrass. But the meadows off the Swedish west coast are under threat, as Gothenburg University researcher Per Moksnes points out:
"If you look at the surface of the water," he says, "it's pretty, a typical bay in the province of Bohuslän. There are cliffs and sandy beaches, it all looks very nice. But below the surface, it doesn't look the way it is supposed to."
What he's referring to is that more than 60 percent of the eelgrass meadows off the West Coast have disappeared since the 1980's. Worst hit are the waters off the city of Kungälv, where 90 percent of the eelgrass has been lost.
The scientists say the reasons include excessive fertilization on land, over-fishing, and the exploitation of the coast. But, a new project from Gothenburg University is working on new methods to replant the seagrass meadows. Per Moksnes says they hope to restore what are known as eco-system services, the benefits provided by ecological balance:
"It will be expensive to restore," he says, "but if you calculate the value of the ecosystem services, then it can be a good deal for people anyway."
Legal implications
One advantage of the project is that by actually establishing how to restore a sea meadow, and how much it costs, in the future the legal system will be able to place greater demands on those who destroy them. This is done now for environmental damage on land, or in fresh water, but not for damage in the sea.
This is a cross-disciplinary project, and one of those involved is Law Professor Lena Gipperth. She points to the destruction of the marine environment caused by the expansion of a harbor in nearby Vallhamn. Because the legal system couldn't establish the cost of repairing the damage, she says the builders got off easy with a fine of 350,000 kronor:
"If you compare the fine to the cost of restoration, which would have been in the millions," she says "there's no comparison. They got off easy."
Related stories from around the North:
Canada: Arctic plants to be studied in Nunavut, Alaska Dispatch
Finland: Farmers eye weather as harvest season approaches in Finland, Yle News
Greenland:  Arctic Council close to reaching agreement on marine oil pollution preparedness, Blog by Mia Bennett
Sweden:  Sweden hopes for EU money to study Baltic fish, Radio Sweden
United States:  Foraging for Alaska's wild plants, Alaska Dispatch