Alaska LNG project has potential: CEO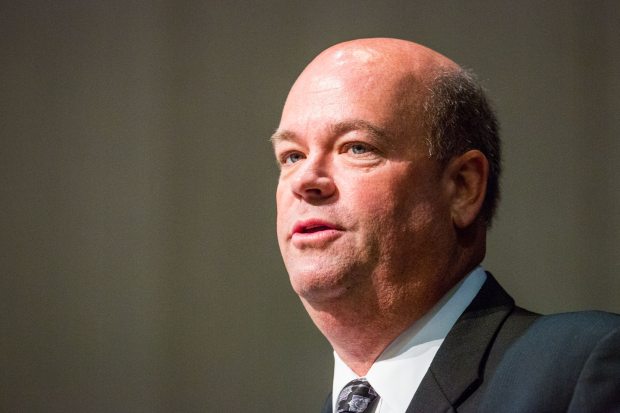 ConocoPhillips' chief executive said Tuesday that Alaska's LNG megaproject can be developed under the right conditions despite a growing field of competitors, but a state official said the global oil giant is the only one of five partners in the project that is not ready to sign an agreement to move it forward.
A company spokeswoman said ConocoPhillips is ready to sign an agreement that is fair to everyone. Other entities involved in the Alaska project are BP, Exxon Mobil, pipeline builder TransCanada and the state's Alaska Gasline Development Corp.
Ryan Lance, credited with putting Conoco's Alpine field into development in 2000 before moving out of state to manage projects around the world, told hundreds of people at the Resource Development Council's annual meeting in Anchorage Tuesday that he was glad to be returning home to his daughter's birth state.
During a talk about Alaska's role in the nation's oil and gas renaissance, he made no mention of potential offshore development in the U.S. Arctic, where Conoco holds leases but where Royal Dutch Shell has faced costly hurdles and made little progress in its own attempts to get drilling underway there.
ConocoPhillips is not pursuing anything in the Chukchi Sea right now, company spokeswoman Natalie Lowman said in an email.
Lance said the shale revolution in the Lower 48 has led to a natural gas boom and that numerous projects are seeking approval to export liquefied natural gas. Companies in the U.S. have filed plans with agencies to build 40 liquefied natural gas terminals, and other projects outside the U.S. are also in the works. The Department of Energy has permitted six terminals for non-free-trade-agreement exporting, but only one is under construction: Cheniere Energy's Sabine Pass project in Louisiana.
Not all of those projects will happen, in part because there is too much proposed supply, said Lance.
Alaska's $40 billion to $65 billion project — calling for a roughly 800-mile pipeline from Alaska's North Slope, as well as a liquefaction facility at Nikiski to super-chill the gas to a liquid so it can be exported in tankers — has not filed for permitting.
But it can move forward with reasonable fiscal terms and supply costs and beat out competitors, Lance said. Alaska's advantages include a more-than-40-year history of exporting LNG, as well as proximity to Asia, where gas prices are higher than in the U.S. and the United Kingdom.
Flat Alaska investment
The oil boom from shale rocks in the Lower 48 has also positioned the U.S. to become the world's top crude oil producer by 2025, he said. Because of that, global profits are flowing to U.S. projects.
But investment stayed flat in Alaska in recent years because of the previous "adverse" tax system, known as Alaska's Clear and Equitable Share, he said. With the tax cut taking effect in January, Conoco is investing 50 percent more this year than last, with capital investments set for $1.7 billion. That's twice the average annual investment between 2008 and 2012, Lance said. Because of the tax cut, Conoco is advancing projects that could result in 40,000 extra barrels of oil by 2018.
Critics of Senate Bill 21 have said those projects were already in the works under ACES.
Lance said the tax cut is important to ConocoPhillips because it removes the old system's progressive tax rates that increased with the price of oil, creating more "equitable" profits for oil producers and increasing the potential long-term income for new projects.
It also strengthens the oil industry, making an LNG project more competitive, he said.
That project is nearing an important juncture. Joe Balash, the state's Natural Resources director, said after the speech that a joint venture agreement between the state, oil companies and TransCanada was scheduled to be signed by the end of this month. The agreement would move the project ahead into what's known as the pre-FEED stage, meaning some hundreds of millions would be spent on preliminary engineering and design work.
If the project stays on track, more engineering and design work will come later, in another phase starting in 2016, assuming the Alaska Legislature still supports the project and all the companies are still on board.
Balash said that BP, Exxon Mobil, TransCanada and the state, through the Alaska Gasline Development Corp., said last week that they are ready to sign the agreement to move into the pre-FEED stage.
ConocoPhillips, however, is not ready to sign, Balash said. Asked to explain why, he said he did not understand Conoco's reasoning.
Conoco spokeswoman Natalie Lowman acknowledged in an email that the joint venture agreement is not finalized.
But, she said, "ConocoPhillips is ready to sign a (joint venture agreement) that provides for long-term commercial alignment and is subject to fair terms for all parties, which in turn will be good for the project and for the state of Alaska."
She said Conoco is "working with the other parties to finalize terms that are acceptable to all of us."
Contact Alex DeMarban at alex@alaskadispatch.com or on Google+
Related stories from around the North:
Canada: Canada's Northwest Territories unveils ambitious energy plan, CBC News
Finland: Finland EU's third largest user of renewable energy, Yle News
Greenland: Statoil awarded exploration licence off Greenland, Eye on the Arctic
Iceland:  Icelandic Energy: Is change on the way?, Blog by Mia Bennett
Norway: Norway gives 29 companies oil and gas licenses, mostly in Arctic region, The Associated Press
Russia:  Russia grabs China oil and gas export deals, Reuters
Sweden:  Sweden shares top global energy ranking, Radio Sweden
United States:  Alaska's wave, tidal & river energy: Great potential, daunting challenges, Alaska Dispatch