Sweden: Arctic hockey team to wear rainbow jerseys all season in support of LGBT rights in sport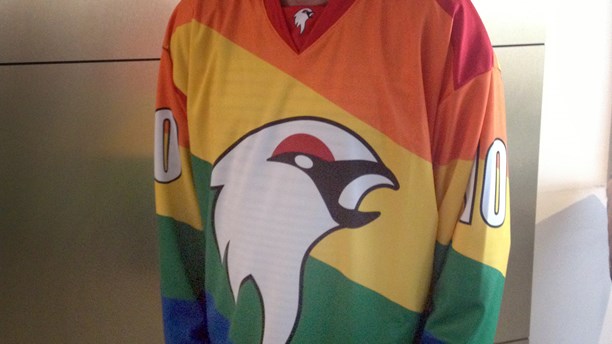 Hockey players in Sweden's Arctic city of Kiruna will be playing in rainbow colours next season in an outward show of support for the LGBT community in sport.
The Kiruna IF Hockey club's anti-homophobia stance has received the stamp of approval from the organisation representing gay rights.
For a northern mining town that is literally on the move, Kiruna IF hockey club has decided to move with the times and make a stand for gay rights in a male-dominated sport and a male-dominated town. Next season the team from the town where it never gets light in the dead of winter will be illuminating the ice wearing rainbow colours, as part of its stance to welcome to the club people from different backgrounds and sexual preferences.
Rethinking macho culture in sport
Johan Köhler is chairman of Kiruna IF and he tells Swedish Radio that there is macho culture in hockey cultivated from an early age where players for example are expected to play through the pain barrier, and if you show you are hurt or even cry, then you are called gay or told to stop being so gay. He says he's hoping for a change of attitudes.
Players and officials at the hockey club have been undergoung training in LGBT issues, learning about norms and attitudes how one should react in different situations and going through the club's bylaws and policies on what is acceptable behaviour.
Viktor Esseryd is a miner and also plays in the Kiruna first team.
"I really had no idea, I'll be honest … but my eyes were opened pretty quickly when I started using Google on the Internet about everything and what different things mean," he tells Swedish Radio.
Recognized by LGBT community
Now Kiruna hockey club is about to become the first sports association in Sweden to receive an LGBT certificate for its gay rights work from RFSL, the association for homosexuals, bisexuals, transpersons and queer rights.
The certificate, which was first awarded in 2008, is given to places that have shown to have a good working environment from a homosexual, bisexual, and transgender perspective.
Kiruna applied this month and the training that Viktor Esseryd and other players and members of staff are undergoing now is just one requirement that must be fulfilled by everyone at the club before a certicate is given, usually after 6 to 8 months. The certificate is valid for three years and can be renewed.
Frida Darj at RFSL has done an investigation of LGBT people working in sport, and she says it is vital to work with values, and she does not think enough is being done today.
"Young LGBT people are excluded from the sport today on the grounds of locker room talk and rules. But by showing that there are role models in sport, by opening up and working on these issues, this shows that young LGBTQ people are also welcome in the sport, " she tells Swedish Radio.
Late on Thurdsay night under clear skies, the hockey players of Kiruna appeared on stage during the town's summer festival, wearing next season's rainbow jerseys and received a warm welcome from the public. It won't be just on the ice though that the players will lead by example; they'll also be spreading their message that the sport is open for all by visiting schools in the mining town.
Related stories from around the North:
Canada: Inuk NHL star Jordin Tootoo stick giveaway video goes viral, CBC News
Greenland:  2016 Arctic Winter Games to cut 6 sports, CBC News
Russia:  Big hockey weekend for Eye on the Arctic community, Eye on the Arctic
Sweden: Cheap IVF to be offered to gay women in Sweden's Far North, Radio Sweden
United States:  Passport troubles keep some athletes from Arctic Winter Games in Alaska, CBC News