Arctic sea-ice melt moderate in early June but rapid at end of the month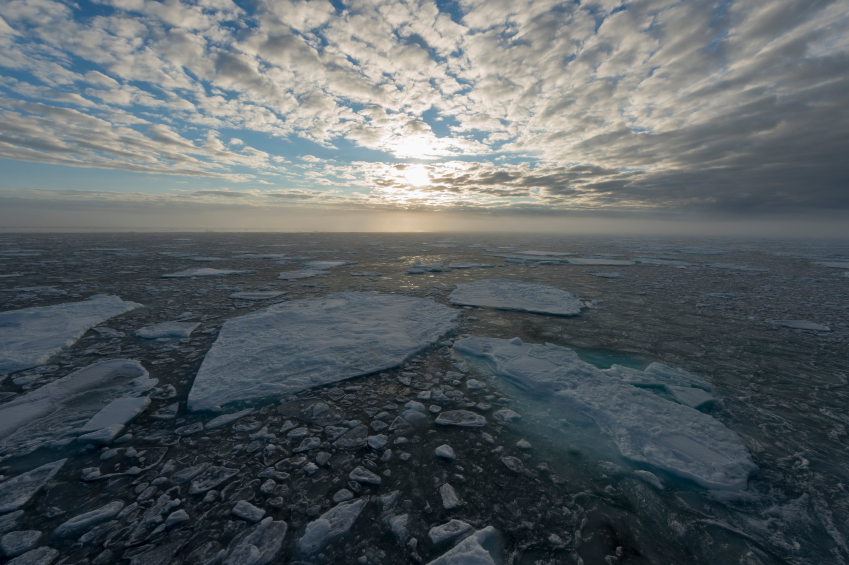 Sea ice in the Arctic melted at a moderate pace in early June, but the rate accelerated late in the month, matching a pattern shown in other recent years, the National Snow and Ice Data Center said on Wednesday.
Average June coverage was the sixth lowest recorded for that month since satellite measurements began in 1979. Arctic ice coverage for the month averaged 4.37 million square miles, a level 224,000 square miles below the 1981-to-2010 average recorded for June, the Colorado-based center said.
However, the melt acceleration brought end-of-the-month coverage to a level nearly as low as that recorded at the same point in 2012, the year that turned out to post the record low minimum.
Areas that opened up during the month include the southern Beaufort Sea, where melt ponds have appeared on the drifting first-year ice, the center said. The Beaufort has had "dramatic summer ice loss" in recent years, with some multiyear ice melting out completely, the center said in its statement summarizing the month's conditions. That was especially the case in the record-low year of 2012, the center said.
The rapid late-month melt in June was noteworthy, said Mark Serreze, director of the National Snow and Ice Data Center. "But will we continue at this fast pace? We don't know," he said in an email. "July, the month of peak melt, will be telling."
Several experts and observers have been crunching numbers and analyzing data to try to predict this year's sea-ice minimum, an annual milestone that usually occurs in mid- or late September.
The Arctic Research Consortium of the United States, or ARCUS, last month compiled 28 Arctic-wide forecasts, which as of June 19 were yielding a median predication of 4.7 million square kilometers (1.815 million square miles) for this year's sea-ice minimum. The record low, reached two years ago, was 3.413 million square kilometers (1.318 million square miles). Last year's sea-ice minimum was 5.10 million square kilometers (1.97 million square miles), a significant rebound from 2012 but still the sixth-lowest minimum recorded since satellite measurements began.
ARCUS is now soliciting updated forecasts, incorporating the most recent data, to post in July.
Contact Yereth Rosen at yereth@alaskadispatch.com
Related stories from around the North:
Canada:  Missing sea ice data found in crusty Canadian algae, CBC News
Finland:  Walkers warned – Finland's sea ice could be thinner than it looks, Yle News
Greenland:  Long-term warming inside Greenland's ice sheet, Alaska Dispatch
Russia:  Melting permafrost eroding Siberian coasts, Deutsche Welle's Iceblogger
United States: Arctic sea ice sends mixed messages about how rapidly it's melting, Alaska Dispatch