Quaint Alaska town of Hope 'exploding' with outsiders, locals say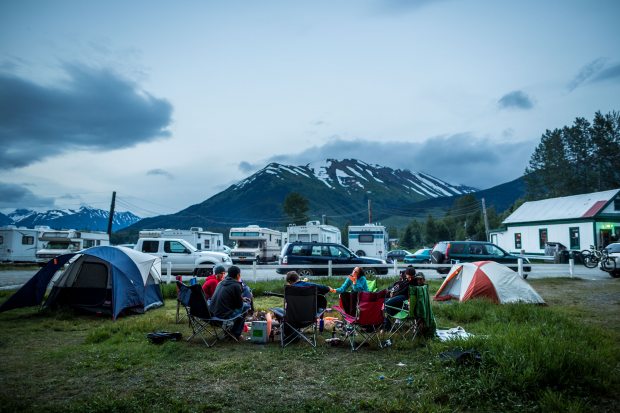 Renna Martin describes a typical weekend night during the summer at her beloved Seaview Inn in the community of Hope as "crazy."
Fridays are busy, she said, depending on which musicians are playing, but Saturdays are "nuts" as Alaskans from across the state flood the town.
Just like the Southcentral Alaska town off the Seward Highway — population 198 — her bar, cafe, restaurant, campground and RV park have seen a steady influx of newcomers, she said.
"I don't pay for advertisement," said Martin, who has owned the Seaview Inn for 15 years. "I quit advertising in the Milepost eight years ago because we don't need more people. We don't have the infrastructure for so many people."
Former mining hub
In the latter part of the 19th century, Hope was a mining hub. The building now known as the Seaview Inn was built in 1886, said Martin. She said the shack was used as office space for a mining company. From the 1920s through the 1950s, it was a general store, she said.
Longtime resident Doug Pope reflected on a time when there was no bar, only one telephone and lots of abandoned homes.
"People looted," he said.
It's a far cry from the popular destination Hope has become.
Martin said most of her business comes via word of mouth, which she prefers.
"People like the vibe the first time, so the next time they come, they bring more people," she said. "And those are typically the kind of people we like."
Martin said the Seaview Inn is popular among hikers, mountain bikers and rafters, and it pleases her that cruise ship passengers and most tour buses don't stop nearby. She said it keeps Hope from "being just another Talkeetna," the small town off the Parks Highway that sees thousands of tourists arriving by train, car and bus each summer.
'Good for business'
Martin said she's usually happy with the Alaska clientele, unless the pink salmon are running in Resurrection Creek — in which case her RV park is overrun with fishermen, parking for the day, leaving trash and filling up her portable restrooms.
Still, it's good for local business.
"Everyone is making money," said Martin.
But not everyone is as optimistic.
Pope has had a place to rest his head in Hope for more than 40 years. These days, he is living in the community full time. He has a house, bathhouse, sauna and barn on the property that he calls home.
"We started out like anyone else," said Pope. "You would show up and live in someone's historic cabin, then you actually build a cabin, then you start raising your kids, using an outhouse. Then you actually build a place with running water."
Though many of the "new young people" who spend their free time, or all of their time, in Hope "seem nice," he said, the increasing population is threatening the atmosphere that drew many to Hope in the first place.
"There are people who have lived there for a long time," said Pope. "There are people who have owned property who are residents and they are very committed to Hope. And the reason that they initially went there was because it was a quieter place."
More building
Now, the town is more robust. People are building homes and weekend getaway cabins. Two-time Olympian Holly Brooks is among them.
"The land we bought was totally wild," said Brooks. "There is devil's club above your head, and one of the things I like is the cottonwoods, which are huge and majestic. It's different than your typical Alaska spruce. We spent the first year trying to make a path through the devil's club."
The 32-year-old nordic skier bought a 3-acre parcel in 2009. Her cabin is still a work in progress but it's a perfect fit for the multisport athlete, who just won the Fourth of July Mount Marathon race in Seward. Brooks said she can train for almost any sport in Hope, from biking on the road to skiing in winter powder. She said Hope has the perfect mix of forest and civilization, and she hopes her family uses the property for generations to come.
Though she is relatively new to town, she said, just in the last couple of years even she too has watched Hope "explode with people."
"From an economic standpoint it's good for some of those people," said Brooks. "There are more people ordering hamburgers at the Seaview. But then there are a lot of people that have had land for a long time there and they bought it because it's quiet and a refuge for them — and they are probably not as excited about what a weekend destination Hope has become."
Contact Megan Edge at megan@alaskadispatch.com, Google+ or Twitter
Related stories from around the North:
Canada: Creating an economy in the North: Can tourism save this town?, Eye on the Arctic
Finland: Nature tourism in North Finland drawing Chinese tourists, Yle News
Greenland: Greenland inspires Arctic Bay, Canada tourism strategy, Eye on the Arctic
Iceland:  Rejected by Iceland, billionaire sets sights on Arctic Finland for tourism project, Yle News
Norway:  Norway's Svalbard islands in photos, Eye on the Arctic
Russia:  Weak ruble, Russian tourist apathy force Finnish FM to mull shuttering more missions, YLE News
Sweden: Is space tourism coming to Sweden's Arctic?, Radio Sweden
United States: Smaller cruise ships to visit Skagway, Alaska port this year, CBC News