Predictions of Arctic summer ice melt come with lots of uncertainty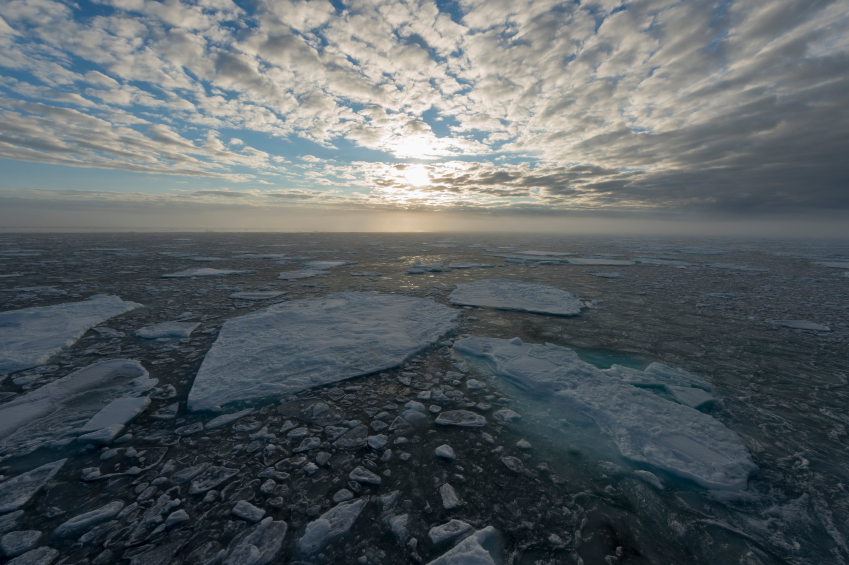 Every year, as Arctic sea ice thins, scatters and melts, scientists ask: How low will it go?
While the long-term trend of less summer Arctic ice is clear, the short-term outlook for total melt in any given year is far murkier, thanks to the many and sometimes highly volatile factors that drive the final outcome.
Still, scientists are attempting to predict how much Arctic sea ice will remain at the end of this year's melt, expected in mid to late September. The latest round of expert predictions, released July 23, yields a median of almost 2 million square miles, far above the record-low 1.3 million square miles in 2012 but below the 1981-2010 average of more than 2.5 million square miles.
That median comes from 28 separate forecasts by numerous sources gathered in a loose group called the Sea Ice Prediction Network, which is coordinated by the Arctic Research Consortium of the United States. The predictions in the July Sea Ice Outlook range from a low of 1.2 million square miles, which would be a record, to a high of 2.28 million square miles.
Outlooks are published every month over the summer, starting in June. Some individual forecasts are refined as summer ice and weather data streams in.
The forecasting exercise has been conducted since 2008, said Walt Meier, the NASA research scientist who pulls together the forecasts and compiles them into monthly reports. The prediction network has grown over time, he said, though forecasts are mostly ad-hoc projects, sidelines to researchers' main work.
Forecasts often miss the mark
While more people are contributing information, accuracy so far has not improved noticeably, and no prediction superstar or reliably best method has emerged, Meier said.
"No one's been bragging about it," he said. "As far as I know, there hasn't been one that's superior to anybody else's."
There are statistical forecasts — such as the one submitted by Meier, which predicts 1.75 million square miles, plus or minus 200,000 — that crunch numbers based on past years' ice patterns. There are models of varying sophistication, which Meier believes will likely turn out to be the most accurate predictors, if properly refined. There are "heuristic" forecasts, which are predictions made more on "a wing and a prayer" or a "gut feeling," he said. And there are combination approaches.
Annual sea-ice forecasts have many limitations, concluded Julienne Stroeve, a research scientist with the Boulder, Colorado-based National Snow and Ice Data Center, who recently analyzed predication accuracy. Forecasts seem to be close in years when the sea-ice extent falls very close to the long-term trend line, she said, but they fall apart in the unusual years, like the record-low 2012 and last year, which saw a significant rebound. The Stroeve-led study of predictions was published in April in the journal Geophysical Research Letters.
Stroeve's most recent forecast, part of the July outlook, predicts 1.7 million square miles, but she has misgivings about it. "I haven't done that well with my predictions," she said. "Most people haven't done that well with their predictions."
Winds, ice quality, snow drive pace of melt
A big challenge to single-year predictions is weather, Meier and Stroeve said. Weather cannot be forecast very well beyond about two weeks into the future, and surprises emerge, they said. Winds, for example, can compact ice, spread it or barely blow at all.
Age, thickness and strength of the ice also affect ultimate summer melt extent. Ice coverage, as defined by the National Snow and Ice Data Center, consists of areas with at least 15 percent ice on the sea surface, so quality of that coverage can vary widely.
In 2007, when the second-lowest minimum was reached, the total ice amount was small but what remained after the summer melt was thick and compact, Stroeve said. "There wasn't a whole lot of open water between the ice floes," she said.
Five years later, ice was much thinner and more spread out, allowing for a quick end-of-summer melt, she said.
Snowpack can either protect or weaken sea ice, depending on timing, Meier said. Lots of snow early in the freeze-up season can act as an insulating blanket, capturing the sea's warmth and inhibiting the formation of ice, he said. But abundant spring snow reflects the sunlight, protecting ice from solar heat and delaying the melt, he said.
Melt ponds, sea swells eyed as contributing factors
Melt ponds — collections of standing water on the sea-ice surface — are getting increased attention for their possible influence on total annual melt.
Scientists from Britain's University of Reading say they have hit on a way to use measurements of spring melt ponds on the sea ice to derive a statistical method that will better predict how much ice will survive each summer. Their findings were reported in April in the journal Nature Climate Change.
Using that reasoning, those scientists have predicted that September ice extent will be 2.13 million square miles, higher than last year's nearly 2 million square miles.
Even detecting melt ponds, much less measuring them, can be difficult. Scientists from Germany's University of Bremen are working with the European Space Agency's satellite imaging technology to try to quantify the ponds, which they report is a "non-trivial task" made even more daunting by variable cloud cover and limitations on image resolution.
NASA is making similar investigations this summer with overflights that are using what the agency calls the "Multiple Altimeter Beam Experimental Lidar," or MABEL.
Another factor that has started getting attention is the magnitude of sea swell in the open waters of the Arctic. Bigger waves created by winds blowing over wider stretches of open water can themselves contribute to ice melt, said a study published in May in Geophysical Research Letters and based on Beaufort Sea observations by the University of Washington and the Naval Research Laboratory.
As of Thursday, sea-ice coverage stood at about 2.77 million square miles, slightly above the level measured last year on that date, according to data from the National Snow and Ice Data Center. Melt was rapid in the second half of June, but it slowed in July — a potentially deceptive statistic, according to Meier.
It appears that recent storms and winds have spread the ice floes, but they may be thin and vulnerable to a quick melt in coming weeks, he said. "Now you have these little packs of ice spread out over a larger area with lots of water between them," he said.
Related stories from around the North:
Canada:  Missing sea ice data found in crusty Canadian algae, CBC News
Finland: Walkers warned – Finland's sea ice could be thinner than it looks, Yle News
Greenland:  Changing Sea Ice: The Ripple Effect (VIDEO), Eye on the Arctic
Russia: Sanctions on Russia – Helping or hindering the Arctic environment?, Blog by Mia Bennett
United States:  Arctic sea ice littered with tiny bits of 'microplastic' pollution, Alaska Dispatch