Top U.S. military officials visit Alaska bases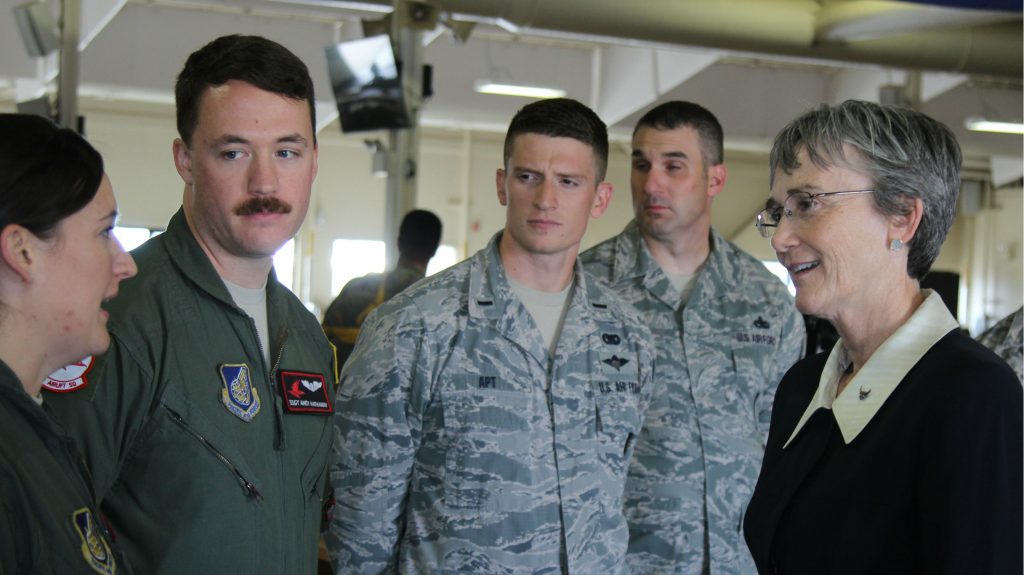 High-ranking military brass visited Alaska as part of the annual pilgrimage by federal officials and cabinet members during the August recess. Though national defense spending is up, different services are facing major recruitment challenges.
It was slightly chaotic inside a large hangar at Joint Base Elmendorf-Richardson (in Anchorage, Alaska) when head of the Air Force Heather Wilson dropped by Thursday afternoon. There were pilots on hand to greet the secretary, a clutch of reporters, officers and secret service personnel. Airplanes roared overhead. And then there were several dozen paratroopers in camouflage face-paint loaded down with parachutes waiting to pile into cargo planes for practice jumps.
Wilson is in Alaska for the first time since taking over as Secretary of the Air Force 15 months ago. She's visiting JBER and bases in the Interior to get a sense of how Air Force members in the 49th state are doing and what is needed. The recently passed National Defense Authorization Act budgets more money for personnel, but the Air Force is having a hard time recruiting and retaining service-members. That's especially true of pilots, who have been leaving the service for lucrative jobs in the commercial sector.
According to Wilson, the Air Force has to do a better job of incentivizing highly trained flyers to stay in the Air Force.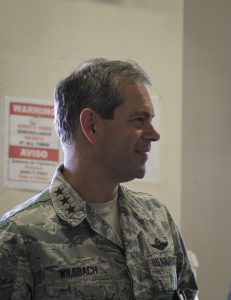 "But we also have to increase the number of pilots that we're training. So we're expanding pilot training," Wilson said during a brief round of questions from reporters.
Hearing directly from the troops
One reason military officials make visits like this is to get out of Washington, D.C. to hear more directly from troops and officers. Lieutenant General Kenneth Wilsbach is Alaska's top commander, and says one of his requests to the secretary is for the administrative burden on troops to be eased.
"And she's actually a big advocate for this," Wilsbach said. "Reducing the amount of bureaucracy for the average airman. So things that don't make a readiness difference, let's reduce those things to give the airmen more time to do mission, to give them more time with their families."
The day prior, Army Secretary Mark Esper spoke to the local press alongside Alaska Senator Dan Sullivan after meeting with military families at JBER and Fort Wainwright. The Army is trying to expand its ranks after years of reductions under the Obama Administration, with an ambitious aim to add an approximately 30,000 additional active duty troops in less than a decade, increasing the overall size of the standing Army to more than 500,000 before 2028.
However, Esper said it is not an easy time to convince people to enlist.
"With regard to recruiting, we have a great economy, and I would not trade in a great economy for one more soldier. But that means we have to operate more innovatively," Esper said.
Losing skilled immigrants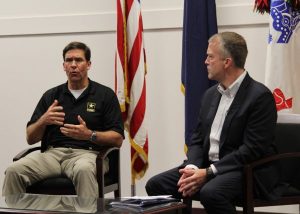 One area where the military has been shedding personnel are immigrants with particular skill-sets who joined the service under a program called Military Accessions for Vital National Interest. The initiative started in 2008 under the Office of the Secretary of Defense to draw in immigrants who spoke strategically important languages or had professional training in fields like medicine, and in exchange put them on an expedited path to citizenship.
MAVNI ran into bureaucratic hurdles in 2014, and more recently under the Trump Administration troops were being discharged from the Army with little to no explanation. On Thursday several national news outlets reported the Army had ordered a halt to those discharges while it evaluated the separation process.
The effective end of the MAVNI program won't affect end-strength numbers, according to Esper, and cited potential security concerns in some immigrants' backgrounds as a reason for it not to resume.
"MAVNI (recruits) by definition of the name itself are those persons who may present a skill that's vital to the national interest. But at the same time we have to place importance on the security of these folks to make sure we know what we're accessing into the force," Esper said.
The heads of the Navy and Coast Guard are also stopping in Alaska.
Related stories from around the North:
Canada: Canada extends air defence monitoring zone to entire Canadian Arctic, Radio Canada International
Finland: As Finnish Air Force seeks new fighters, expert weighs options, Yle News
Norway: Adding U.S. Marines in Norway creates instability, says Russia, The Independent Barents Observer
Russia: Russia threatens response if Finland and Sweden join NATO, YLE News
Sweden: Sweden to buy U.S.-made Patriot air defence systems, Radio Sweden
United States: Why are elite fighter pilots leaving the U.S. Air Force?, Alaska Public Media