Army uses Big Lake, Alaska as drop zone for paratrooper training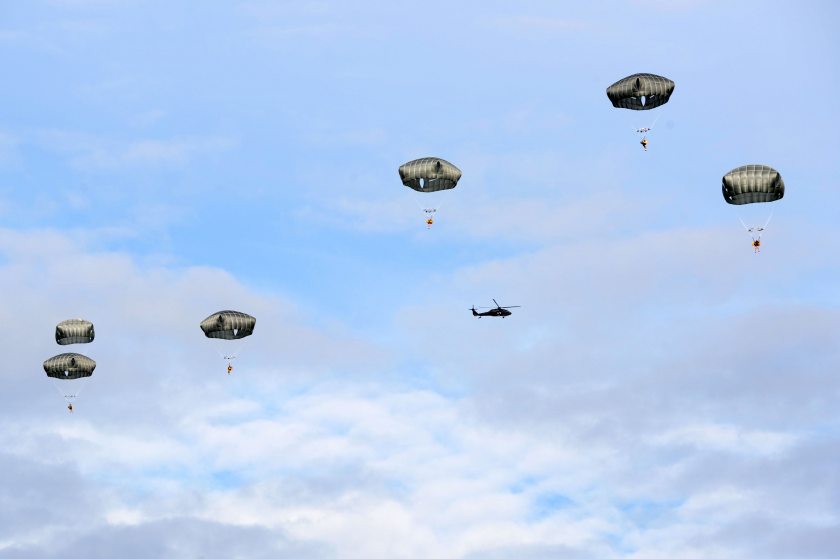 About 200 Army paratroopers from the 501st Parachute Infantry Regiment jumped into Big Lake, about 50 miles north of Anchorage, on Wednesday — the first water landing training the Army has conducted in Alaska in the last three years.
Over the course of the morning, a lone UH-60 Blackhawk helicopter from the Alaska Army National Guard picked up six paratroopers at a time from the Big Lake airport before lifting off and climbing about 1,500 feet into the overcast sky. Once over the south shore of Big Lake, the soldiers jumped out, slowly descending with help from their new T-11 parachutes, which the Army said reduces descent speed by up to 15 feet per second over the older T-10 chutes used since World War II.
As they waited their turn to board the helicopter and jump, most of the soldiers were more nervous about the expected water temperature of Big Lake than the jump itself. All had asked to be a part of the training.
"When I heard about it, I said, 'I need to get on that jump because we don't have too many fun jumps around here,'" said Lt. Kris Candelaria. "This one is unique."
When it was over, Candelaria, still dripping wet from his dip in Big Lake, said the water temperature was much warmer than he expected, at about 67 degrees.
"You are kind of nervous at first, and then the chute opens and you get to see Big Lake and the nice houses, and you see people on the side cheering you on," Candelaria said.
The training event drew a crowd of spectators on the south shore of the lake, as well as onlookers from the nearby houses and cabins. The paratroopers' families and friends watched the jump from a nearby state park campground.
"I have always wanted to see him jump, but I have never gotten the chance to before because they are always at a secret location," said Rachel Blanchard as she stood on the shore with her 6-year-old son and newborn daughter, waiting for her husband, Staff Sgt. Joseph Blanchard, to take his turn. "But I think I am more nervous now that I can witness it."
Contact Sean Doogan at sean@alaskadispatch.com
Related stories from around the North:
Canada:  NORAD launches training exercise in Canada's North, Eye on the Arctic
Finland: Finland's NATO membership no substitute for strong nation defence, Yle News
Norway:  Nordics rethink security after Ukraine crisis, Yle News
Russia: Russia puts countries on edge in the Arctic, Cryopolitics
Sweden: Risks as Russian military planes fly under the radar near Sweden, Radio Sweden
United States: U.S. official criticises Russia for meddling in Finland's NATO, Yle News