Russian food import ban halts Finnish lorries at the border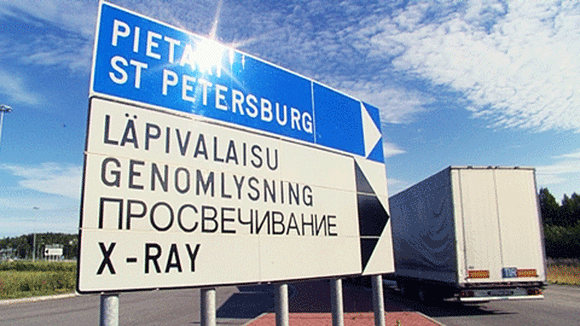 Smaller firms and subcontractors are expecting to be particularly hard hit by Thursday's announcement that Russia is placing an embargo on all food imports from the west in retaliation against EU and US restrictions over Ukraine.
Finnish lorries carrying dairy exports to Russia have been halted at the border, as a result of sanctions announced by Russian Prime Minister Dmitry Medvedev in retaliation against EU and US restrictions over Ukraine.
On Thursday afternoon the Kremlin unveiled a full and immediate ban on food imports from the EU, US and other western countries including Canada, Norway and Australia.
The embargo covers fruit, vegetables, meat and dairy products, and will remain in place for at least a year, Medvedev said.
Significant losses
Food exports to Russia currently make up 0.5 percent of all Finnish exports. The supermarket conglomerate S-Group, who operate 17 stores and three hotels in St Petersburg, said they expected the sanctions to cause them significant losses, with imported goods making up between a quarter and a third of all items stocked in their outlets. The group said they have no current estimate of the true extent of the impact,however.
Other companies, such as Finland's largest dairy producer, Valio, said they will be "hit hard" by the sanctions. The group said they expect their exports to Russia to fall in value from 430 million euros last year to around 100 million, but promised their suppliers that they will continue being able to buy products from them.
Supply chain hit
However the measures are likely to cause a chain reaction for related industries such as logistics, with smaller providers feeling the effects more accutely. Already on Thursday afternoon lorry drivers in Lappeenranta on the border began reporting that Russian border staff were no longer allowing trucks carrying dairy products to enter the country.
One family-owned transport firm, Team Niinivirta in Kotka, said that their fleet of 12 vehicles and 18 drivers was now rendered redundant by the ban. "Valio has been our largest customer," said the firm's owner Eero Niinivirta. "When I heard about the counter sanctions, I didn't know whether to laugh or cry."
Responding to the sanctions, President Niinistö expressed "great concern" at the deteriorating relations between the west and Russia. "We are clearly knocking at the doors of the cold war," he said.
Russia also announced a ban on Ukrainian airlines using Russian airspace for transit flights, and says it is considering whether to extend the restrictions to also cover European and US air carriers. Such a move would vastly increase costs and flying times for routes between Europe and Asia.
Related stories from around the North:
Canada: Canada boycotts Moscow Arctic Council meeting over Ukraine, Eye on the Arctic
Finland: Finland nuclear plant faces Russia-related obstacle says, Yle News
Norway:  Nordics rethink security after Ukraine crisis, Yle News
Russia:  Canada, Russia and The North Pole, Blog by Mia Bennett
Sweden: Vattenfall may pay billions for new nuclear safety requirements, Radio Sweden
United States:  Can an aggressive Russia remain U.S.'s nice Arctic neighbor?, Alaska Public Radio Network