Papp draws on long U.S. Coast Guard experience to guide Arctic policies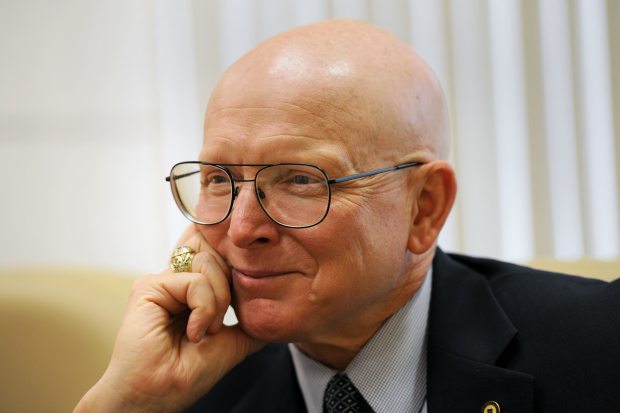 For former U.S. Coast Guard Commandant Robert Papp, newly appointed as the government's top Arctic envoy, leading American circumpolar policy is somewhat akin to sailing in volatile conditions.
"One thing I learned as a sailor: You play the hand of cards that you're dealt," Papp said in an interview on Monday. Papp was appointed a month ago by Secretary of State John Kerry as the U.S. special representative for the Arctic.
Just as he navigated at sea in weather that was out of his control, Papp must now work around geopolitical storms as he prepares for the United States to assume chairmanship next year of the eight-nation Arctic Council.
That means figuring out a way to continue doing business on Arctic affairs with Russia — the nation with more Arctic territory than any other — despite strained relations over Ukraine and other issues.
U.S-Russia relations
U.S-Russia bilateral relations are likely to remain rocky for a long time, Papp said, but there's hope for cooperation in the multinational Arctic Council, where all actions depend on consensus and common interests. No matter what happens between the two nations, the Arctic Council may be "a door that will stay open," he said.
The sharp partisan divide in national politics is another factor out of his control, but possibly explains why he is a "special representative" rather than an ambassador.
Sen. Lisa Murkowski, for one, has criticized the Obama administration for refraining from giving Papp the title of "ambassador." Murkowski characterized the decision as a sign of neglect and disinterest in Arctic issues, especially since the other Arctic Council nations have Arctic ambassadors.
There is a downside to an ambassador title, however. Ambassadors must be confirmed by the U.S. Senate before officially starting work. As special Arctic representative, Papp is a U.S. State Department official who was able to start his new job right away, without Senate approval. In contrast, numerous people nominated by President Obama to serve as ambassadors — including nominees to represent the U.S. in the Arctic nations of Norway and Iceland — have been waiting for the Senate to take up confirmation. Some nominations have been languishing for several months.
Papp said he is "grateful" that he was able to take on his Arctic duties immediately. Kerry, extremely busy with crises around the world, needed a senior official to focus right away on the Arctic.
"Secretary Kerry is running off to Afghanistan, to Israel, to Egypt. There are a lot of very demanding issues that are on the plate of the Secretary of State," Papp said.
No matter what his title may be, Papp said he is confident he has the stature and authority to carry out his Arctic mission. "I don't get too worked up about the name," he said.
Making the Arctic a priority
Central to that mission is spreading the message that the Arctic is important to the U.S., and that the U.S. is an Arctic nation. That's not news in Alaska, where Papp has been traveling and attending back-to-back meetings to collect suggestions about national Arctic policy and future Arctic Council goals. It may be a revelation in the Lower 48 states, though.
"If you mention 'Arctic nation' or 'Arctic Council,' it's really not on their minds," he said. "This is our opportunity to try to change that."
Under U.S. leadership, to run from 2015 to 2017, the Arctic Council will hold high-level meetings in the U.S., and likely Alaska, Papp said. He is hoping the president will be able to attend an Arctic Council event, and there are hopes for an Arctic summit, with leaders of all the Arctic nations. Such events will help draw U.S. attention to the Arctic, he said.
Focus on maritime issues
U.S. leadership will also mean a special U.S.-selected theme for council business. Papp is asking for advice on that issue, but there are signs that he will pursue a maritime theme.
For one thing, the "dominant factor" in the Arctic is the ocean, he said. "It's how people came here. It's how cargo is shipped."
He also has a history of promoting shipping safety, dating back to his first assignment in Adak in 1975, when he was a new graduate of the U.S. Coast Guard Academy.
In his four years as commandant, he made sure to spend part of every summer in Alaska, where he monitored the Coast Guard's seasonal Arctic Alaska operations, dubbed "Arctic Shield." As Shell and other oil companies planned controversial oil-exploration programs in remote parts of the Arctic Ocean, Papp saw some more immediate threats to the region's environment and the safety of its people. Vessel traffic has been increasing, and controls and disaster prevention are not adequate, he said.
"As commandant, I was less concerned about the drilling operation than I was about the increased traffic through the Bering Strait," he said.
A U.S. theme is likely to be chosen soon. On the agenda for an upcoming meeting of the Arctic Council nations' senior Arctic officials, scheduled for late October in Yellowknife in Canada's Northwest Territories will be a presentation of the U.S. plans for stint as council leader, Papp said.
Related stories from around the North:
Canada: Canada's Arctic Council leadership gets mixed reviews, Eye on the Arctic
Finland: Ex-President Ahtisaari calls on Finland to join NATO with Sweden, Yle News
Greenland:  Greenland urged to work with Arctic Council, CBC News
Iceland:  Many questions, but few answers as Arctic conference gets underway in Iceland, Alaska Dispatch
Norway:   Permanent Arctic Council Secretariat opens in Tromso, strengthening Norway's position in Arctic, Blog by Mia Bennett
Sweden: Feature Interview: Sweden wraps up Arctic Council, Radio Sweden
Russia:  Blog – Russia puts countries on edge in the Arctic, Cryopolitics
United States: New U.S. Arctic emissary gets plenty of ideas from Alaskans for Arctic Council priorities, Alaska Dispatch