Traditional foods making their way onto elders' plates in Northwest Alaska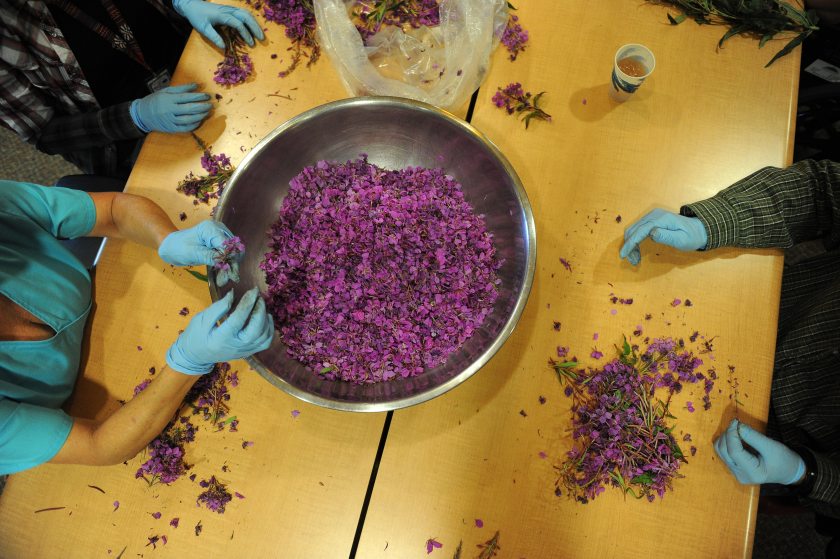 KOTZEBUE — Picking berries, drying fish, butchering seals: For lifelong residents of the Northwest Arctic, these aren't just "traditional" activities, they are a way of life.
Knowing that, managers at "Utuqqanaat Inaat," the long-term senior care facility at the Maniilaq Health Center, have worked hard to make sure such activities are folded into everyday life for residents.
"We try to get them to do the things they've always done," said Val Kreil, administrator of Utuqqanaat Inaat. In Inupiaq, the name means a "place for elders."
But there was a basic activity they couldn't do: Serving traditional foods like caribou, wild-caught salmon and other wild game from the region.
The reason? It was illegal to serve wild-caught foods in hospitals, schools and long-term care facilities because the meat was not U.S. Department of Agriculture certified.
But the Maniilaq Association and others have been working to change that. They pushed to update a regulation, which is included as part of the U.S. Farm Bill updated earlier this year, that allows for traditional foods to be served at schools, hospitals and nursing homes.
For Maniilaq, operators of the region's main medical facility, eating traditional foods is not about buzzwords or food trends. It's just life in Northwest Alaska.
"We're just trying to emulate the same diet they've had all their life," said Paul Hansen, health services administrator for the Maniilaq Health Center.
The regulation has been approved by the U.S. Congress. However, it's still working its way through the regulatory system. There are issues involving Medicaid and Medicare funding that need to be resolved, but the Farm Bill language is a start, said Kay Branch, Elder Care Program Coordinator for the Alaska Native Tribal Health Consortium.
"The farm bill opens that door and says the federal agencies need to be concerned about this," she said.
Branch has worked on the issue for a long time, hoping to get more traditional foods into nursing homes in particular. She's hosted traditional food potlucks for elders across the state. Branch said it's hard to overstate how important the food is to elders.
For example, she once brought moose stew to an elder at Prestige Care and Rehabilitation Center, a long-term senior living center in Anchorage. She said the woman, who was still very alert, thanked her profusely for the taste of home.
"She told me, 'Oh good, we don't have to have chicken,'" Branch said. "Chicken is not something these elders grew up with."
A taste of home
The long-term care facility at Maniilaq is small — only 18 residents, most of whom are Inupiat and have spent their entire lives in the Northwest Arctic. Kreil said the facility is the northernmost senior care center in North America. It barely lost the title of westernmost to the senior center in Nome.
The $17 million facility has been well received from those who live in the region. Kreil said that before the center opened, when elders' needs became too much to deal with for some families they were forced to send them to long-term care facilities far away in Anchorage or Fairbanks.
The center, now in its third year of operation, tries to keep things as much like a home as possible, despite being a hospital facility. One of the main points of pride for Kreil is an open kitchen nearby that increases cooking participation with residents.
But not all of the food that comes out of that kitchen is what residents are used to. Along with halibut, reindeer sausage and fry bread are traditional Western diet staples like spaghetti and roasted chicken.
That's not the kind of meal many people, especially elders, in Northwest Alaska are used to. Kreil said one patient will only pick at her food when the Western-style options are available. But serve her caribou stew or dried salmon, and she gobbles it down.
To Kreil, who worked with the Amish before coming to work in Kotzebue, serving traditional food just makes sense.
"I don't want to state the obvious," he said. "It's important."
There are still limitations over what they can serve. Certain foods like walrus are still off the menu over trichinosis concerns, as is the popular seal oil, since it is fermented and can't be served in a hospital setting. Still, families can bring in traditional foods to share with their family members. There are also monthly native foods potlucks — open to all elders in Kotzebue — where those foods can be served.
Small changes already
While the regulation is still working its way through the system, Maniilaq is already preparing for it.
Maniilaq is in the middle of remodeling a small, off-site processing center for hunters to bring fish and wild game. The site will not only be a certified processing facility — which the donated meat and fish will still have to go through — but it will also provide additional storage. They're hoping to finish the construction by October.
The food isn't coming from just anyone. Kreil said Utuqqanaat Inaat would only accept donations from specific hunters. It must also be properly prepared and stored, hence the new USDA approved facility.
Branch said other facilities have also made adjustments to make sure traditional foods can be served. In Bethel, for example, managers designed a separate kitchen for residents to prepare their traditional foods. She said the addition has been well received.
"There is that recognition of how important it is and how when I get old I get to eat whatever I want to eat," she said.
Contact Suzanna Caldwell at suzanna@alaskadispatch.com or on Google+
Related stories from around the North:
Canada: Addressing northern food insecurity, Blog by Heather Exner-Pirot
Greenland: Researchers must be honest with Arctic peoples about food contaminants: doctor, Eye on the Arctic
Sweden: Demand ups Sweden's reindeer meat prices, Radio Sweden
United States: Traditional Alaska Thanksgiving recipes, Alaska Dispatch