UAF researchers brief NATO delegates on Arctic challenges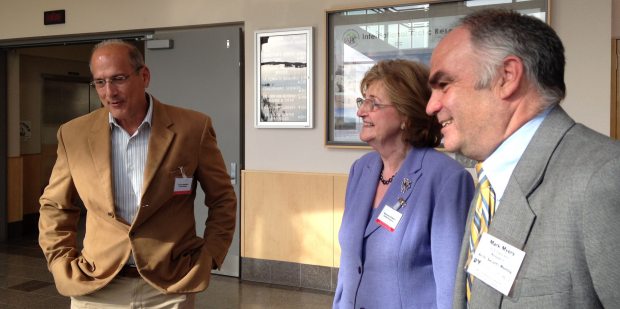 About 20 elected officials from 14 NATO countries received a wide-ranging update on Arctic issues and challenges Thursday from University of Alaska Fairbanks researchers.
Global security concerns and transportation challenges are among a host of pressing issues, said Margaret "Meta" Ramsay, chairwoman of the NATO Parliamentary Assembly Science and Technology Committee. Speaking to reporters at UAF, she said the delegation came to Alaska to learn more about the geopolitical importance of the changing Arctic.
The delegation visiting Fairbanks included U.S. Rep. Thomas Marino as well as elected officials from England, France, Norway, Portugal, Turkey, Romania, Belgium, the Czech Republic, Estonia, Greece, the Netherlands, Spain and Italy. The group conducted its proceedings in English, assisted by three French and Italian translators.
Marino, a Republican from northeastern Pennsylvania, said the trip is a chance for "scientific study and review." He said he thinks there are "natural evolutionary facts that cause change in the world," but "certainly humans have an impact. Now what do we do to hopefully prevent disasters and actually benefit, whether that's through job creation, that science directs us in a certain way."
Alaska to play an important role
While a NATO summit began in Newport, Wales, on Thursday, attended by leaders from 28 member nations, the Alaska visit allows legislative leaders from some of the NATO countries to expand their knowledge and hear from experts, Ramsay said. She said presentations in Anchorage earlier in the week and in Fairbanks confirmed her expectations that a high level of Arctic research is taking place in Alaska.
She said Alaska will be "playing an important role in the whole development of our knowledge of what's going to happen in this area" and preparing people elsewhere for changing conditions.
"The rest of the world is vaguely waking up to it, whereas up here you've known about the developments for a long time," she said.
Safety is a concern, cooperation is essential
Ramsay said one of the issues that concerns her is that the expansion of shipping lanes because of melting ice is going to lead to an increase in traffic, and safety has to be addressed.
"One of the problems is what is going to happen when there are accidents, as there are always bound to be," said Ramsay, a member of the House of Lords whose title is "The Baroness Ramsay of Cartvale."
Ramsay, 78, has an extensive background in British politics and intelligence. A member of the Labour Party, she is a former senior officer of MI6, the British spy service, and according to British press reports she was once in the running to lead that agency.
Regarding safety at sea and future traffic lanes, she said that the Costa Concordia accident in 2012 off the coast of Italy sparked a major rescue effort, but even so it led to the loss of 32 lives. Ramsay said cruise ships in the Arctic pose a much larger risk because of the relative isolation, and she stressed the need to establish a framework for international cooperation in advance.
"If you don't have very strong cooperation and good planning, there's going to be nobody here to rescue people the way there are in some of the other shipping lanes in the world," she said.
Ramsay and other members of the committee heard from civilian and military officials in Anchorage Tuesday and Wednesday, with a visit to Eielson Air Force Base near Fairbanks planned Friday.
The role of the NATO Parliamentary Assembly Science and Technology Committee
The delegation is part of a 46-member committee of elected officials that reviews topics ranging from missile defense to cyber security and prepares reports for NATO. The committee members also report back to the parliaments in which they serve.
The science and technology panel is one of five major committees formed by the NATO Parliamentary Assembly, a 257-member group that consists of elected officials from 28 countries in NATO. It is separate from NATO but connects the treaty organization with parliamentary officials from member governments.
The U.S. has 36 members of the assembly, while France, Germany, Italy and Britain have 18 each, and Canada, Poland, Spain and Turkey have 12 each. Other nations have smaller delegations, with the smallest being three members each from Estonia, Iceland, Latvia, Luxembourg and Slovenia.
"The assembly, by virtue of its membership drawn from the various national parliaments, provides a link between the NATO authorities and these parliaments. Through its discussions, it helps to promote a common feeling of Atlantic solidarity in the various legislative assemblies and to further the aims and values of the Atlantic Alliance," according to the rules of procedure governing the group.
Contact Dermot Cole at dermot@alaskadispatch.com or on Twitter
Related stories from around the North:
Canada: Canada's Arctic Council leadership gets mixed reviews, Eye on the Arctic
Finland: Ex-President Ahtisaari calls on Finland to join NATO with Sweden, Yle News
Greenland:  Greenland urged to work with Arctic Council, CBC News
Iceland:  Many questions, but few answers as Arctic conference gets underway in Iceland, Alaska Dispatch
Norway:   Permanent Arctic Council Secretariat opens in Tromso, strengthening Norway's position in Arctic, Blog by Mia Bennett
Sweden: Feature Interview: Sweden wraps up Arctic Council, Radio Sweden
Russia:  Blog – Russia puts countries on edge in the Arctic, Cryopolitics
United States: U.S. participation in Arctic Council lacks coordination, follow-through: report, Alaska Dispatch