Unusual species in Alaska waters indicate parts of Pacific warming dramatically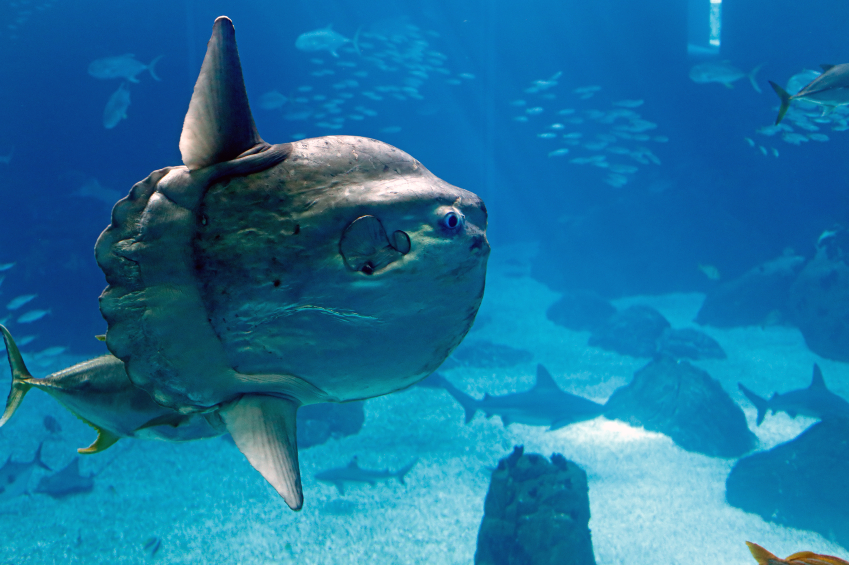 A giant hotspot in the North Pacific Ocean may help explain why a massive ocean sunfish was spotted in Prince William Sound this month and a skipjack tuna was caught in a gillnet weeks earlier near the mouth of the Copper River, scientists say.
Both species are unusual visitors to Alaska. Steve Moffitt, a research biologist with the Alaska Department of Fish and Game in Cordova, believes the tuna might be the northernmost ever recorded.
"'Fishes of Alaska' (a 2002 book by Catherine Mecklenburg) has one confirmed documentation caught in a setnet in Yakutat Bay in 1981 and a personal communication that some were caught off southern southeastern Alaska," he noted in an email to colleagues.
Yakutat Bay is about 200 miles southeast of where the latest catch was made about 150 miles southeast of Anchorage. Skipjack, the smallest and most common of the commercial tuna species, are normally considered a fish of the tropics.
Ocean sunfish and Humboldt squid
So, too, is the ocean sunfish, a rather bizarre, tailless fish that can grow to more than 10 feet long and weigh 5,000 pounds. State fisheries biologist Tommy Sheridan said he was a little shocked to look out of the window of a SuperCub and spot the fish near the Hinchinbrook Entrance to Prince William Sound in early September.
"It was pretty big," he said. "I figured it was rare."
Sheridan was flying back to Cordova with pilot Roger Behymer after conducting aerial surveys of salmon spawning in area streams. Behymer has been flying stream surveys since the 1970s and had never seen anything like it.
Much the same could be said of the skipjack, though state biologist Rich Brenner in Cordova noted, "There was a yellowfin (tuna) reportedly caught or stranded last year. (And) I also heard a report of a Humboldt squid caught out of Valdez this year."
The up-to-6-foot-long jumbo squid once was thought to range only as far north as Oregon, but there have been reports of appearances off Sitka on the Alaska Panhandle in recent years.
Still, Sitka is close to 500 miles south of Prince William Sound. A Humboldt squid is way out of its normal range in the Sound, but there appear to be "a whole bunch of things in the Sound now that shouldn't be," Brenner said, including a lot of precocious coho salmon males.
Fall stream surveys found an usually large number of returning fish that had only gone to sea this spring, he said. Usually, cohos spend at least one season there, sometimes several.
It appears this year "they went out, ate enough to produce gonads and came back," Brenner said.
Credit or blame a warming North Pacific Ocean.
"The Gulf of Alaska and the Bering Sea have become … unusually warm in a way that has species showing up in very odd places and could have lasting implications for fisheries in both places," said Michael Milstein of the Northwest Fisheries Science Center in Seattle. "Parts of the Gulf of Alaska and Bering Sea are close to 5 degrees F higher than average. Warm conditions like this in the past have had effects on fisheries."
Ocean hotspots
The science center is part of the National Oceanic and Atmospheric Administration. NOAA tracking of water temperatures in the Gulf and Bering Sea shows the latter particularly hot and the former sporting a band of warm water just offshore of Alaska from the southern border north and west to the tip of the Aleutians, with a couple of huge hotspots south of Kodiak Island.
What exactly this means no one knows for certain. In the past, warm waters in the region have been credited with devastating Pacific Northwest salmon returns while at the same time boosting runs in Alaska. Woeful king salmon returns in parts of Alaska in recent years are thought by many to be tied to falling temperatures in these waters.
Thanks to years of warm water due to what scientists have termed a Pacific Decadal Oscillation or PDO, Alaska kings did great through the 1980s and 1990s. But the runs began to trend downward in many waterways as offshore waters began to cool at the start of the millennium.
Many fisheries scientists worried that Alaska could be in for decades of weak salmon runs similar to those of the 1960s and 1970s, when the North Pacific was locked in a cool-water phase, but the ocean unexpectedly warmed in the early 2000s before reverting to the cool phase shortly before the start of this decade.
It was expected to stay cool for some time, but that has once again, and unexpectedly, changed.
Scientists Howard Freeland and Frank Whitney first noted an uptick in temperatures in January. As they reported for the North Pacific Marine Science Organization, the water at first appeared so warm they questioned the accuracy of the data. But further digging revealed it to be accurate.
It appeared, they concluded, that unusual winds from the south "disrupted the path of the westerly winds that cross the subarctic Pacific" and pushed a lot of warm water north.
'A strange and mixed bag'
While this may be good for Alaska salmon, at least in the short term, Freeland and Whitney predicted it could be bad for the tropics.
"Without nutrients from the subarctic, the productivity of subtropical waters must decline," they wrote. The changes in water temperature, they reported, were already reducing the growth of phytoplankton, which was sure to have broad implications for a host of marine species.
"Top predators may be able to locate the chlorophyll front, since they are accustomed to traveling great distances in their search for prey," they said. "However, weakened nutrient transport from the subarctic into the subtropics this past winter will dramatically reduce the productivity of the eastern subtropics over an area of approximately 17,000 square kilometers."
Freeland and Whitney also predicted tuna would move north. Whether this is an anomaly or something that will continue is impossible to predict.
"The situation does not match recognized patterns in ocean conditions such as El Nino or the Pacific Decadal Oscillation," NOAA scientist Nate Mantua told Milstein in a story the latter wrote for the Fisheries Science website.
"It's a strange and mixed bag out there," Mantua was quoted as saying in Seattle, pretty much echoing what Brenner was saying in Cordova. Being able to figure out ocean conditions is important to state fisheries biologists forecasting 2015 salmon returns early next year.
Without a good idea of what ocean conditions are likely to be, "it's challenging," Brenner said. "NOAA has been predicting El Nino, but now they're vacillating."
The latest NOAA estimate says there is a 65 percent chance an El Nino emerges by early winter. If it does, the associated warm flow of air from near the equator is expected to only reinforce the warming that has already taken place in the sea off Alaska.
As always, various species fall victim to the vagaries of global weather while others prosper. Good news for Alaskans, many of whom inhabit the urban sprawl from Anchorage north into the Matanuska and Susitna valleys, is that the conditions now being discussed usually suggest a mild winter.
And warm is good, at least until it gets so warm that Anchorage in winter turns into an even darker, wetter, grungier place than Seattle.
Contact Craig Medred at craig(at)alaskadispatch.com
Related stories from around the North:
Canada: Studying bugs to track climate change, CBC News
Finland: Rare peregrine falcons spotted in Finland's Arctic, Yle News
Sweden: Concern after wild raccoon spotted in Swedish town, Radio Sweden
United States: Musk ox invasion keeps wildlife managers busy in Alaskan city, Alaska Dispatch