Lundin Petroleum announces Barents Sea oil discovery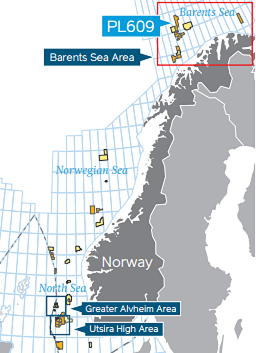 After a somewhat disappointing test-drilling season for oil companies in the north, Lundin Petroleum today announces a big finding of both oil and gas.
The Norwegian Petroleum Directorate headlines the discovery as "significant", while Lundin Petroleum says in a press release that the oil resource range is estimated at 85 to 310 million barrels of oil, or some 14 to 50 million standard cubic metres.
In comparison, the Goliat field where ENI will start production next year has recoverable reserves estimated to 174 million barrels. The Goliat field is located 85 kilometres northwest of Hammerfest.
Lundin's discovery at the Alta prospect announced on Tuesday is another 100 kilometres further north in the Norwegian sector of the Barents Sea.
Located north of 72 degrees, Lundin's oil discovery is together with Statoil's Johan Castberg field the northernmost significant oil discovery in the Barents Sea.
'Significant discovery'
In addition to the oil, there are some 5 to 17 billion standard cubic metres of recoverable gas in the well.
President and CEO with Lundin Petroleum, Ashley Heppenstall, is very excited about the discovery.
"The Alta discovery is a significant predominantly oil discovery in the southern Barents Sea. Alta is close to the nearby Gohta discovery made by Lundin Petroleum just over a year ago. This discovery is another positive step in relation to proving up sufficient resources in the Loppa High area of the Barents Sea to enable the development of oil production infrastructure," Heppenstall says.
He underlines that the field is south of the ice-covered areas in the south-western part of the Barents Sea.
"The Loppa High area is impacted by the Gulf Stream and as such is ice free all year and far from the maximum southern edge of the ice edge."
Lundin Norway holds 40 percent interest in license. Partners are RWE Dea Norge AS and Idemitsu Petroleum Norge AS with 30 percent each.
Greenpeace not happy
"They can celebrate as much as they want, but this is oil we whatever cannot afford to recover. The climate challenges require that the oil must remain where it is. Anything else would be very irresponsible," says Truls Gulowsen, head of Greenpeace Norway in a press release issued shortly after Lundin announced the discovery.
Gulowsen is concerned about the safety of possible oil-drilling so far north.
"The Barents Sea is challenging, even more the further north in the Arctic drillings take place. Darkness, cold, icing, all tougher climate makes oil drilling in the Barents Sea more demanding. Rough weather increases the change of a larger oil-spill. Therefore, it is best to leave the oil where it is," concludes Truls Gulowsen.
Related stories from around the North:
Canada: Canada ponders exceptions to relief well rule for Arctic oil drilling, Alaska Dispatch
Norway: No Norwegian services to Russian Arctic offshore oil, Barents Observer
Russia: Disappointing result in Rosneft's first Norwegian well, Barents Observer
United States: Shell's new Chukchi plan: Two rigs drilling wells at the same time, Alaska Dispatch