Air route links Norway, Sweden and Finland in Arctic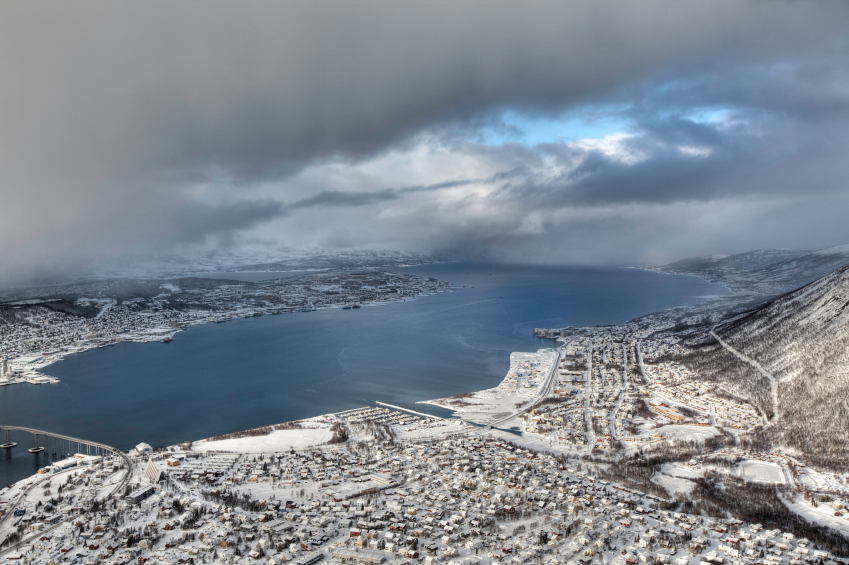 TROMSØ: With economic support from the regions, Arctic Airlink will be the first east-west route linking Norway, Sweden and Finland in the north.
The County Council of Norrbotten on Tuesday voted in favour of supporting the route with 26 million SEK(€2,83 million) for the five year period until 2019. A condition is that Troms County and Oulu County will add another 25 million SEK each if the route is not profitable the first years, reports P4 Norrbotten.
"We strongly believe this new route linking the largest cities in northern Finland, Sweden and Norway will be a success," says Nina Rismalm with Norrbotten Chamber of Commerce.
Meeting BarentsObserver at Tromsø airport, Rismalm says there is a need for such route in a time when the region gets a more interlinked labour market.
Planning the route with her Norwegian partners Laila Stigen from Troms Chamber of Commerce and Marius Chramer with Troms County Administration, Nina Rismalm hopes to see the first flight soon.
Last January, Oulu opened the Finnish House in Tromsø, aimed at boosting trade and labour cooperation between the two cities.
"Everything is happening up here in the Barents Region, so there is for sure a market," says Marius Chramer.
He hopes the timetable for the new route will be scheduled to fit connecting flights out from Tromsø to other important destinations in northern Norway like Hammerfest, Longyearbyen and Bodø. Tromsø airport has flights to around 30 destinations.
Luleå airport have in addition to Stockholm flights to Kiruna, Gällivare, Umeå and to Pajala in the Swedish, Finnish border area in the Torne valley.
From Oulu, there are about 20 daily flights to Helsinki, with good connections to Finnair's many destinations in Asia. The growing Asian travelmarket, with tourists hunting for the northern lights, is believed to feed in passengers to the new Tromsø flight.
Coopertaion with other airliners
The new inter-Nordic route by Arctic Airlink is planned to teamed up with airlines like SAS, Widerø, Finnair andKLM/Air France making it possible for passengers to buy interline tickets so you could check-in and send your luggage to your final destination.
Both businesses and tourists are target groups for Arctic Airlink. Two test flights took off on the route in January this year, and the initiators have since worked with airlines to start regular flights.
With Tuesday's decision in the County Council, Norrbotten will be a share-holder in Arctic Airlink, reports Affärer i Norr. The county will own 16 percent of the shares. According toP4 Norrbotten, the idea is that Norrbotten's Chamber of Commerce will hold 52 percent. The cities of Tromsø and Oulu will also be shareholders in Arctic Link AB.
Tromsø-Luleå route failed last time
In 2004, the Swedish company Barents AirLinks opened the first route between northern Sweden and Tromsø. With grants from EU's cross-border financial programme Interreg, Barents Airlinks where flying from Luleå via Kiruna to Tromsø, the first years with a 12-seats propeller and from 2007 with a 19 seats jetplane.
The route was, however, not commercial profitable and closed down in February 2008.
Barents airport hub – TOS
Airport Director for Tromsø, Jonny Andersen, praises the new international route across the borders on the top of Scandinavia.
"We are the natural hub for flights in the Barents Region, and this new route to northern Sweden and northern Finland is most welcomed," says Jonny Andersen to BarentsObserver.
Tromsø airport (TOS) is the largest in the Barents Region with more than 1,9 million passengers in 2013, according to the airport statistics posted by Avinor.
"We have a goal to serve 2 million passengers," says Jonny Andersen.
Tromsø airport is also destination for the only cross-border east-west flight out of north-western Russia.
Pskovavia is on behalf of Nordavia flying the route Arkhangelsk-Murmansk-Tromsø twice a week.
-By Thomas Nilsen and Atle Staalesen, Barents Observer 
Related stories from around the North:
Canada: Captain ignored co-pilot's warnings before plane crash in Canadian Arctic, CBC News
Finland: Finnair adding more flights to Lapland, Yle News
Greenland:  Air Greenland plans another summer of Iqaluit-Nuuk flights, CBC News
Iceland:  Flights to Iceland to start next March from Edmonton, Canada, CBC News
Norway: Barents Region's only east-west flight could be grounded in late October, Barents Observer
Sweden: EU Sweden project may lead to 'green' flights at airports, Radio Sweden
United States: Tackling 'frost boils' on Alaska's Arctic Highway, Alaska Dispatch