Why Barents oil is becoming unprofitable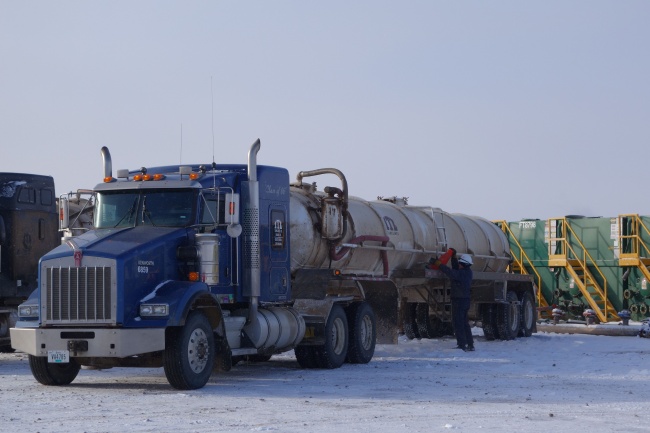 MINOT / NORTH DAKOTA: This U.S. shale formation produces over a million barrels of oil per day at a break-even price offshore drillers in the Barents Sea never even can dream about.
Falling global oil prices is seriously cooling investors' rush for Arctic offshore oil. Prices have dropped more than 25 percent since hitting $112 in June and the market is nervous. A barrel of oil (Brents Spot) is sold for $86 dollars on Friday.
Boosting U.S. shale-oil production is one of the single most important reasons for the recent fall in oil-prices. BarentsObserver has visited the Bakken field, a 520,000 km2 rock formation filled with oil that lies beneath North Dakota, northeast Montana and partly into Canada.
Norway heritage
Named after Henry O. Bakken, son of the Norwegian immigrants Otto and Mary Bakken, the first oil from the formation was produced in 1952. Henry's well was drilled vertically. After producing more than 250,000 barrels of oil, a significant amount those days, they had to close down. The oilmen knew more oil was there, but they didn't have the technology to extract it.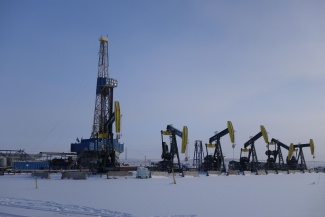 A technological breakthrough with hydraulic fracturing, or fracking, came in in 2007. High-pressure water, sand and chemicals are used to stimulate or create horizontal fractures in the rock to help extract oil.
The oil-boom is highly visible when driving across the prairie south of Minot, a mid-size town most known for its annual Høstfest, North America's largest Scandinavian festival.
More production than Alaska
Oil-jacks and gas-flares, storage tanks and pipelines, roads with more trucks than private cars. Oil production has long ago outstripped pipe-capacity. Trains stretching over 1,6 kilometers with up to 100 oil-wagons leaves eastbound from the loading stations every half hour. It is two years ago since North Dakota surpassed Alaska as the number one oil-producing state.
Grandmothers driving Bentleys from their old farms to the malls in Minot prove that landowners get their share of the cash flow from big oil.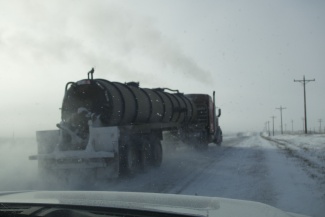 You know you are witnessing a boom when you drive in accordance with the speed limit and are overtaken on the road by an 18 meters long oil-truck.
A million barrels per day
This year, production at the Bakken field passed one million barrels per day. In comparison, the total production on the Norwegian continental shelf is 1,5 million barrels per day.
The oil-jacks are visible all long the horizon in the flat landscape of the Bakken field produces more than 10 percent of all U.S. oil.
Analysts believe a barrel of oil would have been $60 higher wasn't for the fracking.
"Crude oil would cost at least $150 a barrel due to supply disruptions in the Middle East and North Africa were it not for rising production in North Dakota and Texas, U.S. Energy Information Administration (EIA) chief Adam Sieminski said in an interview with Reuters on Wednesday.
Sieminski was speaking ahead of North Dakota Petroleum Council's annual meeting.
Can drop to $60
Torbjørn Kjus, an oil market analyst at DNB Bank, fears the oil-price could drop even further. "I was not negative enough when I predicted $80," says Kjus in an interview with Dagens Næringsliv on Friday.
He says it might be that the price drops down to $60 per barrel.
Barents Sea fields profitable
The only field in the Norwegian part of the Barents Sea where a decision to produce oil is taken is the ENI operated Goliat, believed to have a production break-even of $95 per barrel, according to Teknisk Ukeblad.
In comparison most of the oil-wells under production at the Bakken field in North Dakota have break-even from as low as $60 per barrel.
Johan-Petter Barlinhaug, Director of the Board with North Energy, says to BarentsObserver that falling oil price due to higher U.S. production will have a strong impact on the oil companies' interest for the Barents Sea.
"In my opinion, the oil price will most likely be low for a long time. This due to higher U.S. production, a slow global growth and the increase in use of renewable energy," explains Johan Petter Barlinhaug.
"Be more patient before Arctic drilling"
With headquarters in Alta in Finnmark, North Energy has a special focus on participating in developments in the northern part of the Norwegian continental shelf; the Norwegian Sea and the Barents Sea.
Barlinhaug belives companies need to slow down the high speed and be more patient in the Arctic.
"In addition to the low oil price, also high costs and lack of capacity in export infrastructure for gas have a strong influence on oil companies' interest. To counteract this, a decision on a Barents Pipe should be taken in 2015 to meet the European demand for gas," he says and continues:
"In the Barents Sea, safety is first priority. Therefore we need to be more patient in addressing high-speed development. Technology, infrastructure, operational guidelines and the economic framework are not in place yet."
On Tuesday this week, Lundin Petroleum announced a significant oil discovery at 72°N in the Barents Sea. The company said the resource range is estimated at 85 to 310 million barrels of oil.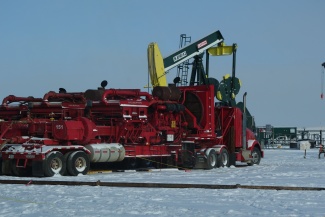 Up to 4,3 billion barrels
Lundin's discovery is, however, small compared with the oil produced by fracking in North Dakota. A 2008 report from the United States Geological Survey estimates the amount of recoverable oil using fracking technology at the Bakken formation at somewhere between 3 to 4,3 billion barrels.
Global oil consumption is around 92 million barrels a day. The U.S. produces 8,5 million per day, 3 of which are from fracking shale wells put into production the last few years.
In North Dakota, they are now hoping for an approval to build a new pipeline. Railway transport has proven to be dangerous with several serious accidents over the last few years. A derailed train with highly flammable oil near inhabited areas is the nightmare call for any operators at 911.
With a new pipeline, transport costs can go down and the drillers on the prairie grassland outside Minot hope Bakken production could reach 2 million barrels per day. That would push Barents oil production even further into the future.

Related stories from around the North:
Asia:  Full steam ahead for Asian icebreakers in the Arctic this summer, Blog by Mia Bennett
Canada: Canada ponders exceptions to relief well rule for Arctic oil drilling, Alaska Dispatch
Norway: No Norwegian services to Russian Arctic offshore oil, Barents Observer
Russia: Disappointing result in Rosneft's first Norwegian well, Barents Observer
Sweden: Swedish icebreakers gear up for Arctic role, Radio Sweden
United States: Alaska ships its first oil to Asia in a decade, Blog by Mia Bennett, Cryopolitics