As field season ends, gasline becomes focal point of Alaska gubernatorial race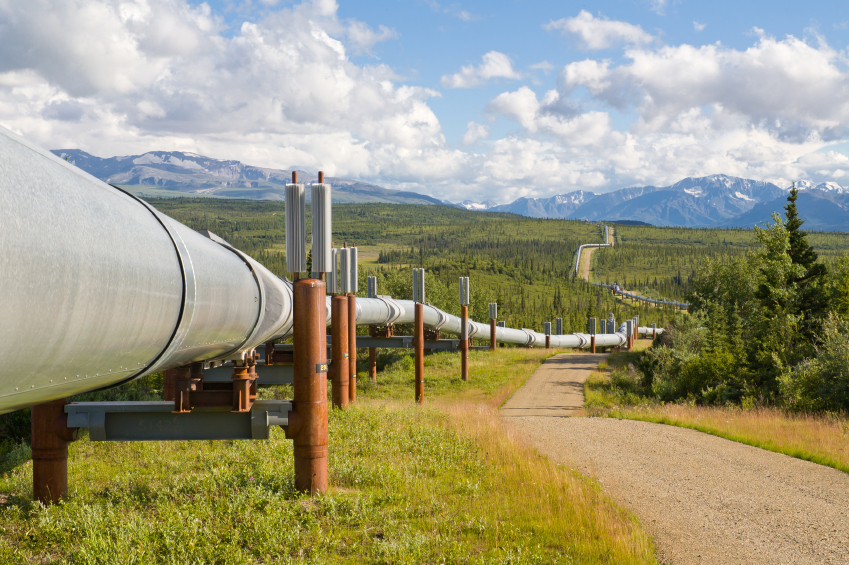 Just about every major Alaska gubernatorial candidate since Jay Hammond has made advancing a gasline part of their platform. This election is no different. With early field work being done on a project, Republican Gov. Sean Parnell and unaffiliated candidate Bill Walker are sparring over who can negotiate the best deal and who can close it. APRN's Alexandra Gutierrez reports.
How much money do you have to spend to get a handful of dirt? About half a billion, if you're talking about samples from the proposed site for a natural gas liquification plant in Nikiski.
"Dirt's what you sweep under the rug!" interjects Dick Raines, as a drill rig seizes up about a cupful of soil.
Raines is a geotechnical engineer for ExxonMobil, and he's collecting samples to make sure the land is stable enough for a massive construction project. A member of his team shows off the gravel to a handful of reporters, who have been flown down to see people actually working in the field. The deal to get this point in a gasline project was inked this past year by the State of Alaska, Exxon, BP, Conoco, and TransCanada, and plenty of effort has already gone into permitting and export licensing. But the early engineering work that started this summer was really the first to involve boots on the ground.
The scene itself isn't very impressive: a small mobile drill rig to extract the soil, about a half dozen men in safety gear. But all the Alaska LNG employees accompanying reporters to the site are quick to emphasize that the project itself is unprecedented in its scope.
"Nobody has ever permitted a project like this before. There has never been a project this large done in the U.S," says project manager Steve Butt, during his presentation at the Alaska LNG site.
Butt says even the numbers for the preliminary work match the ambition of a project that involves one gas treatment plant, one liquefaction plant, and 800 miles of pipeline.
"You're investing $2+ billion to see if it makes sense to invest another $45 to $65 billion," says Butt.
Now, there's the question of whether the project will get to that point. Just as summer fieldwork is winding down, the gasline is coming up as a political issue. With oil production a fraction of what it was during the boom years, construction of a gasline is seen as the state's best hope of offsetting a decline in oil revenue.
Competing campaigns
RADIO AD: Bill Walker wants to renegotiate the deal, which will add years of delays. Let's stick with a gasline project that's working, and the governor that's making it happen
Republican incumbent Sean Parnell has started airing ads promoting his own work on the project and criticizing his unaffiliated opponent. Parnell campaign manager Tom Wright notes Walker has litigated against the industry in the past, seeking to block the state's settlement with Exxon over the development of Point Thomson's gas reserves (Walker sought to have the state seize ownership of the Point Thomson leases because of the company's delay in developing the prospect, and then offering them to other parties). Wright says Walker has also made statements about the gasline that suggest he would try to change the project.
"At one point, he called the gasline 'fatally flawed.' And now he's saying, 'Well, we might continue to work at what the governor's doing," says Wright. "We just don't know where he's coming from."
Walker has campaigned heavily on the issue of a gasline in the past, and he's been an advocate for a project in which Alaska has a greater stake. Right now, Exxon, BP, and Conoco control 75 percent of the project, and Alaska splits its share with TransCanada with the option of buying it back down the road. Walker now says he's willing to operate within the framework established by lawmakers this past year. But that doesn't necessarily mean he won't try to affect the terms of the deal going forward, depending on what those confidential terms are.
"I will finish the project. I will not start over," says Walker. "But I do have an issue with the ultimate decision-making being made by somebody other than Alaska."
In a recent interview with the Alaska Journal of Commerce, Walker also expressed some reservations about some of the parties involved in the deal. He says he's still talking with the companies, though.
"I don't know that they have a particular issue with me being governor," says Walker. "They certainly seem to continue to invite me to come meet with them."
Flashpoint
While the gasline has been a flashpoint for the two candidates — with Walker even suggesting they hold an hour-long debate just on that issue – gasline experts say that companies tend to be more comfortable with an incumbent even if the two candidates share the same views on a project. Larry Persily, the federal coordinator for an Alaska natural gas project, says that's simply because they know what to expect from a person with whom they've already negotiated.
"The oil and gas industry, any industry, and business, especially one that's looking at spending tens of billions of dollars gets a little nervous when there's political change," says Persily.
For their part, the oil companies are being politic about the governor's race. Back in Nikiski, Walker and Parnell signs both dot the roadside leaving the worksite. Project manager Steve Butt says he's been asked pretty often about how much the governor's race will affect the natural gas project.
"It's a fair question. I understand it," says Butt. "But the project is measured in decades, and there's going to be lots of political transitions. As long as all the owners can continue to work in that spirit, you know, we can find a way to work."
So far, none of the companies involved in the project have put money behind either candidate.
Related stories from around the North:
Canada: Canada ponders exceptions to relief well rule for Arctic oil drilling, Alaska Dispatch
Norway: No Norwegian services to Russian Arctic offshore oil, Barents Observer
Russia: In time of sanctions, Prirazlomnaya seeks Russian suppliers, Barents Observer
United States:  Could permanent fund be used for investment in gas export, Alaska Dispatch