China-US climate deal puts pressure on Canada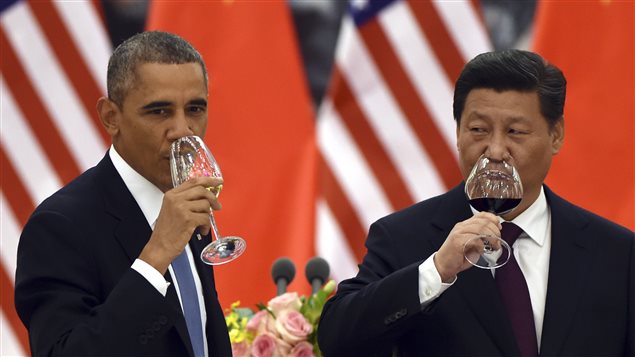 Pressure will increase on Canada to do more to curb greenhouse gas emissions now that the United States and China have signed a ground-breaking deal on climate change, say politicians and environmentalists.
'No excuses left'
"What it means for Canada is that there's really no excuses left for the prime minister to avoid implementing regulations that have been promised for years, particularly for the fastest-growing sources of greenhouse gas pollution which is the oil sands sector, and oil and gas in general," says Chris Severson-Baker, managing director of the Pembina Institute, an environmental think tank.
Canada's Prime Minister Stephen Harper and successive environment ministers have regularly said Canada would take action against climate change when there was a commitment from "all major emitters" to reduce greenhouse gas (GHG) emissions.
On Wednesday, U.S. President Barak Obama said his country's GHG emissions would be cut by 26 per cent from 2005 levels by 2025. At the same time China's President Xi Jinping said he would slow emissions and stabilize them by 2030.
China-U.S. deal 'a sea change'
"It represents a sea change in terms of international leadership on climate change," says Severson-Baker. "I think that this agreement between China and the United States signals that they do see it as a high priority for their interests, for their countries to take a leadership position on climate change and that will change the dynamic internationally going forward."
Nations are preparing for a United Nations climate summit in Peru later this month.
Opposition would get 'Canada back on track'
Opposition NDP Leader Tom Mulcair said "To hear the Chinese saying they're ready now to discuss constraining limits on their greenhouse gas emissions, that's great news for the world. And Canada should be part of it. We're not." Mulcair said if his party were voted into office (an election will be held next year), his government would attend the climate summit to get "Canada back on track."
Liberal Leader Justin Trudeau said he hoped an agreement between the world's largest economies would see Harper "wake up" and tackle climate change.
Government says it has taken 'decisive action'
A spokesman for the current environment minister said the Harper government has taken "decisive action" on GHG emissions. But the government's own numbers indicate emissions will not decrease, but will increase to 20 per cent higher than the target it had set for 2020 unless new action is taken.
Regulations promised, not delivered
The oil and gas industry accounts for one quarter of Canada's GHG emissions. The Canadian government had promised regulations for the sector would be in place by the end of 2012, but it has not delivered. It has however taken action to reduce emissions in the transportation and electricity sectors.
Although the provincial governments of Ontario and British Columbia have taken decisive action to reduce emissions, the federal government of Canada is regarded as a laggard on climate change by many countries.   Severson-Baker hopes the China-U.S. commitments that will change that by spurring Canada to take more aggressive action on climate change. He says, "the prime minister has run out of arguments for doing nothing."
Related stories from around the North:
Canada: Melting Arctic ice called 'economic time bomb,' CBC News
Greenland:  Greenland's northeastern ice sheet starting to melt, Eye on the Arctic
Iceland:  Acid Arctic Ocean and Russell Brand?, by Deutsche Welle's Iceblogger
Norway: Emissions speeding up Arctic Ocean acidification, Alaska Dispatch
Russia: Melting permafrost eroding Siberian coasts, Deutsche Welle Ice-Blog
Sweden: Sweden could lead way on climate: environment minister, Radio Sweden
United States: Expert predicts ice-free Arctic by 2020 as UN releases climate report, Alaska Dispatch