Finland nuclear project will go ahead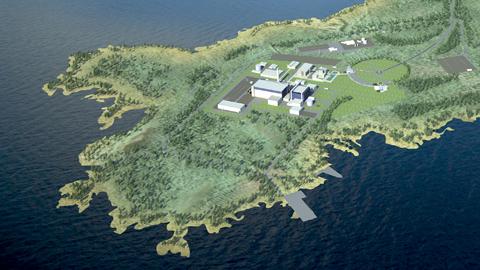 Finland's prime minister Juha Sipilä confirms that the Fennovoima nuclear plant will be built in Pyhäjoki, after Economic Affairs Minister Rehn declares that the domestic ownership criterion has been met.
Finnish Prime Minister Juha Sipilä said on Wednesday morning that the Fennovoima nuclear power plant will be approved.
Earlier Minister of Economic Affairs Olli Rehn also appeared to give a green light to the proposed Hanhikivi nuclear power plant, to be built near Rauma on Finland's upper west coast.
The Council of State is to formally decide on Thursday whether to approve the long-debated project.
Fortum, SRV buy in
Rehn declared that the consortium that aims to build Finland's third nuclear plant has now attained the required 60 percent domestic or EU/EEA ownership level. Earlier in the day, energy giant Fortum said it will acquire a 6.6 percent share in the venture.
Meanwhile the construction firm SRV, which is to be a building subcontractor on the site, said it will take a 1.8 percent share. Steel manufacturer Outokumpu, whose huge Tornio steelworks will be the biggest consumer of Fennovoima electricity, upped its ownership share by 1.8 percent to 14.1 percent.
At a press conference in Helsinki, Rehn said the companies made their decisions completely independently. The state owns 50.8 percent of Fortum and about 28 percent of Outokumpu.
Migrit out, Rosatom sanctions-safe?
He added that the small Croatia-registered firm Migrit Solarna Energija will not be involved in the venture. On June 30, the Fennovoima consortium announced that the previously-unknown firm would join in, arguing that this would assure the required EU/EEA ownership level. Rehn later rejected the proposal after it became clear that Migrit's financing comes from Russia.
Asked about the possibility that plant supplier Rosatom might end up on the EU sanctions list, the former European Economic Commissioner noted that energy issues have been excluded from EU sanctions policy. The Russian state-owned firm is to own about one third of the plant.
During a cycling event in Kannonkoski, central Finland, Sipilä told the newspaper Keskisuomalainen that the project will go ahead.
"The domestic ownership level is 61 percent and that's enough. Parliament's requirement has now been met and the normal permit process can continue," he said.
Nuclear safety authorities must still approve the Pyhäjoki plant, including its waste disposal plan.
Related stories from around the North:
Canada:  Floating nuclear power stations for Arctic?, Radio Canada International
Finland: Less than a third of Finns support Fennovoima nuclear plant, Yle News
Norway: Three years on, still no deal on nuclear accident warning for Norway, Barents Observer
Russia: Russian hydropower key to Finnish nuclear plant deal, Barents Observer
Sweden:  Sweden's environment minister wants nuclear reactors closed, Radio Sweden
United States: Let locals decide fate of Arctic drilling says U.S. politician, Alaska Dispatch News