Scandinavian Arctic should cooperate more: report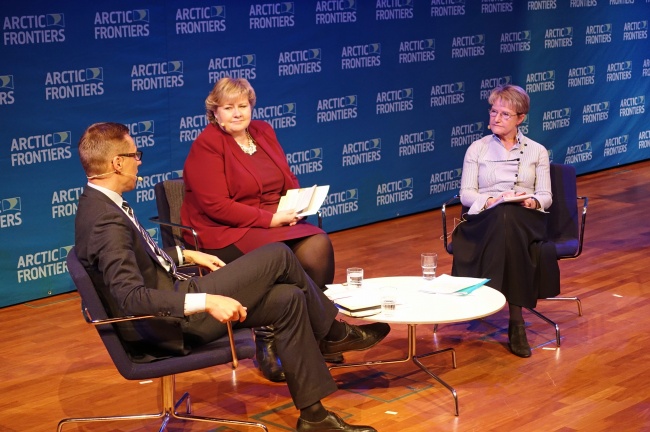 TROMSØ: The Scandinavian Arctic can rise to become the most innovative, industrious and environmentally friendly growth region in Europe, a new report made by experts from Norway, Finland and Sweden reads.
"There are a lot of common features that makes it easy for us to cooperate," Norway's Prime Minister Erna Solberg said when she was presented the report at the Arctic Frontiers conference in Tromsø on Tuesday. "I think we have extreme possibilities in this area".
An expert group set up by the Prime Ministers of Norway, Sweden and Finland have written the report "Growth from the North", which defines four drivers for growth and offers instruments for the governments of the three countries to use to secure sustainable economic growth in the North.
Norway, Sweden and Finland have a lot to gain in the Arctic. By combining forces, these three countries can be in the forefront of creating sustainable growth in the region. At the same time climate change and other environmental challenges underline the need for closer cooperation, the report reads.
'More similarities than differences'
Finland's Prime Minister Alexander Stubb is positive about the recommendations in the report: "We have more similarities than differences.  We have common heritage, common values and so on. On the differences' side is the fact that we have different international involvements when it comes to NATO and the EU."
Stubb also suggested that the countries should start branding their northern regions as "the Arctic". "The Arctic – even cooler than you think," Stubb suggested as a new slogan for the tourism industry.
The four drivers for growth that the authors name are LNG (Liquefied Natural Gas) and renewables, greener mining solutions, increased tourism, and ice and cold climate solutions.
'New era of competition'
Kristina Persson, Sweden's Minister for Strategic Development and Nordic cooperation, believes that the time is right for more cooperation in the region. "We are facing a new era of competition." "When we speak with one voice, we are heard".
The four instruments the three experts see can be used to enhance growth are one regulatory framework, one pool of talent and labor, one long term transport and infrastructure plan, and one voice in Arctic matters.
The members of the expert group are Anne Husebekk, Rector of the University of Tromsø – The Arctic University of Norway, Magdalena Andersson, Governor of Västerbotten County, Sweden, and Risto E. J. Penttilä, CEO of Finland's Chamber of Commerce.
It was then Finnish Prime Minister Jyrki Katainen who in a letter to his colleagues in Sweden and Norway in April 2013 suggested developing a compact and concrete report with recommendations on how to strengthen Arctic cooperation.
Related stories from around the North:
Canada:  Arctic Council: The evolving role of regions in Arctic governance, Blog by Heather Exner-Pirot
Finland: US seeks Finnish support for Arctic goals, Yle News
Greenland:  Greenland urged to work with Arctic Council, CBC News
Iceland: Iceland conference draws on hopes, concerns for changing Arctic, Alaska Dispatch
Norway:   Permanent Arctic Council Secretariat opens in Tromso, Blog by Mia Bennett
Russia:  The Arctic Council's Immunity to Crimean Flu, Blog by Heather Exner-Pirot
Sweden: Feature Interview: Sweden wraps up Arctic Council, Radio Sweden
United Kingdom:  The British Invasion – The Arctic Circle and observer states, Blog by Heather Exner-Pirot
United States: 10 takeaways from the 2014 Arctic Circle Assembly, Alaska Dispatch