Arctic Ocean may be next as Alaska officials seethe over ANWR move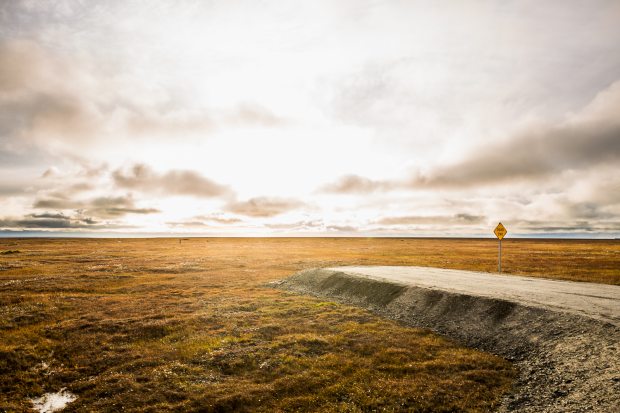 Emotions continued to rise on Monday over President Barack Obama's initiative to increase protection for the Arctic National Wildlife Refuge, with Rep. Don Young calling the president a "wacko," the North Slope Borough saying Obama was acting by "executive fiat," and Sen. Lisa Murkowski saying the Alaska delegation would use all means to stop the move.
Not everyone is angry. Conservationists in Alaska and outside the state praised Obama, saying that while his recommendation currently has no practical change on refuge management, the action replaces Reagan-era policy and will send an enduring signal of the administration's commitment to protecting wilderness.
And it wasn't the end of the U.S. Department of Interior's plans for Alaska. Officials expect an announcement later this week that could signal new limits on lease sales in the Arctic Ocean above the state.
Interior secretary to visit Alaska
Meanwhile, one of the central figures in the drama may soon pay Alaska a visit.
Interior Secretary Sally Jewell has said she will attend an Alaska Federation of Natives board retreat in Northwest Alaska next month and visit villages in the region to see climate change on the ground and discuss Arctic issues, said Julie Kitka, AFN president.
Kitka said she met with Jewell in November in Washington, D.C., and invited her to AFN's special winter board retreat in Kotzebue set for Feb. 17.
"She accepted and has confirmed she is coming up," Kitka said. "In addition she has confirmed she will travel to several villages and see things firsthand."
Emily Beyer, a spokeswoman with the Interior Department, said in an email late Monday that she had no "updates on the Secretary's schedule at this time."
ANWR is not planned as part of the discussion, Kitka said. Instead, topics will include such things as food security, creating sustainable rural economies and discussions related to the U.S. taking over chairmanship of the Arctic Council this spring and making sure Natives have a strong voice on the council, she said.
State commissioners and Lt. Gov. Byron Mallott will also attend the retreat, she said.
State officials will stand united: Alaska senator
Murkowski said Interior officials have indicated that an upcoming five-year lease sale for the U.S. Arctic Ocean to be announced this week will permanently withdraw some areas that had previously been deferred, while also adding in new areas that have not previously been protected. She did not have details on the specific areas that will be affected, she said.
Also, Interior's Bureau of Land Management must soon decide how ConocoPhillips can develop its Greater Moose's Tooth Unit 1 project in the National Petroleum Reserve-Alaska.
Murkowski indicated that she expects that excessive regulatory and mitigation hurdles will kill the project.
As for the ANWR initiative, congressional approval doesn't seem likely with Republicans controlling both houses and Murkowski able to bottle legislation in the Energy Committee.
Murkowski said Alaska officials would stand united against Obama's effort to expand ANWR's wilderness designation and would use budgetary, legislative and legal means to stop the plan.
At a press conference that also included Murkowski and Sen. Dan Sullivan, Rep. Don Young said "King George Obama" has gone "completely wacko." He derided Jewell as Obama's "little charlatan," and said she isn't consulting Alaskans as she should.
Congress should withhold money from the Interior Department during the appropriations process, he said.
"I want them to have no money … to implement this cause against the nation, against the state of Alaska," he said.
Inupiat 'have no interest in living like relics in a giant, open-air museum': mayor
Charlotte Brower, mayor of the North Slope Borough that encompasses villages that are closest to the oil prospects, said the people of the North Slope have strongly opposed an expanded wilderness designation.
"We would like to invite President Obama and Secretary Jewell to travel to ANWR and meet with the people who actually live there before proposing these types of sweeping land designations," Brower said. "They might learn that the Inupiat people, who have lived on and cared for these lands for millennia, have no interest in living like relics in a giant, open-air museum."
But Sarah James, a Gwich'in resident of Arctic Village, said in a press conference organized by conservation groups that Obama's action was a "blessing" because further protection for ANWR will help protect the caribou and other subsistence resources used in the village.
"We are caribou people," she said. "Caribou is our life. It is our song dance, prayers, clothing, food, shelters. It is human rights versus oil to us."
Mallott could not be reached for comment Monday.
Jewell may get an earful from some. A year ago she angered many Alaskans with her decision not to allow a road through the Izembek National Wildlife Refuge that would help residents in the village of King Cove improve access to emergency medical care.
More recently, Alaskans are blasting Jewell over Obama's effort to expand the refuge's wilderness designation — contingent on the unlikely approval of a Republican-led Congress — in an effort to put oil and gas development further off-limits on the long-disputed coastal plain.
On Monday, Murkowski, chair of the Senate Energy Committee, offered new details on the administration's "triple gut punch" to Alaska's economy that includes the ANWR initiative as well as fears that the Interior Department will limit future development in the U.S. Arctic Ocean and the nation's petroleum reserve west of ANWR.
Related stories from around the North: 
Canada: Land dispute causes development ban in southern Nunavut, Canada, CBC News
Finland:  New environment minister blocks peat bog protection, Yle News
Sweden: Prospecting Boom Squeezes Sami Land, Radio Sweden
United States: Land trust for Alaska tribes is a popular concept, Alaska Public Radio Network