Arctic sea ice 'thinning dramatically', study finds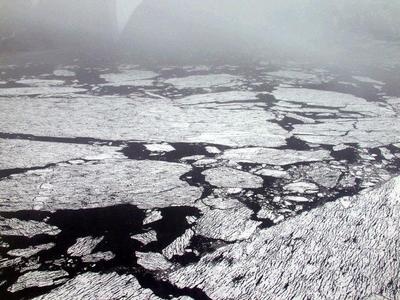 The Arctic sea ice is thinning at a steadier and faster rate than researchers previously thought, a new study based on combined observations finds.
Using modern and historic measurements, researchers at University of Washington got an extensive view of how the thickness of Arctic sea ice has changed over the past few decades.
The study, published in The Cryosphere, shows that the ice in the central Arctic Ocean thinned 65 percent between 1975 and 2012, from 3.59 meters to 1.25 m.
The thinning is even steeper for September sea-ice levels, when sea ice is at its lowest after the summer melt. During the same 37-year stretch, September ice thickness thinned 85 percent, or from 3.01 m to 0.44 m.
"The ice is thinning dramatically," said lead researcher Ron Lindsay, a climatologist at the University of Washington Applied Physics Laboratory. "We knew the ice was thinning, but we now have additional confirmation on how fast, and we can see that it's not slowing down."
Better predictions
The study helps gauge how much the climate has changed in recent decades, and helps better predict an Arctic Ocean that may soon be ice-free for parts of the year.
The researchers were the first to combine all available observations on Arctic sea-ice thickness into one study. For instance, from 1975 to 1990, most ice-thickness readings were from under-ice submarines. These vessels once used sonar to measure ice drift so they could figure out where they could safely surface. Since 2000 those records have been replaced by a host of airborne and satellite measurements, as well as other methods for gathering data directly on or under the ice.
Critics have said that previous calculations of ice loss seemed too rapid, and questioned their value, the researchers said. But the new study shows the ice may be thinning at an even faster rate than the calculations showed, the researchers said.
"At least for the central Arctic basin, even our most drastic thinning estimate was slower than measured by these observations," co-researcher Axel Schweiger, a polar scientist at the University of Washington Applied Physics Laboratory, said to to LiveScience.
Related stories from around the North:
Canada: Report warns more Arctic shipping will increase warming, affect health, Radio Canada International
Norway: Climate change will lead to ecosystem clash, Barents Observer
United States:  As Alaska warms, climate change awkward subject for lawmakers, Alaska Public Radio Network