Searchers return to Alaska glacier to recover remains from 1952 military plane crash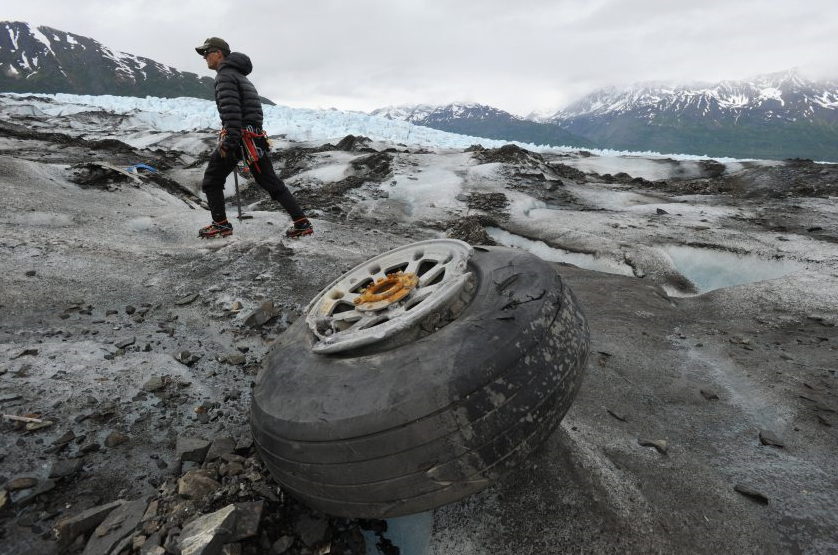 A team of military searchers, anthropologists and mountaineers is once again trying to turn back the clock on the crash of a C-124 Globemaster cargo plane that slammed into a mountainside above Southcentral Alaska's Colony Glacier in 1952.
Everyone aboard the aircraft died in the crash. Most were on their way to duty stations across the state, in the midst of the Cold War. But the glacier that swallowed the wreckage in the wake of the crash has recently been giving up its grim possessions.
The wreckage, first spotted six days after the plane went down on Nov. 22, 1952, was quickly hidden by the shifting glacier, located about 50 miles east of Anchorage. At the time, military officials deemed the area too dangerous for any recovery efforts. Decades went by, and 60 years later, in 2012, an Alaska Army National Guard helicopter pilot spotted the debris, brought to the surface by the glacier's constant movement.
Decades-long search
Beginning earlier this month, the Joint MIA/POW Accounting Command again returned to the crash site to recover remains and artifacts from the wreckage — estimated to be spread out in a roughly 500-by-100-meter area, about 15 miles from the site of the initial crash. And even after four years of searching at the site, JPAC is still finding crash artifacts.
"Every year we come out here there is more and more debris, and in different areas," said JPAC team member Roy Adkins. "We left on a Friday and came back on a Monday, and new debris fields had shown up."
It's been a long six-decade wait for the family members of the 52 servicemen who died in the crash.
Tonja Anderson never knew her grandfather, Airman Isaac Anderson Jr. He was just 21 when he died in the Globemaster crash. But Anderson remembers her grandmother's longing for closure, and a possible against-the-odds happy ending.
"Since no body was ever found, my grandmother believed he would walk back through the door one day," Anderson said. Her grandmother even refused to accept the flag that was offered by the U.S. Air Force as a memorial to her husband. That flag now sits on Anderson's wall, along with a picture of her grandfather and a piece of the Globemaster.
Beginning of closure
The remains of Isaac Anderson have yet to be recovered — along with those of 34 others. Tonja Anderson started a Facebook group for families of the crash victims shortly after the wreckage was rediscovered in 2012. She has attended the funerals of many of the service members whose remains have been identified, and coordinated information for scores of others who are still waiting.
Anderson said she does it for closure, and for her grandmother, who died in 2001. But she also does it for people like her, who knew their long-lost relatives only briefly, or in some cases not at all.
A funeral was held two weeks ago at Arlington National Cemetery for Col. Noel Hoblit, an Air Force dentist on his way to an Alaska assignment when the plane went down. Anderson said it was there that she met one of Hoblit's sons. Fred Hoblit was just 5 years old when his father died on the glacier in 1952. According to Anderson, Hoblit's only memory of his father was when he showed the young boy how to comb his hair for the first time.
Anderson said Hoblit held his father's dog tag, which, along with partial remains, had also been recovered at the crash site. Even after more than 60 years, Anderson said, getting closure and something to remember his father by were extremely meaningful for Hoblit.
"When we spoke, he pulled out the dog tag they found on the glacier, and that smile on his face was like he was a kid again. He was proud," Anderson said.
Kevin Caid lost his uncle, Staff Sgt. Robert Van Fossen, in the crash. A recovered dog tag is all he has from his mother's older brother, a man he never met.
"It carries a lot of meaning for me," Caid said of the dog tag. "My mother and he were only three years apart and I had grown up listening to stories about him."
Final chapter
Despite the dangers of working on a moving glacier, JPAC team members — who also work at recovery sites in Southeast Asia and Europe — said they were committed to finding as much of the plane and as many of the crash victims as possible.
"It makes our team feel really good coming up here, we know that the family members are getting some peace of mind, and some closure," said Lt. Cmdr. Paul Cocker.
The final chapter of the ill-fated flight is still unfolding for those receiving closure in place of their parents, aunts and uncles who passed away while they waited for news of their loved ones' fate. That includes Caid's own mother, Linda Brookes. She died three years ago, before her brother's dog tag was recovered.
"I was very saddened that my mom was not living to see this," Caid said. "Does it truly bring closure? I don't know that I have anything to truly close. I didn't know him. But it was important for my mother, and I wanted to pursue it for her benefit."
Contact Sean Doogan at sean@alaskadispatch.com or on Google+
Related stories from around the North:
Canada: Captain ignored co-pilot's warnings before plane crash in Canadian Arctic, CBC News
Norway:  The tyranny of time and distance in Arctic SAR, Blog by Mia Bennett
Russia:  MH370: What if it were to happen in the Arctic?, Blog by Mia Bennett
United States: IDs made in 1952 Alaska plane crash, Alaska Dispatch News