25th anniversary of Yle Finland's Russian service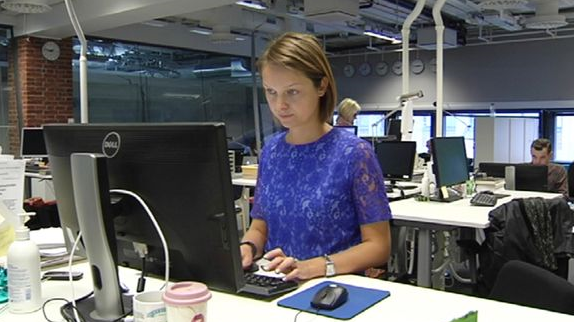 The work of Yle's small Russian-language department, Novosti Yle, is carefully scrutinised both inside and outside of Finland.
In particular, coverage related to the war in Ukraine requires a cool head, as the flood of reactions can be vast. On Wednesday, Novosti Yle celebrates its 25th anniversary with a full prime-time TV broadcast.
When Yle launched Russian-language news in the autumn of 1990, the Soviet Union still existed and there were not many native Russian speakers living in Finland.
"From the beginning the idea was to tell Russian speakers about what was going on in Finland. Although most of our listeners were Soviet citizens, we weren't a propaganda station spreading the Western gospel," recalls Novosti Yle producer Heidi Zidan.
The Russian-language department was then part of Yle's external radio service. Soon after the turn of the millennium, its French and German departments were shut down but the situation in regard to Russian had changed dramatically.
"We were saved by the Russians who were moving to Finland. There were already tens of thousands of Russian speakers here. And we began to direct our programmes toward them."
Novosti passed a major milestone in the spring of 2013, when it began TV news broadcasts. This came 14 years after Yle launched English-language TV news, and a few months before it started TV news in the domestic indigenous Sámi language.
"Many Russian speakers see the TV news as a recognition that their community exists. And since the broadcast is subtitled in Finnish, it also offers the mainstream population a window onto the life of the Russian-speaking community," notes Zidan.
The five-minute bulletin can be seen daily on Yle TV1 at 4:50 pm.
Crimea spurred huge reaction
Yle's Russian-language department has at times found itself caught up in major international disputes. Although the team focuses on covering news from Finland, it naturally also reports on the crises involving Russia and Ukraine, which have affected Finnish trade, for instance.
"Our threshold for reporting on events in Russia is normally quite high," says Zidan. "Over the past couple of years, though, we have carefully monitored the war between Russia and Ukraine, reported on it as well as Finnish comments."
The issue is incendiary, as evidenced by the feedback received by Novosti.
"The volume of feedback rose sharply after the takeover of Crimea. There were complaints that we weren't telling everything or that we were putting out wrong information. We got comments from both sides, though mostly from those with pro-Russian views," she says.
Yle's Director of News and Current Affairs, Atte Jääskeläinen, says that increasing tensions in world politics underlines the importance of the public broadcaster's Russian-language news.
"When we started Russian-language TV news, the war in Ukraine had not yet begun. The situation soon intensified, though. It's important to tell about events in Russian, but using Finnish journalistic criteria."
Competing against Russian media
The number of Russian speakers living in Finland has grown quickly since the collapse of the Soviet Union. According to Statistics Finland, there are now some 70,000 people here whose mother tongue is Russian. Nevertheless, the status of the country's Russian-language media is shaky.
"Both Spektr magazine and Sputnik radio are in trouble," says Zidan. "They have trouble getting advertising revenue. Helsingin Sanomat experimented with Russian-language news, but it was shut down. I fear that Novosti Yle may soon be the only Russian-language media in Finland."
Novosti Yle's toughest competition does not come from the commercial domestic outlets, but from Russia's own media.
"There are a lot of Russian speakers living in Finland who only follow TV, radio and websites from Russia. Our strength is to be able to tell them what's happening in the country where they live."
Novosti Yle's website attracts nearly 70,000 visitors a month, while the TV news broadcast is seen by some 200,000 people daily.
"Russian speakers living in Finland are not generally interested in politics," observes Zidan. "But when we report on the Finnish government's budget cuts, we get a massive response from our audience. People are interested in news that directly affects their daily lives."
Yle Novosti is hosting Wednesday evening's A-studio current-affairs programme on Yle TV1 at 9:05 pm. The 45-minute show, probing issues such as the information war and economic sanctions, will be broadcast entirely in Russian with Finnish subtitles.
Related stories from around the North:
Canada:  Northern expert proposes new rule – Put up or shut up with your Arctic Conflict Theory, Blog by Heather Exner-Pirot
Norway: BarentsObserver – What happens now?, Barents Observer
Russia:  Moscow to set up Arctic media service, Barents Observer
United States:  The new face of climate change?, Alaska Dispatch News