Finns on fence about NATO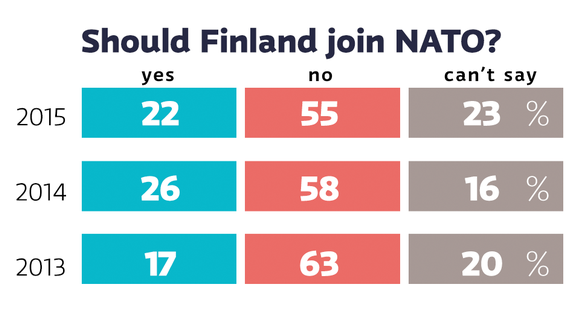 A new poll commissioned by the Finnish Broadcasting Company Yle shows that 55 percent of Finns are opposed to NATO membership, just a slight decline from last year's finding of 58 percent.
A small drop in people supporting membership is also apparent: down from 26 percent to 22 percent. This means that the number of people who are on the fence on the issue has grown.
Yle's latest opinion poll on Finland's NATO membership shows just slight drops in support and opposition alike. Research director Jari Pajunen of the market research company that carried out the poll, Taloustutkimus, is not surprised at the result.
"The current level has pretty much been the standard for the last decade. It is quite stable, although recent events naturally affect the results to some extent," he said.
Swedish effect?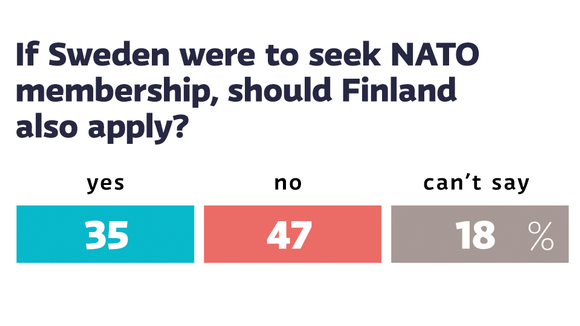 The poll also asked respondents whether Sweden's position would affect Finland's NATO position. Results revealed that support for NATO membership among Finns jumped to 35 percent if Sweden would seek membership. However, the number of opponents would still outweigh this surge in this scenario, at 47 percent.
The clear majority, 63 percent, is still of the opinion that a membership decision would require a referendum to establish support. Only 30 percent felt that asking the public their opinion wouldn't be necessary.
The only group that grew in this latest Yle poll was the 'can't say' segment of respondents, increasing from 16 to 23 percent.
"The big picture is that the support for membership is pretty much the same, but some people in the opposition camp are moving to join the undecided. That is the topmost observation, if you look at it in terms of the long term," said Pajunen.
The poll was conducted last week, from October 19 to 22, reaching one thousand respondents representing every section of the Finnish mainland.
Related stories from around the North:
Denmark:  Nordics to step up security cooperation on perceived Russian threat, Yle News
Finland:  Finnish fighter jet broke sound barrier during unspecified operation, air force declines comment, Yle News
Norway: Norway must ramp up military in response to Russia: report, Barents Observer
Russia: Russia responds to Arctic NATO drill, Barents Observer
Sweden:  Sweden can learn from NATO: politician, Radio Sweden
United States: U.S. Arctic rep: Russia's Arctic buildup not necessarily martial, Alaska Public Radio Network