Helsinki has priciest Xmas trees in Finland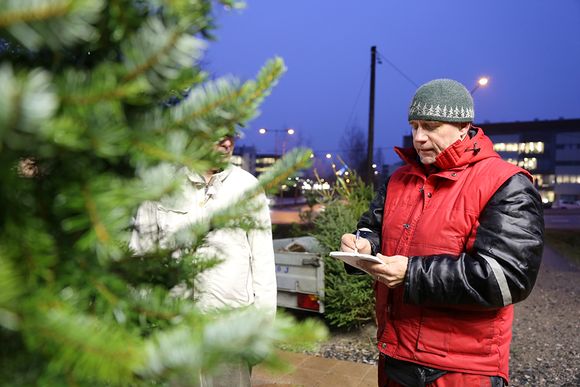 An Yle survey of market square Christmas tree merchants shows that Helsinki, and especially central Helsinki, has the most expensive.
Sellers say that renting their pitch is the prime driver of higher prices in the capital.
If you're looking for a Christmas tree this week, it might pay to look for one of the less prominent sellers. An Yle survey found that Töölö market square in Helsinki has the most expensive trees in the country, at up to 120 euros per tree.
That doesn't bother Raija Narvila, who bought hers at the square for 70 euros.
"It's Finnish, really beautiful, bushy and it was apparently felled in Lohja yesterday or the day before. That clinched it," said Narvila, who was also impressed at the logistics effort involved in shipping trees to the centre of Helsinki.
"When you think that you'd pay tens of euros for an amaryllis or a flower arrangement," she continued. "When you think what kind of job this is, then I think it's a fair price."
Price differences
Fair or not, the price tag on a Töölö tree looks very different to those elsewhere in the country. The chair of the Christmas tree association, Juha Ruuska, says that the differences are explained in part by differences in quality and the distance from the forest they were felled in, but the biggest factor was the rent charged by different marketplaces across the country.
"In the capital city region prices are completely different to those in, for example, Kuopio," said Ruuska. "I think that in Kuopio you'd get a sales spot for a couple of hundred. But in central Helsinki you're talking several thousand euros."
In Yle's survey Kuopio did indeed have the cheapest trees in the country, with shoppers able to carry home something for less than 20 euros.
Ruuska himself has sold trees for twenty years, and he grows them himself in south-west Finland. In addition to the traditional market square based retailing, he's begun an online business and has been surprised by its success.
Online shopping on the rise
"It's something that's been tried by plenty of people down the years," said Ruuska. "It hasn't really taken off, but now it feels like this year there are more providers offering the service."
The idea of an online service is that customers choose what type of tree they want, and what size it should be, and it's then delivered to their door. That removes the need to get your clothes all sappy when you wrestle it home.
"People and businesses want this kind of home delivery service," said Ruuska. "People have now gotten used to online shopping, and they also want lots of different products there. The Christmas tree is just one of them."
Related stories from around the North:
Finland: Number of Russian Christmas tourists to Finland plummets, Yle News
Sweden:  The energy potential in recycled Christmas trees, Radio Sweden