Sanctuary expands for near-extinct seal in Finland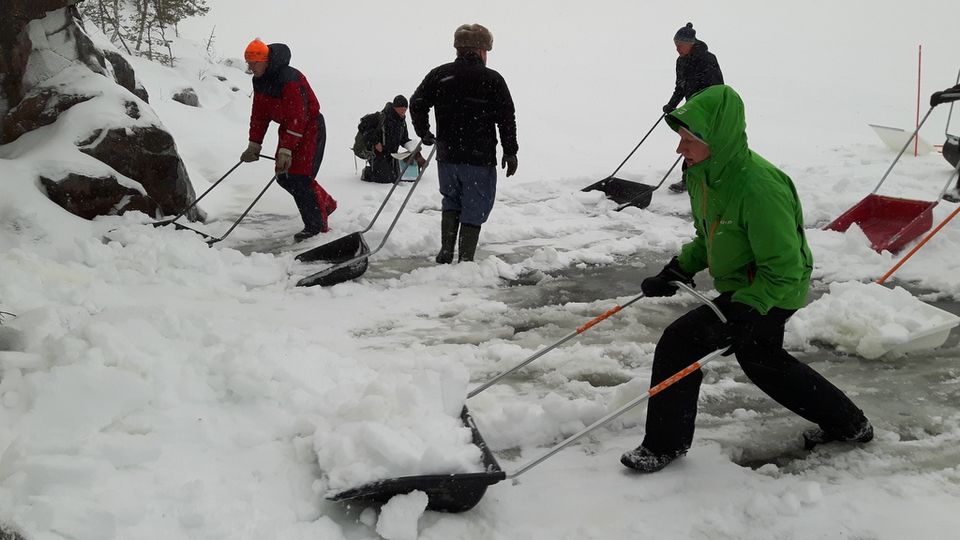 In eastern Finland's lake district, a ban on fishing with nets, which can be deadly for endangered ringed seals, is being expanded.
However the restriction is voluntary, and allows an exception for one type of fish.
The critically endangered population of Saimaa ringed seals includes only about 300 of the seals, which are endemic to the Saimaa Lake region.
Efforts to bring them back from the brink of extinction have been hampered by ongoing cub deaths in fishing nets. However many local fishermen have stubbornly refused to stop using nets near seal habitats in the vast Saimaa lake system.
This spring the area where most net fishing is banned – albeit only on a voluntary basis – is growing by nearly a quarter. However net fishing will be allowed for vendace, a small fish that is popular as a fried dish.
Man-made snow banks aid cub survival
In recent winters with little snow, volunteers have built snow banks for the seals to use for nesting in early spring. This spot on Lake Pihlajavesi near Savonlinna is one of about 170 that volunteers have created this year in an effort to improve survival rates of seal pups.
The first births are expected within the next couple of weeks, says Miina Auttila, a conservation biologist with the state forest agency Metsähallitus. She says the next most effective way to help restore the seal population is fishing restrictions, which give young seals more of a chance to reach reproductive age.
This spring the voluntary conservation district is being enlarged to 2600 square kilometres, as two previous smaller, separate districts are combined.
Ministry under pressure from both sides
Minister of Agriculture and the Environment Kimmo Tiilikainen says he hopes more owners of shore and water areas will adopt the voluntary restrictions.
"Owners are compensated for agreeing to this," he told Yle. "The aim is to restrict net fishing in the area from the middle of April until the end of June."
The ministry began making compensation offers to owners on Tuesday.
This year's new arrangement was a compromise struck by the ministry, which faces pressure from both fishermen and conservationists. The WWF had been pushing for a ban on net fishing until the end of July, when most cubs are around five months old.
"Now dozens of people are actively working on a volunteer basis to help the seal families. There is a danger that the results of this work will go to waste if the cubs who survive with the help of these snow banks drown in nets in July," says Jari Luukkonen, conservation director at WWF Finland.
The ministry is meanwhile preparing a new regulation that could force reluctant local fishery collectives to comply with the net fishing ban.
Related stories from around the North:
Canada: Canadian caribou herd rebounds but future uncertain, Radio Canada International
Finland:  Chainsaw-wielding fisherman rescues seal, Yle News
Norway: Blog – Reindeer migration (by boat!) in Arctic Norway (VIDEO), Eye on the Arctic
Sweden: Harbor seals on the rebound in Sweden, Radio Sweden
United States:  Banned pollutants turn up in Alaska fur seals, Alaska Dispatch News