Southcentral cheer team vies for top spot at Worlds competition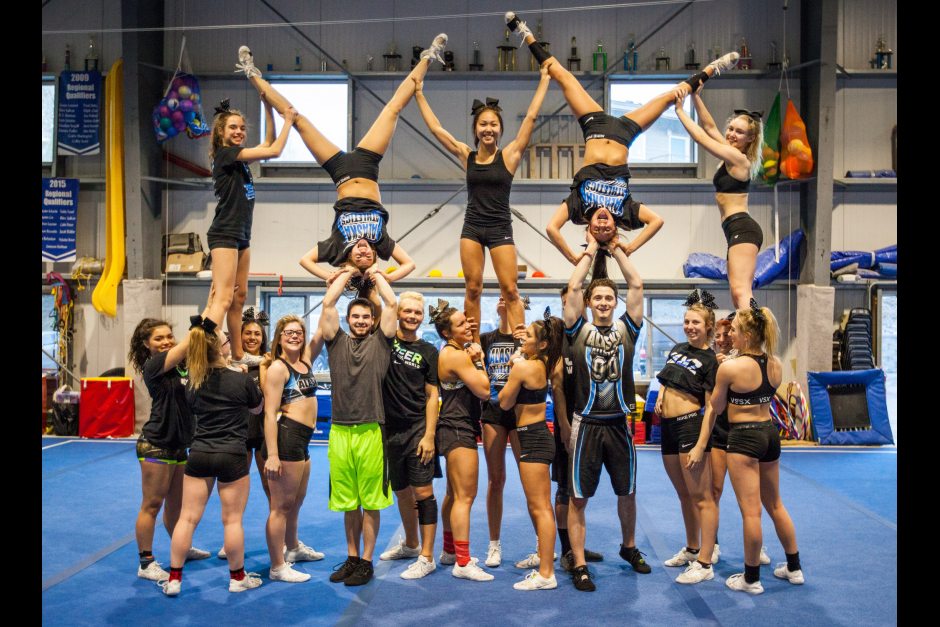 On Saturday, Alaska's Black Ice team will compete in the 2016 Cheerleading Worlds competition in Orlando, Florida, where they'll go head to head with some of the best cheerleaders from across the globe.
It's not the first time the team has made it to Worlds, but this time around the squad is favored to finish in the top three for their division, said coach Leon Reynolds at a recent practice at Alaska Athletics gym in Midtown Anchorage.
"There's a reason why people talk about us potentially winning," he said. A few feet behind Reynolds, Black Ice members flipped through the air and stuck their landings, their white sneakers hitting the bouncy blue gym floor with a singular thud. "They work for it."
Black Ice, a 14-and-up team with 19 members and an alternate, has been training all year for Worlds. They're Alaska's only Level 5 team, a tier reserved for athletes who do some of the most difficult stunts.
Focus on consistency
"Top-10 teams at Worlds are all going to do similar things," said Reynolds, a longtime cheer coach who worked in the Mat-Su before branching out into Anchorage with Alaska Athletics four years ago. "It comes down to who can do it the best and who can do it the most consistent. And that's been our big focus this year."
Black Ice's competition routine is action-packed and explosive. At their practice, the cheerleaders back-flipped, lifted each other and contorted their bodies to punchy electronic music, all while beaming at the crowd of onlookers made up of parents and athletes from another team. In one particularly jaw-dropping maneuver, two female cheerleaders, hoisted in the air by their teammates, made a human ladder with their bodies and performed a series of backbends.
Fighting misconceptions
Vlad Finko, 19, is one of four male cheerleaders on the team. He did gymnastics before turning to cheer, and said there are a lot of misconceptions about the kind of cheering he and his teammates do. They're not on the sidelines of a football game. They're the main event.
"No one really realizes how much work we put in, how much conditioning, how much practice time, how hard we work," said Finko, who helps clean the gym to cover the cost of being on the team. His job at Middle Way Cafe helps too.
Teammate Miki Brown, 20, also has a gymnastics background and coaches some of the younger teams at the gym. She said Black Ice is feeling confident after winning two national competitions earlier this year. The routine at one of those competitions, JAMZ, became a hit on Facebook and was shared hundreds of times.
Mental game
"I think right now it's just a mental game," she said before practice, surrounded by her teammates who were helping each other stretch. "Because we're all physically prepared."
After gulping down some water and getting feedback from Reynolds, the Black Ice team geared up to do the routine again. They try to make the stunts look effortless, but the moves are physically taxing. The challenge, however, is why Brown likes cheer.
"You've never reached the limit — there's always something harder you could do," Brown said.