Blog: Eimskip in Maine – A saga for the 21st-century Arctic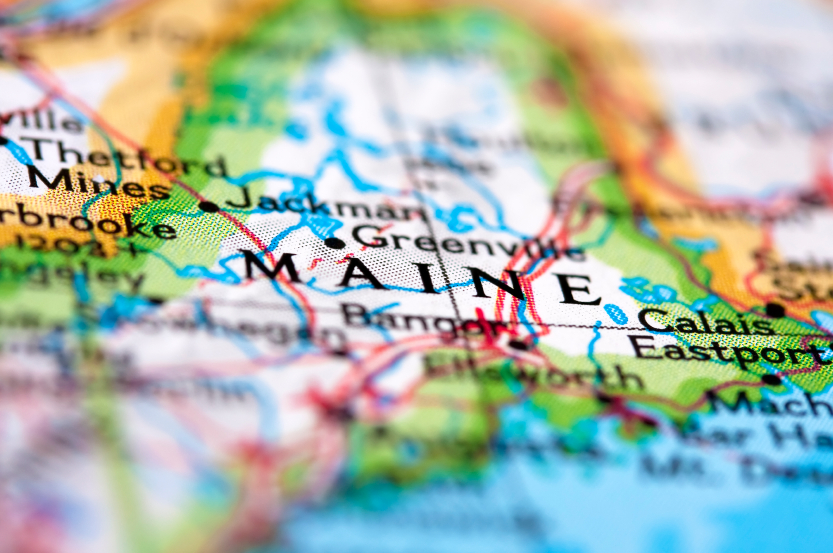 Last week, I wrote about my visit to the state of Maine, an up-and-coming actor in Arctic affairs.
One of the primary drivers of Maine's recent northern forays is Eimskip, Iceland's oldest shipping company. In 2013, it moved its North American operations from Norfolk, Virginia to Portland, Maine's biggest city. Larus Isfeld, Managing Director of Eimskip USA, observed to me over the phone, "Eimskip triggered Maine's interest in the Arctic."
While Eimskip is relatively new to Maine, the company has been operating in North America for over 100 years, first in New York and most recently in Norfolk, Virginia. Norfolk served as Eimskip's North American port of call because the company had a contract moving cargo from the enormous naval station there to the U.S. naval air station in Keflavik, Iceland.
Once the Americans pulled out of Iceland in 2006, Eimskip revisited its business plan. The shipping line decided to move to Maine for a number of reasons. Shorter transit times and the large market for North Atlantic seafood in New England meant that Portland made more sense than Norfolk. In other words, U.S. military shifts, geography, and seafood lovers conspired to bring Eimskip to Maine.
Thanks in large part to Eimskip's operations, Maine is now looking northeast to a market in Europe that it hadn't really noticed before. Officials in Maine have also realized the cultural similarities between their state and Scandinavia, all of which have longstanding ties to the North Atlantic's stormy waters. Maine is also now trying to expand upon business opportunities in the Nordic countries, such as with the Maine International Trade Center's upcomingScandinavian Trade Mission to Norway and Sweden. 
Portland-based photographer Justin Levesque captured the emerging cultural and economic linkages between Iceland and Maine during his artist's residency aboard one of Eimskip's vessels trawling the Green Line between Reykjavik and Portland. His resulting Icelandx207 project will be displayed at the Arctic Council's Senior Arctic Officials' meeting in Portland later this fall. 
All abuzz in Portland
I had the chance to visit Eimskip's port facilities just outside the center of town. To get there, I walked down Commercial Street. Until just a couple of decades ago, this stretch was fairly run-down; now, it boasts a gluten-free bakery, spice shop, and a store selling the latest in hip denim. South of this drag, the bottom end of Commercial Street retains more of a taste of classic Portland: shops selling freshly caught seafood and lobster and Becky's, a white clapboard diner dishing out lobster rolls, corned beef hash, and blueberry pancakes.
After ten minutes of walking backwards in time along the waterfront, I arrived at the International Marine Terminal, the hub of Maine's transport connection to the Arctic. An employee buzzed me inside the terminal's small building within the Port of Portland, which moves the largest amount of tonnage in all of New England.
Here, Eimskip has a small office with four employees; three additional people work in their warehouse. The timing for my tour of the facilities was fortuitous: just a couple of hours earlier, one of Eimskip's ships, Bruarfoss, had just sailed in from Halifax, Nova Scotia. Three of Eimskip's vessels visit Maine every five weeks, and it takes five to six days to make the journey from Iceland.
A U.S. customs agent checked the boat and the Icelandic crew. The chef was the first to disembark; I learned that he sometimes cooks meals by request for Eimskip's Portland-based employees during their overnight stay – dishes like lamb meatballs, for instance. Once the ship got the all-clear, containers started to be unloaded.
While I'm not sure of the specific contents of these containers, in general to New England, Eimskip imports bottled water (Iceland produces a whole lot of this, as I've written before), fish, chocolate, lamb meat, salt, ferrosilicon, andchitin (a biological product found in the exoskeletons of crustaceans that has medical and industrial purposes). In exchange, Maine exports out a whole laundry list of items: lobster, scallops, fruit concentrates, blueberries, French fries, other produce and food products, automobiles, motorcycles, cardboard, steel, paper, and scrap metal. A lot of this cargo is called "reefer cargo," or refrigerated cargo. It's moved in white containers with an engine in them to keep things cool.
Long story short: Maine trades lobsters and motorcycles for Iceland's snow groomers and lamb
I watched a transport vehicle move and stack the containers around the port. Entering and exiting the gateway, trucks carried containers emblazoned with Eimskip's bold blue logo. One Icelander I spoke to said, "When you see containers on the rail or on the road, you feel pride." It's a little bit of the Arctic stretching down as far as New York or New Jersey – the farthest distance Eimskip containers will go on the back of trucks leaving Portland.
A longer history of Norse sailings in the North Atlantic
Bruarfoss's voyage from Iceland to Nova Scotia to Maine carries on the long history of trans-Atlantic sailings. Over a thousand years ago, Norse-Icelandic merchant Bjarni Hejolfson set off from Norway to visit his parents in Iceland. Upon arriving, he found out that they had gone to Greenland, so he and his crew changed direction for the world's largest island. In a twist of fortune, his ship was blown off course as far as present-day Canada. In 986, he thus became the first known European to spot the Americas – supposedly Newfoundland, Labrador, and Baffin Island.
Bjarni didn't get off the ship, as he was in a rush to get back on track in time to visit his parents in Greenland. Ever the family man, he left the Americas to be discovered by other Norsemen who would follow in his tracks like Leif Erikson and now, the Icelandic crew manning Bruarfoss. 
A greater North Atlantic future
While Alaska reels from the economic downturn associated with the collapse in oil prices, Maine's transport-oriented northern economy looks bright. Eimskip has two open positions to accommodate growth and plans to move its headquarters to Portland from Virginia next year. The shipping line is also working with Americold, one of the world's largest cold storage companies, to build cold and dry storage facilities in its terminal. Eimskip's new 10,000 square-foot headquarters will also reside in the new building once complete.
And although I was lucky to be in Maine on one of the three arrival dates that occur every five weeks, in the future, the arrival of Icelandic ships in Portland will likely be a more regular occurrence. 
Isfeld remarked, "I would say that Eimskip's plans for the future are weekly vessel calls by the year 2020. Right now it's 31 vessels a year." Eimskip will also begin direct port-to-rail operations at some point in the future using the new infrastructure built by the Maine Department of Transportation, demonstrating the mutual support between state and foreign business in Maine. Portland's story also draws similarities not only with past Viking voyages, but also with the strategies of emerging Arctic players like Singapore today. As the commercial Arctic becomes a more open-water, transit-oriented space, connections to the region more so than territorial presence will matter more and more.
This post first appeared on Cryopolitics, an Arctic News and Analysis blog.

Related stories from around the North:
Canada:  Report urges creation of new governance structure for oversight of Arctic shipping, Radio Canada International
China: Chinese company mulls more Arctic shipping, Barents Observer
Iceland: Calls for action at Arctic shipping conference, Alaska Dispatch News
Russia:  Arctic cruise industry expands, Cryopolitics Blog
Sweden: Swedish icebreakers gear up for Arctic role, Radio Sweden
United States:  Arctic no shipping rival to Suez: expert, Alaska Public Radio Network