Blog: Proposed 'Northern Corridor' would bypass much of Canada's north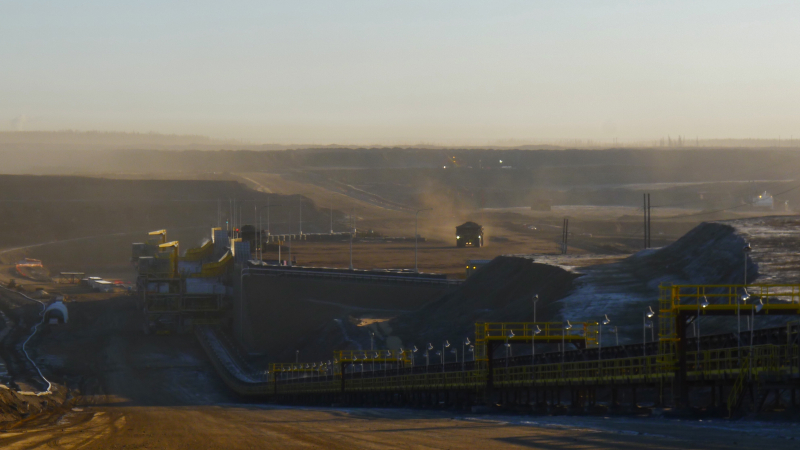 A new research paper issued by the University of Calgary's School of Public Policy has proposed establishing a right-of-way for a 7,000-kilometre long "Northern Corridor" across Canada.
Running from Labrador to British Columbia and connecting with the Arctic Ocean through the Northwest Territories, the hypothetical corridor would, in the report's words, "potentially bundle roads, rail lines, pipelines, and transmission lines into a relatively narrow right-of-way."
The first reason listed for the proposal of such a corridor is the "now apparent opportunity cost of Canada's restricted ability to export commodities to world markets." A Northern Corridor would open up new areas for resource development and streamline access to ports for Canada's exports, which are increasingly headed east to Asia rather than south to the United States.
Report authors Andrei Sulzenko and G. Kent Fellows claim that deciding upon the route and right-of-way for a Northern Corridor all in one go would be better for development than the incremental construction of infrastructure across the North. Yet a one-go approach is less flexible in responding to changes in social, commercial, or environmental circumstances. This is particularly problematic in a region changing as fast as the Canadian Arctic.
The report also does not question whether the development of export-oriented resources is the best way forward for Canada, let alone for its Northerners. The authors downplay concerns about the current drop in global commodity prices by noting, "Short-term variations in price are exceedingly common and are generally very large relative to long-run trends."
But it's these short-term variations that upend communities, while global corporations profit over the long-term from these long-run trends (more on this in a few paragraphs).
The authors also argue that a corridor would deliver social and economic benefits to Northern communities even though the corridor they map out bypasses two of Canada's three territories: Yukon and Nunavut.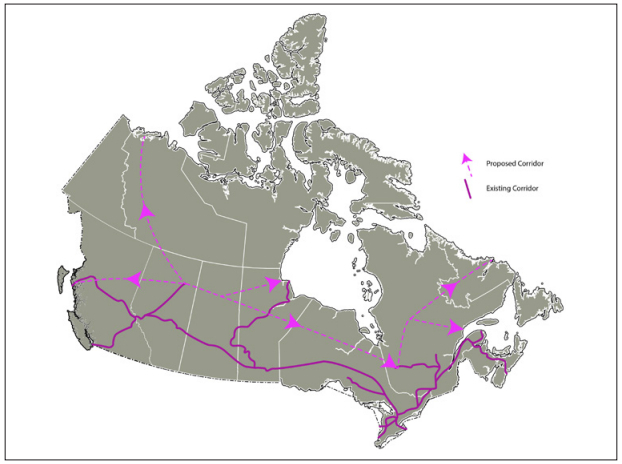 The agnostic gospel of export-oriented development
Throughout the report, resource-based export-oriented development is presented as the unquestionable future of the economy in the Canadian North. At the same time, the Northern Corridor is touted as offering a diverse array of economic opportunities. In an interview with Arctic Deeply, Fellows asserts, "Having a corridor in place allows us to build in a mode-agnostic way."
The corridor may be flexible in terms of whether a pipeline, railroad, or road would be built, but it is hardly agnostic or value-free overall. Once carved into the ground, the rigid path of a corridor can permanently disrupt the pathways of indigenous peoples and migrating animals as it makes way for trucks and cargo.
Of course, indigenous peoples who might be going out to hunt, visit relatives in other communities, or carry out other day-to-day activities would also likely use these new roads and corridors.
In the remote desert regions of Australia, which bear many similarities to Northern Canada, the government set up schemes in the 1970s to help Indigenous Australians purchase vehicles. As anthropologist Sarah Holcombe quotes Gertrude Stoltz, "It was only the Toyota that could actually replace the loss of mobility people had suffered since they were institutionalised [from] the late 1940s' (2001: 227).
A corridor can also disrupt the people and towns it does not connect. While the report describes the potentially lowered costs of living and transport as a benefit for people in the Northern towns that would be connected by the new transportation corridor, this streamlining of flows of goods and people across the North could occur at the expense of more remote communities located away from the corridor. Just think of all the little farm towns along the two-lane highway in places like California that shriveled up once the eight-lane Interstate 5 was built.
The report concludes, "The Northern Corridor presents significant strategic benefits to Canada in terms of trade and investment objectives, Arctic sovereignty, and transportation system rationalization."
Trade, sovereignty, and rationalization of transportation are all primarily goals of the state as it seeks to consolidate power and accumulate capital through industrial development. The state's gains, particularly in terms of rights and finance, can be redistributed to indigenous peoples, just as they have been in places like Canada and Australia. In the iron-ore mining region of the Pilbara in Western Australia, Rio Tinto awarded a $200 million mining contract to a joint venture partly owned by the Eastern Guruma people.
Similarly in Canada, an indigenous corporation won the contract to extend the Canadian highway system from Inuvik to Tukyotaktuk. And when their land claims are recognized, indigenous peoples can halt development, too, as they have done in British Columbia to counter the so-called oil sands pipeline. Yet interpreted otherwise, the very promotion of a Northern Corridor may be perceived as a response to difficulties encountered by the state and industry in expanding across Canada's southwest.
While the report's authors declare themselves to be "agnostic" on the costs and benefits of the corridor, the overall content and tone of the report betrays the fact that ultimately, the interests of Northerners would come second to the interests of the state and big business. The content and maps within the report (which also portray a Canada without reference to sea ice or even surrounding nations) depict new opportunities for resource and export development rather than new connections between indigenous settlements in the North, few of which are ever named.
The report quotes a document published by a 2013 task force established under the umbrella of The Council of Ministers Responsible for Transportation and Highway Safety to investigate "Integrating Rural, Northern and Remote Regions with Core Transportation Networks." The name of the task force says it all, but I'll add the paragraph excerpted by the report for colour:
"Rural, northern and remote regions in Canada have large, untapped areas of resources which could make a substantial contribution towards the economic growth and prosperity of Canada. To develop this wealth and to provide safe, reliable and equitable access for nearby communities, transportation infrastructure systems to resource rich regions need to be enhanced, expanded and integrated with core transportation networks leading to important trade networks."
Long-distance routes like the Northern Corridor are all about creating wormholes, to use a term by geographer Eric Sheppard, from places like Tokyo and Beijing to remote resource frontiers like the Canadian Arctic. These wormholes speed up the movement of capital, goods, and people across vast spaces. In the Arctic in particular, climate change is driving the expansion of these international trade networks and corridors while local transportation networks, often based on ice roads that are experiencing shorter and shorter seasons, suffer.
Lessons from other transportation corridors
The University of Calgary report makes reference to seemingly successful transportation corridor projects in three other areas: Western Australia's Pilbara region, East Africa, and Europe. Western Australia is comparable to Northern Canada given its remoteness, sparse population, ample resource deposits, and indigenous populations. But despite a decades-long iron-ore boom fueled by demand from East Asia, the Pilbara is now falling fast.
To cite one infrastructure-related casualty of the bust, the state government is trying to sell the port of Utah Point, located in the hub city of Port Hedlund. The Wall Street Journal explains that the port was built with taxpayer money to attract small-scale commodity producers, who would in theory help break the monopoly of mining industry giants BHP Billiton and Rio Tinto on export facilities. But in the face of the global commodity downturn and mounting debts, the state is forced with selling Utah Point.
The state-owned cargo port, which is the largest in Western Australia, could be next on the list. It's therefore unclear whether investing hundreds of millions of dollars in infrastructure pays off in the long run, especially when it leaves behind railroads, ports, and other facilities that end up being bought by Chinese state-owned enterprises.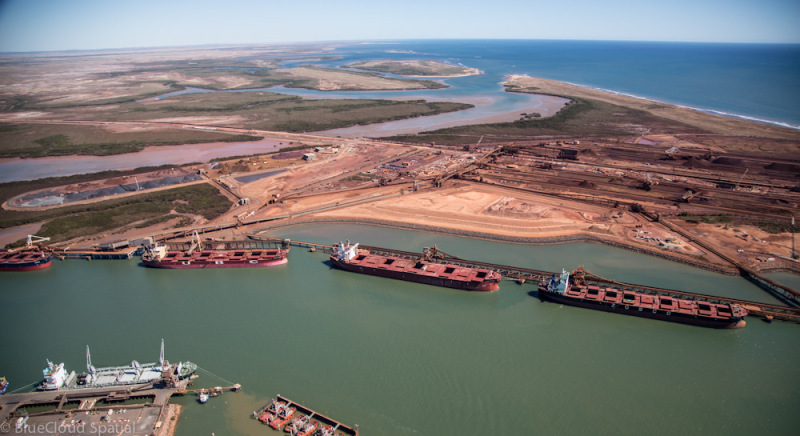 Benefits and bottom lines
Enormous societal problems are created not so much if modern industry never arrives, but rather what happens, first of all, when it does, and second of all, when it tries to leave. In the Pilbara mining towns, job losses and sharp declines in popualtion growth are mounting due to a slump in commodity prices and fall-off in demand from major iron ore buyers like China. This is the same type of slump that the UofC report waves off as "short-term variation," but it has dire consequences for communities built around resource extraction.
The president of a local shire expressed, "We're pretty much devastated. Very disturbed, very worried of course…The roll-on effect is enormous, for businesses and for people's well being." In the same Australian Broadcasting Corporation article, Rio Tinto, which has cut jobs at its local mining operation, said that it will "transform the business to remain globally competitive."
Once a corridor is built to reach global markets, the bottom line suddenly becomes global. Resource operations are in Western Australia and Northern Canada are put in direct competition with each other and those in Brazil, China, Africa, and elsewhere. Mining corporations use the world as their balance sheet, with taxpayer-funded transportation corridors serving as the means to move around their assets.
Communities built around mines and other extractive sites can still be faced with enormous challenges even a century after the boom. South Wales, which prospered from exporting coal to global markets in the 19th century, is now one of the areas of the United Kingdom that is most heavily in favour of exiting the European Union. Guardian commentator Aditya Chakrabortty writes:
"The very landscape of south Wales is littered with broken promises. The mining communities were offered high-tech "industrial villages" by Labour. They never came. On the outskirts of Newport stands a giant white plant that was meant to be an LG factory. Millions in subsidies were poured in, the politicians prostrated themselves – and the Korean firm still bolted, leaving the site empty for a decade."
Even if a boom were to come to Canada thanks to a Northern Corridor, the real question is what would come after it ended, after enormous outlays had been spent on infrastructure in one of the world's most remote regions, where disused railroad tracks are hardly going to be turned into the next High Line.
The ship and the snake
An Australian Aboriginal Dreamtime legend from the Pilbara region tells the story about a snake living in a body of water near Port Hedland, the town where the state is now desperately trying to sell off its port. The book Kangkushot by Jolly Read and Peter Coppin explains:
"The deep pool in the huge landlocked area of water was called Jalkawarrinya. In their dreamtime this pool was the home of a blind water snake that headed out to sea when the first big ship entered the port."
The departure of the water snake following the arrival of the "first big ship" is a metaphor for the replacement of indigenous ways of life with industrial modes of production. While indigenous peoples can profit from industry and continue certain facets of their pre-industrial practices like hunting and fishing, once the ship has entered the harbor, the snake might never come back.
Even if it does, it will be faced with a ruined landscape of enormous salt piles, emptied-out, heat-blasted iron ore mines, and maybe the occasional skeleton of a 3.2-kilometer long iron ore train that once ran along a corridor dreamed up in a distant past.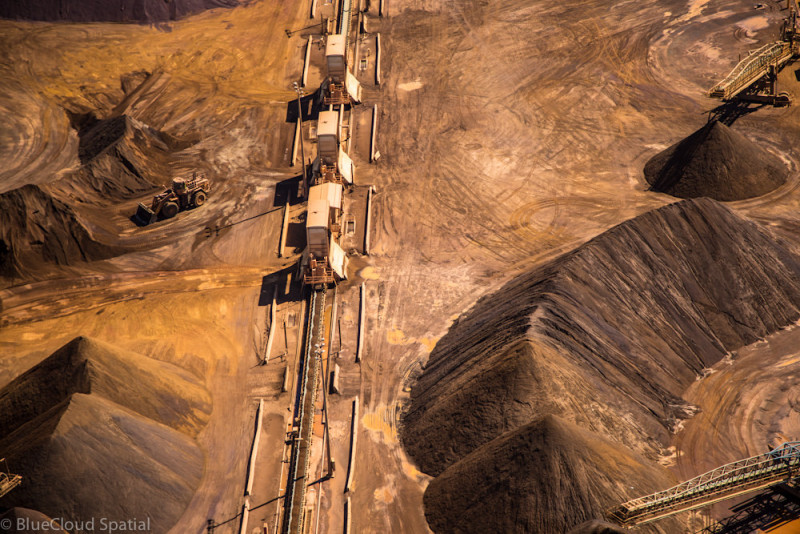 This post first appeared on Cryopolitics, an Arctic News and Analysis blog.

Related stories from around the North:
Canada: Caribou or development? Question debated in Arctic communities, Radio Canada International
Canada: Blog: Why northern development is hard, Eye on the Artic
Norway:  Stop romanticizing Arctic development say indigenous leaders, Eye on the Arctic
Sweden:  Sami demand rights as indigenous people, Radio Sweden
United States:  Arctic Energy Summit – What can polar regions learn from each other?, Eye on the Arctic