U.S. Attorney General announces new focus on Alaska Native issues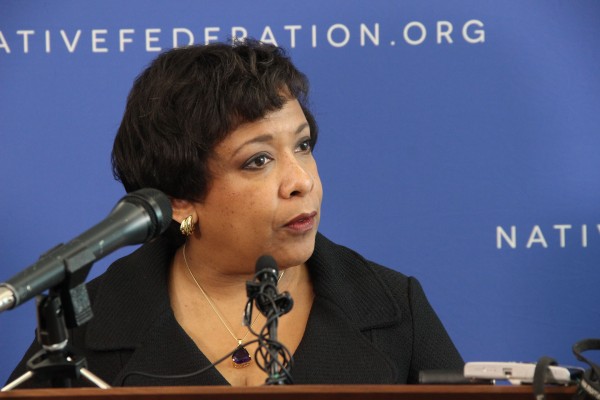 The U.S. Department of Justice is rolling out a new focus on Alaska Native issues.
In Anchorage last week to discuss issues of criminal justice and public safety with Alaska Native leaders, U.S. Attorney General Loretta Lynch said it is unacceptable that Native residents are victims of violent crimes at rates much higher than the general population.
"More than four in five Alaska Native women and more than one in three Alaska Native men have experienced violence in their lifetimes," Lynch said, citing a recent report from the National Institute of Justice. "These numbers are higher than we previously understood, but more to the point, they are completely unacceptable in this country in 2016."
Improving public safety in rural Alaska
Lynch announced that she is launching a formal process to consult with Alaska Native leaders on concrete steps to improve public safety in rural Alaska.
One possibility: the creation of a permanent position within the Department of Justice focused on Alaska Native affairs and based in state.
Lynch said she came to Alaska at the invitation of the state's two U.S. Senators — and of Julie Kitka, president of the Alaska Federation of Natives.
Lynch held a round table with AFN officers and representatives from several Native corporations, where they discussed the opioid epidemic in Alaska, voting rights, and support for tribal courts.
Speaking to reporters in a press conference in Anchorage, flanked by Kitka and by Karen Loeffler, U.S. Attorney for the District of Alaska, Lynch said one common thread is a focus on the most vulnerable, and better access to the criminal justice system.
"When we talk about Alaska Native and Native American women, issues of sexual violence, domestic violence really loom large in their lives," Lynch said. "It's definitely an issue of concern because the distances between many villages and law enforcement, the small villages [and] the rural nature of many communities make it very difficult for victims to get treatment, and sometimes even to get law enforcement help."
Political future?
Lynch was also asked if she might consider running for vice president — alongside Hillary Clinton.
"Well, that's quite a question!" Lynch replied to laughter, before giving the standard answer: "I am focused on my current job as Attorney General, and that is my focus, not just here today but for the remainder of this administration."
Lynch planned to end her day by meeting with Alaska Native young people, and with the staff of the U.S. Attorney's office in Anchorage.
This was her first visit to Alaska.
Related stories from around the North:
Canada: Violence and public health in the North – What about the men?, Blog by Heather Exner-Pirot
Denmark: Nordics report high abuse levels against women, Radio Sweden
Finland: Finland 'downplays' suicide figures says expert, Yle News
Sweden:  Reports of violent crime increasing in Sweden's North, Radio Sweden
United States: Village crime victims in Alaska need intervention, senators told, Alaska Public Radio Network