Blog: How much does the Arctic Council cost?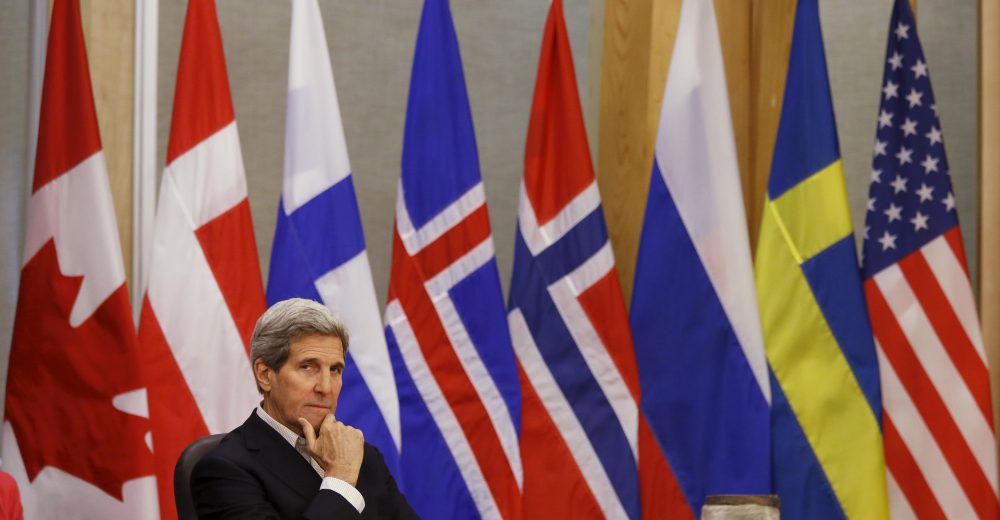 Speaking about sustainable development at an event on Arctic politics this summer, I expressed doubt that the Arctic Council could play a leading role in addressing a billion dollar issue with its million dollar budget.
As soon as I said it, I knew that my claim was not 100% true: while the Arctic Council Secretariat has a $1.4 million US budget, the totality of what the Arctic Council does, with its working groups, task forces, and Senior Arctic Officials (SAO) meetings – is worth much more.  How much does the Arctic Council cost, I wondered?
The short answer is that no one actually knows.  Not for sinister reasons motivated by secrecy, but because the Arctic Council was established as a forum, not an organization, and it has developed institutionally in strange and mysterious ways.
Follow the money
Some aspects of the Arctic Council's spending are easily accounted for, in particular the Secretariat.  In 2015, it spent $1.4 million US, with staff costs (10+ persons) accounting for the bulk of that. Of that amount, Norway contributed approximately $600,000 as host country, with each of the other 7 member states contributing equal amounts, just shy of $100,000.
When it comes to funding SAO meetings, Ministerials and other events, whoever is Chair for their two-year term generally hosts and assumes those costs, including covering some other additional communications and administrative expenses.
Working it out
Where it gets very interesting, however, is with the Working Groups (WG). Four of them (AMAP, CAFF, EPPR and PAME) were originally established in 1991 as programs in the Arctic Environmental Protection Strategy.  They were later adopted into the Arctic Council when it was established in 1996, at which time the Sustainable Development Working Group (SDWG) was added.
A sixth, the Arctic Contaminants Action Program, was established as a WG in 2006 after having been run as an Arctic Council Action Plan for 6 years.
Different states have assumed responsibility for hosting different secretariats at different times.  While the Working Groups are mandated by the Arctic Council, they are not formally a part of the organization; since it is a non-treaty based forum, the Arctic Council has no real legal personality.  Rather they have evolved as separate institutions based on the relevant parameters of their host countries and funding arrangements.
The Arctic Monitoring and Assessment Program (AMAP) is by far the largest and best funded, with 7.5 staff and a direct contribution of 4 million NOK (about $480,000 US) from the Norwegian government.  It is incorporated as a foundation in Norway.  It also lists the most external project funding partners (13) (e.g. UNEP, European Space Agency, ArcticNet) compared to 3 for CAFF, 2 for PAME, and none identified for SDWG, ACAP and EPPR.
The Conservation of Arctic Flora and Fauna (CAFF) and Protection of the Arctic Marine Environment (PAME) WGs are hosted in Akureyri, Iceland, and both receive about half of their budget from the government of Iceland, with each Arctic state also contributing (though Russia to CAFF only).  The CAFF Secretariat has 5 staff and PAME has 3.
The Sustainable Development Working Group Secretariat is funded mainly by the Government of Canada as a procurement of services, with some additional support from Finland.  Its project financing has been ad hoc and primarily from state monies and in-kind support.  It does not seem to have any separate legal identity outside of the Government of Canada, and is managed by a lone staff member.
Finally, the Arctic Contaminants Action Programme (ACAP) and Emergency Prevention, Preparedness and Response (EPPR) are housed out of the Arctic Council Secretariat (ACS) in Tromsø, sharing a single staff member, with the funding coming out of the broader ACS budget.
Thank you for your in-kindness
There are three main sources of funding for the Working Groups.  The first is direct funding from member states to support the WG secretariats – staff, office costs, meeting hosting and travel.
The second is direct project funding.  There can be pots of funding coming from various ministries, states and Observers.  But it can be just as likely that those project sponsors will directly pay for project costs themselves – travel, contract work, event hosting and the like – with no money actually passing between hands (and thus hard to count).   Regardless, there is no consistent and reliable stream of discretionary funding coming in to the WGs; most of the money comes from states, and states fund the projects they want to fund, and in the manner in which they want to fund them.
An additional, large source, has been the Arctic Council Project Support Instrument (PSI), a voluntary, non-exclusive mechanism administered by the Nordic Environment Finance Corporation (NEFCO).
First proposed in 2002, a pilot PSI was initiated in 2004, with a capitalisation of 3 million EUR. A more formal agreement, with Guidelines, Rules of Procedures, and a governing body, was implemented in 2011.  Russia allocated 10 million EUR (of a total 15.9 million EUR) to the PSI at the time, as the main beneficiary of its pollution prevention projects, including hazardous waste management and clean energy production.
ACAP seems to be the only WG to receive funding from the PSI. You might think ACAP would be one of the larger WGs with this stash of accessible funding, but you would be wrong.
The third, and probably most significant overall, are the in-kind contributions made by stakeholders.  If the main contribution of WGs is intellectual, its source is the cadre of experts provided in-kind from various government ministries, Observers and Permanent Participants.
The challenge is putting a price tag on that in-kind support.  It's not the WGs' business to know the salaries of its experts and the hours they devote to its projects, so they are in no position to account for them.  But those experts come from a wide variety of departments and units, so no single point of contact – let's say the SAO – has ready access to make those determinations either.
There is also the question of how much of that in-kind support is "Arctic Council" work and how much is part of their regular job, i.e. accountable under other, related, activities – Search and Rescue (SAR) being a good example.
In addition to the Working Groups, for which accounting for the resources acquired is burdensomely complicated, there are the paid staff of foreign ministries, Observers and Permanent Participants doing Arctic Council work on a myriad of projects and committees. And the PPs are often allocated their funding through the same foreign ministry funding pots as the Arctic Council.
Again, there is no intrinsic process by which any of these stakeholders submit to the Arctic Council their wages, travel and office costs and the percentage of these that relate primarily to the work of the Arctic Council.
If it's not broke, don't fix it?
The Arctic Council funding structure looks to be a victim of path dependence, with its convoluted institutional evolution inhibiting any proper accounting of its expenditures as an organization – indeed it is shown to be an organization only by custom.
That said, there is not even a whisper that its spending patterns have been deliberately hidden or are worthy of suspicion.  Support from entities other than governments and scientific/publically-funded organizations appears extremely limited, with AMAP listing an in-kind contribution from industry for access to data; and CAFF and PAME listing funding from the Alcoa and Oak Foundations, respectively.
The U.S. SAO Chair made efforts to determine some more concrete numbers in a publically available document presented at the SAO meeting in Fairbanks in March, and if one can be disappointed by the absence of a neat, summary table of overall expenditures, the challenges to producing one seem reasonable.
So how much does the Arctic Council cost?  No one knows for sure, but I will put my own guess out there: ACS ($1.4m) + AMAP ($500k) + other WG secretariats ($1m) + PPs/IPS ($1.5m) + SAO & direct ministry staff ($3m) + state in-kind expertise ($3m) + Observers in-kind ($2m) + travel ($2-3m) + project funding ($2-3M?) + meeting hosting (500k) + Chairmanship duties ($1m) = $18-20 million US, not including the PSI.
Seems like a pretty good return on investment however you count it.
Related stories from around the North:
Canada:  How many observers can Arctic Council handle?, Alaska Dispatch News
Finland: New Finland icebreaker can operate sideways with asymmetrical hull, Yle News
Norway:  Arctic Council aims to boost business, The Independent Barents Observer
Russia:  Russia invites Arctic Council on icebreaker tour, The Independent Barents Observer
United States:  The US-led Arctic Council – Still trying to get Americans to care about Arctic, Alaska Dispatch News