How many observers can Arctic Council handle?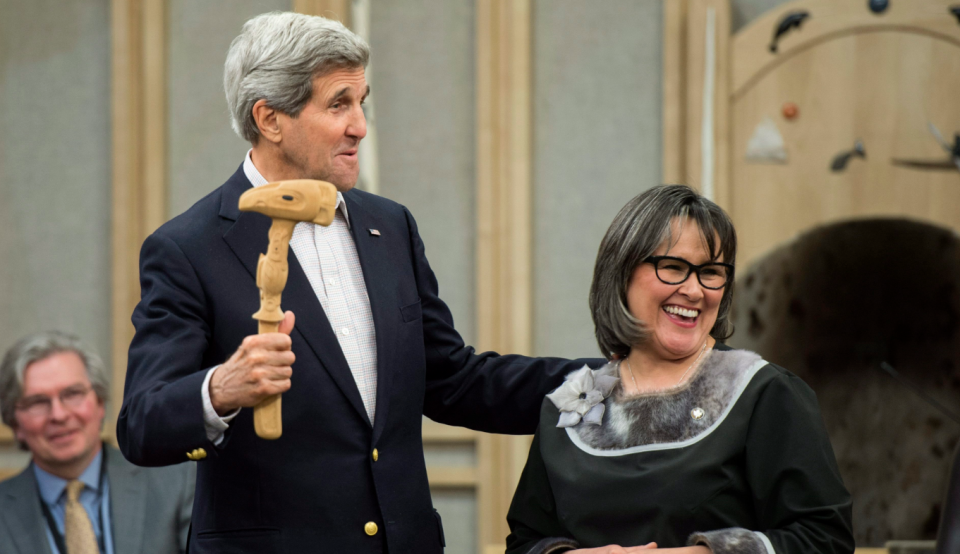 For much of the world, the Arctic used to be overlooked territory, dismissed as an icy and remote wasteland.
If applications for Arctic Council recognition are any indication, that is no longer the case.
Sixteen governments, nongovernmental organizations and regional groups – some closer to the tropics than to the Arctic Circle – are seeking to join in the Arctic Council family as formally designated observers, said Senior Arctic Official Julie Gourley, who represents the United States at the eight-nation council.
Gourley spoke to the Fairbanks Chamber of Commerce on Monday, providing an update of council business nearly a year after the U.S. assumed leadership of the organization.
Among the 16 applicants for new observer status are the nations of Greece, Turkey, Switzerland and Mongolia. The organizations seeking observer status include the environmental groups Oceana and Greenpeace, the Association of Oil and Gas Producersand the National Geographic Society.
"And probably a few more are going to come on line in the next weeks," Gourley said.
Dilemma for international body
If accepted into the fold, they would add to the nations that have territory in the Arctic, the six circumpolar North indigenous organizations that are permanent participants in Arctic Council business and the 32 governments and organizations that already have observer status.
The growing global interest presents the Arctic Council with a dilemma, Gourley said.
"It's getting to be a very large, crowded room. And we're kind of hitting, in some respects, capacity. If we get the Arctic Council  to be too big, we won't be able to hold meetings in places like Barrow," which hosted a meeting of the Arctic Council's Sustainable Development Working Group on Friday and Saturday.
"We couldn't hold a huge, 500- to 1,000-person meeting in a place like Barrow or in Iqaluit in Canada," Gourley said. "So we're having a lot of conversation about what to do about growing this body and letting everybody in who wants to be in, because it's just getting to be unmanageable in some ways, logistically it is."
Others have also been considering the question of how big the Arctic Council should be. Sebastian Knecht of the Berlin Graduate School for Transnational Studies argued in apaper published last year that expansion of the observer numbers is appropriate, as long as some of the designated observers are cycled out.
Decisions about expanding membership will be made next year, when the Arctic Council holds its ministerial meeting in Fairbanks, Gourley said.
U.S. priorities
For now, the council's leaders, including Gourley and her fellow Arctic official counterparts from Canada, Greenland, Denmark, Iceland, Finland, Norway, Sweden and Russia, are gathering this week in Fairbanks for a semiannual meeting.
The Arctic Council event, which focuses on projects that the U.S. is pushing during its two-year chairmanship, is being held in conjunction with other Arctic events in Fairbanks, chiefly the annualArctic Science Summit Week.
Under U.S. leadership, the council's work is covered by three broad goals – to improve economic and living conditions in Arctic communities, to address climate change and to promote Arctic ocean safety and stewardship.
In addition, there is a U.S.-specific task, Gourley said: to educate Americans about the Arctic and Alaska and its importance.
"We really want to raise awareness of the Arctic while we have the bully pulpit for the couple of years," Gourley said.
One newly completed Arctic Council project is a new set of safety guidelines for unmanned aircraft flying Arctic research missions, Gourley said. That project, which was launched in 2009, is the first of its kind globally, she said.
"It's completely groundbreaking. It exists nowhere else on the planet. This is the first time that UAS (unmanned aerial surveillance) guidelines for safety of operations for scientific research has ever been done," she said.
Related stories from around the North:
Canada: The Arctic Council's capacity challenge, Blog by Heather Exner-Pirot
Iceland:  Iceland blasts Arctic Five for exclusion from fishing agreement, Eye on the Arctic
Norway: Arctic Council aims to boost business, Barents Observer
Sweden:   Arctic Council – From looking out to looking in, Blog by Mia Bennett, Cryopolitics
United States: US pushes ambitious Arctic Council goals, Alaska Dispatch News