Wireless charging of electric cars tested in Sweden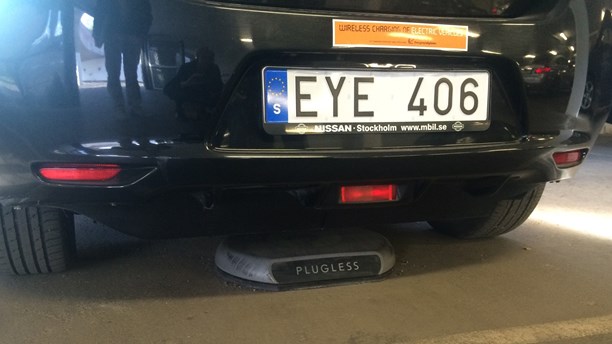 A pilot project in Stockholm involving wireless charging of electric cars is being touted as a step toward achieving a fossil-fuel-free city where cars are charged at traffic lights and while driving.
The City of Stockholm has proclaimed that the Swedish capital aims to be fossil-fuel-free by 2040 and according to Katarina Luhr of the Green Party, who is the deputy mayor of Stockholm in charge of the environment, electric cars will play a crucial part in reaching this goal.
"Electric cars have advantages; they are quiet, they don't release any emissions and they are quite important both for the air quality and for the noise situation. If we can reduce the noise from roads, we can also build more apartments closer to roads. Because now the noise from the cars and traffic is a big problem for Stockholm," said Luhr.
Making electric cars more attractive
The sale of electric cars and chargeable hybrids is rising in Sweden, and there just over 23,000 such cars by the end of August this year. That is nearly 90 percent more than the same time last year. Yet still only about 3 percent of the total number of cars sold in August this year were electric cars or hybrids.
Luhr believes that the Stockholm city council has an important role to play in making the switch to electric cars more attractive for motorists, and a pilot project to try out wireless charging is part of that strategy.
Testing in Stockholm
Five of the 20 cars used in the nationwide project are owned by the City of Stockholm and are used in different parts of the capital. The cars are charged while parked in garages, but instead of plugging them in with a cable, you drive the car over a charging pad that sends magnetic signals into a device in the car, similar to an electric toothbrush or a cordless whisk on charge.
One such charging pad is located at a garage in Solna in western Stockholm. It is used by a group of senior citizens who are part of a local neighbourhood-watch scheme and the council has provided them with a test car.
"The very best thing with it is that you don't have to use the plug, you park the car and that's it," says Per Wahl, who is in charge of the car in the group. He can avoid using a cord that could potentially get dirty and doesn't have to worry about forgetting to plug it in, he says.
According to Luhr at the city council, this is all part of a plan to make it easier for people to charge their cars. But it is hoped that this project, which will be evaluated at the end of the year, can be a first step toward a city where cars are being charged at traffic lights and while driving.
"I know that in England they are trying this kind of wireless charging on a highway now. It is all in the research stage right now, but researchers say that within five to six years, it could be tried in cities and on bigger roads," says Luhr.
Related stories from around the North:
Canada:  Driving on the ice road in Canada's Northwest Territories, Eye on the Arctic
Finland:  Radical road tax changes proposed, Yle News
Norway: Norway reaches 50,000 electric cars sales, The Independent Barents Observer
Sweden:  Weak sales of electric cars and hybrids in Sweden, Radio Sweden
United States:  High temperatures sink vehicles traveling ice roads in Western Alaska, Alaska Dispatch News