US Arctic officials don't expect big policy changes with Trump presidency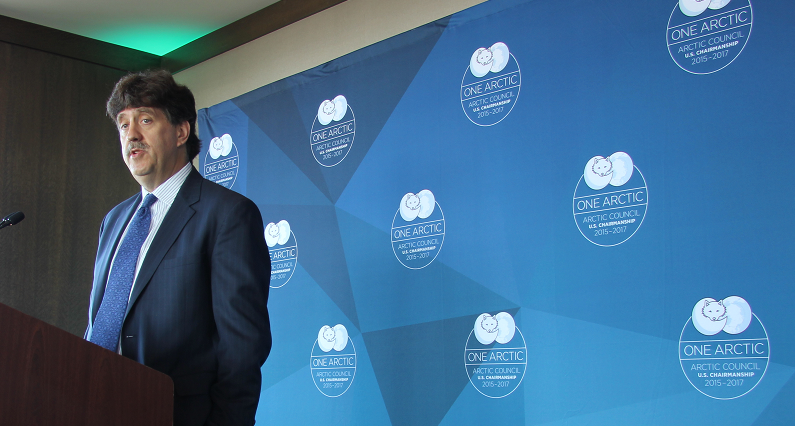 Federal agencies that manage Arctic and climate matters were in turmoil Thursday, as Department of State websites that formerly distributed climate-science information went dark and news circulated that senior department officials had submitted their resignations, less than a week after President Donald Trump's inauguration.
Trump's views on global warming — he has repeatedly said that climate change is a hoax — represent an abrupt shift from the administration of Barack Obama, who regarded climate change and its effects on the Arctic and elsewhere as an urgent matter.
Still, the Arctic team at the State Department has so far remained largely intact, minus one key figure, and its leader said he is hopeful that Trump administration Arctic policies will be consistent with those of the past.
As soon as he arrived in Tromso, Norway, site of the annual Arctic Frontiers conference, he was peppered with questions about what a Trump administration will mean for U.S. policy and engagement in the Arctic, Balton, a career diplomat, said at a panel discussion on Tuesday.
"The truth is I don't think anybody really knows yet. But — and now I speak as someone who has been at the State Department for more than 30 years — U.S. policy in the Arctic has not changed appreciably in that time," he said, in remarks that were webcast from the conference.
From the Clinton administration, which articulated a specific U.S. Arctic policy, to the George W. Bush administration, which "elaborated another policy but basically kept the same goals and objectives without change," to the Obama administration, which issued a National Strategy for the Arctic Region, there has been adherence to the same basic goals and objectives, Balton said.
"And so if the past is prologue, my supposition is that U.S. policy in the Arctic is not likely to change in the next few years either," he said.
Many factors weigh in favor of consistency, even in the Trump era, he said.
"U.S. interests in the Arctic are profound and enduring, and they're based largely but not entirely on Alaska — on the people of Alaska, on the economy and environment of Alaska, on Alaska policymakers. And those factors aren't changing. Beyond that, we have long sought to keep the Arctic stable and peaceful, as it has been. I don't see that changing as well. We have a national policy and even laws in place to include the views of indigenous peoples of our part of the Arctic in decision-making. That is not going to change," Balton said at the conference.
The importance of climate change
Climate change will have to remain a top priority, despite Trump's past dismissals, Balton said.
"It's my view that any U.S. administration will need to deal with climate change in the Arctic; it's just too compelling to ignore. You just need to travel to the Arctic, Alaska or anywhere else, to see it firsthand," he told the Tromso audience.
U.S. policy should continue to focus on climate change at the high latitudes, urged the high-level Arctic official who did leave the State Department after Trump's election.
In the U.S. Arctic, climate change is obvious, said Robert Papp, the former U.S. Coast Guard commandant who served for two years as State's special representative to the Arctic before resigning last month.
"Across Alaska, the impacts of climate change are plainly evident and undeniable: coastal erosion is causing homes to fall into the sea or other waterways; thawing permafrost is affecting infrastructure; and unstable ice and changing migration patterns are preventing people from obtaining the food sources they have relied upon for tens of thousands of years," Papp wrote in an essay to be published in the U.S. Naval Institute publication Proceedings.
He urged a continuation of the past years' policies.
"The United States must continue demonstrating great leadership in the Arctic because the world's eyes are upon us as never before. The urgency of climate change and the resultant increase in human activity make our intentions and actions in the region matter more than ever," he said in the essay.
A change of leadership
U.S. leadership over the past few years has put a spotlight on the issue, and rightly so, said former Alaska Lt. Gov. Fran Ulmer, who chairs the U.S. Arctic Research Commission and still serves as a member of the State Department's Arctic team.
"It is not just what is changing in the Arctic but actually what is changing is the fact that many people around the world are paying attention to a region that for a very long time was sort of out of sight, out of mind, too out there to even think anything about, read anything about or for that matter, even care anything about," Ulmer said in remarks earlier this week at the Alaska Marine Science Symposium in Anchorage.
Climate change remains the theme of the commission's 2017-2018 program for U.S. Arctic research, which was outlined in a report on goals and objectives issued last month — after Trump's election.
In one way, however, U.S. leadership in the Arctic will inevitably diminish. The two-year U.S. chairmanship of the Arctic Council ends this spring, and the reins will be handed to Finland in May at a ministerial meeting in Fairbanks.