Russian military aircraft spotted outside Norway during Arctic Challenge break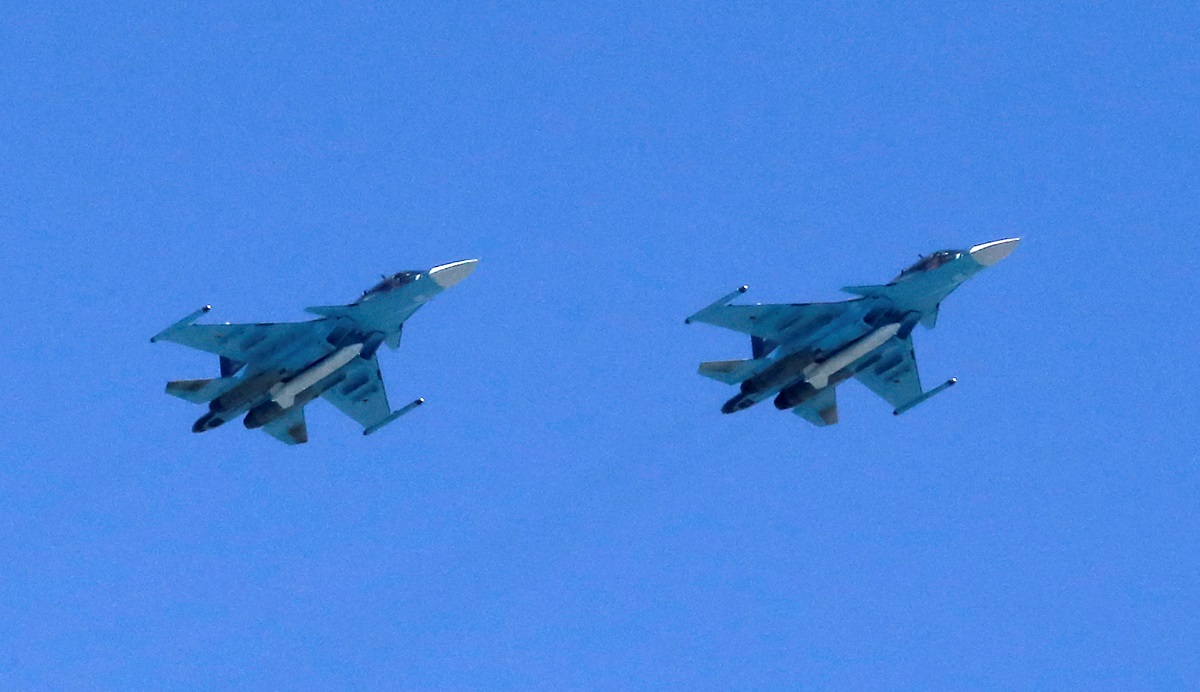 Fighter jets from Bodø were sent on Quick Reaction Alert on Saturday. Norwegian Joint Headquarters confirms increased activity by Russian military planes over the last few weeks.
On Monday, the second week of Europe's largest air force exercise this year takes off from the airports in Bodø (Norway), Luleå (Sweden) and Rovaniemi (Finland). More than 100 aircraft from 12 nations continue with training sorties in the skies over northern Scandinavia.
The exercise, that started last Monday, had a break this weekend. In Bodø, the main airport for Norwegian F-16 fighter jets, the break didn't last long. On Saturday, a Quick Reaction Alert, or QRA, was triggered as two Russian aircraft approached outside Norwegian air space in the north.
«The QRA from Bodø identified two aircraft by mid-Saturday, a SU-34 and a Midas,» press spokesman Lt. Col. Ivar Moen with the Joint Head Quarters says to the Barents Observer.  SU-34 is Russia's newest tactical multirole combat aircraft and was first time seen over the Barents Sea in 2014. Midas is the NATO name for Il-78, a refueling tanker.
Increased activity
Moen confirms that there are more Russian military planes in the skies nowadays.
«It has been increased Russian plane activity the last weeks, but the Joint Head Quarters doesn't want to speculate in what's the reason for this,» he says.
Also on Saturday, Royal Air Force (RAF) fighter jets were scrambled in Scotland in respons to Russian aircraft flying near the British coast, the BBC reports. The report does not specifies what Russian military planes were in question.
The Ministry of Defense in Moscow issued a statement on Saturday saying long-range Tu-22M3 bombers were flying in international air space in the Barents- and Norwegian Seas.
Tu-22M aircraft in different versions are based at Olenegorsk air base south of Murmansk on the Kola Peninsula.
Arctic Challenge Exercise (ACE17) lasts until Friday, June 2. The Finnish Air Force has made this information video about ACE17.
Related stories from around the North:
Canada: Do Russian bomber patrols in the Arctic threaten Canada's security and sovereignty?, Radio Canada International
Denmark/Greenland: Discussions underway on who can claim Arctic seabed, Radio Canada International
Finland: UK-led Joint Expeditionary Force will have ramifications for Arctic security: experts, Radio Canada International
Iceland: Iceland won't back down on sanctions against Russia, The Independent Barents Observer
Norway: Military exercise Arctic Challenge 2017 set for take off, The Independent Barents Observer
Russia: Moscow says NATO meeting in the Arctic is a provocation, The Independent Barents Observer
Sweden: Sweden's Prime Minister reaffirms commitment to country's defense, Radio Sweden
United States: Fifth Russian aircraft interception off Alaska's coast in a month, but experts not alarmed, Alaska Public Media