Hilcorp makes oil industry's first move in decades into federal waters of Alaska's Cook Inlet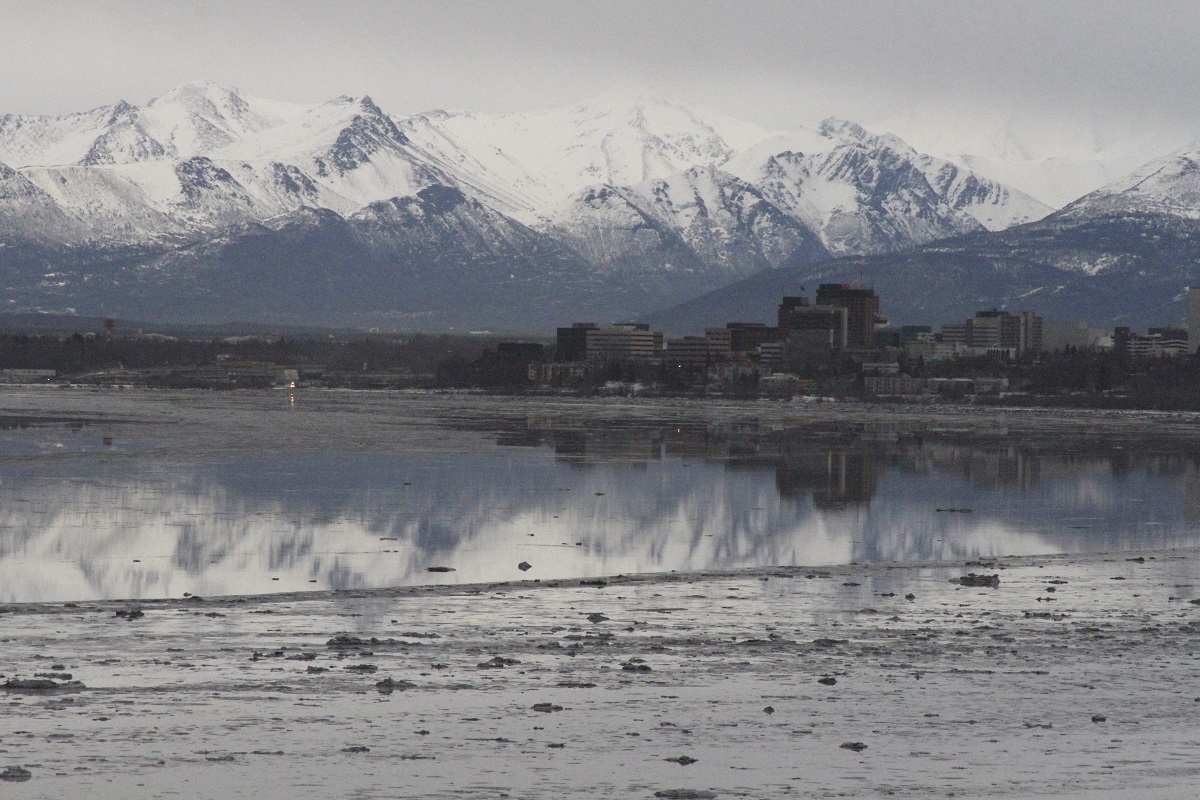 For the first time in decades, an oil company has put significant money into leases in federal waters of Southcentral Alaska's Cook Inlet.
Hilcorp Alaska LLC, a unit of privately held Hilcorp Energy Co. and an emerging force in the Alaska oil and gas industry, spent over $3 million for exploration rights to 14 federal offshore leases covering about 76,615 acres in Cook Inlet.
Hilcorp, the dominant Cook Inlet oil producer, was the only company bidding in the U.S. Bureau of Ocean Energy Management's lease sale held Wednesday. It was also the only company bidding in a state Cook Inlet lease sale held earlier Wednesday, picking up six tracts for a total $922,392.30 in bids, according to the Alaska Division of Oil and Gas.
"The leases we acquired today help strengthen our ability to continue to provide energy and jobs for Alaskans," Hilcorp spokeswoman Lori Nelson said in an email.
The Cook Inlet basin is Alaska's oldest oil- and gas-producing region, with operations that date back to the 1950s. Production volumes, reserves and industry investments there are dwarfed by those on the North Slope, which holds far bigger oil fields.
Drilling outside of the Arctic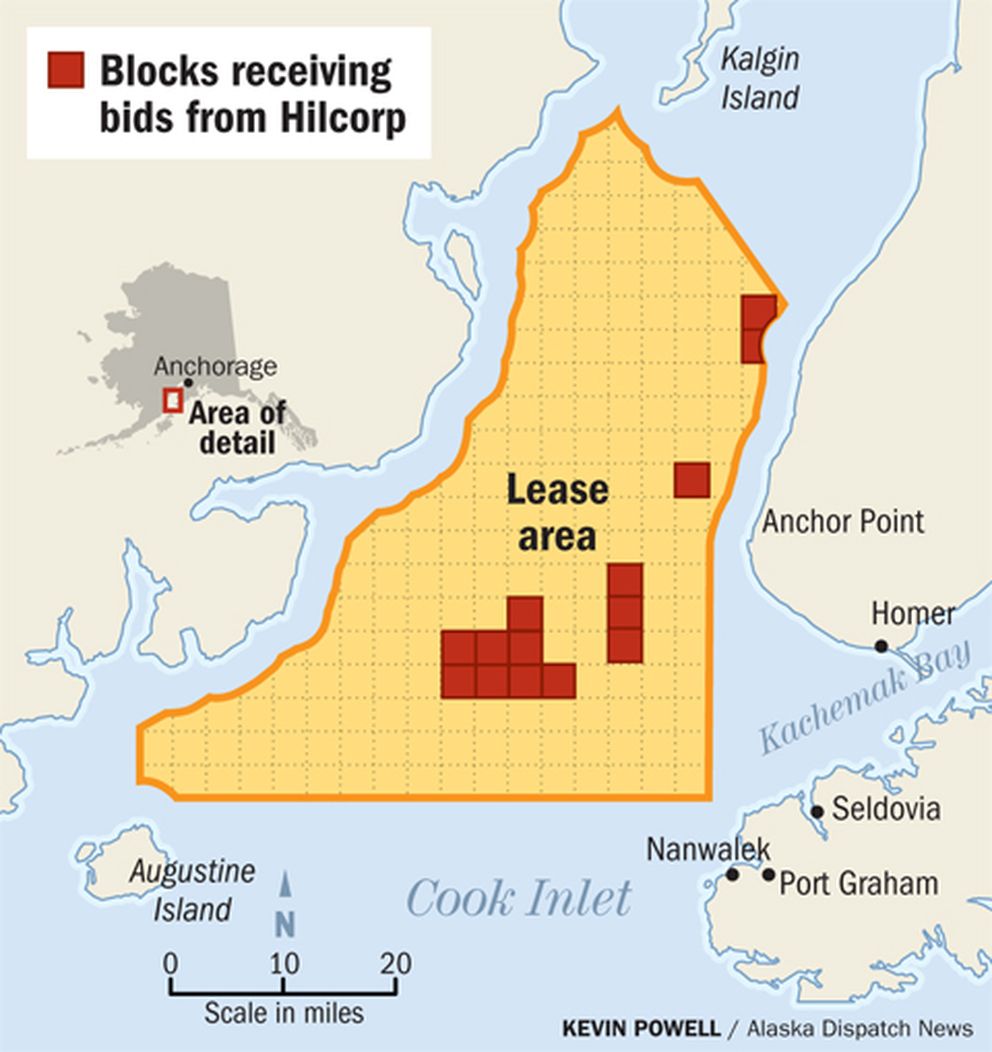 Wednesday's federal offshore lease sale was the first in Alaska since 2008, when Royal Dutch Shell, ConocoPhillips and other companies bid a record $2.66 billion for exploration rights in the Chukchi Sea in the Arctic. Lease sales for federal waters in the Beaufort Sea off northern Alaska held in 2007 and 2005 also received brisk bidding that was led by Shell; combined, those two lease sales drew nearly $89 million in high bids. But Shell abandoned its offshore Arctic program in 2015.
Outside of the Arctic, there has been sparse industry interest in offshore drilling in federal waters of Cook Inlet — until Wednesday.
A federal Cook Inlet lease sale that was tentatively scheduled for 2011 was canceled for lack of interest. The last federal Cook Inlet lease sale held, a 2004 auction conducted by the Minerals Management Service, BOEM's predecessor, drew no bids. The previous federal Cook Inlet sale, held in 1997, produced only two leases. The last federal Cook Inlet lease sale that received significant bidding was held in 1981, when 13 tracts were sold for $4.4 million. All past federal Cook Inlet leases expired several years ago; no oil fields were ever developed on them.
A Trump administration official credited the president with the outcome of Wednesday's lease sale.
"This certainly reflects a growing industry interest in federal offshore oil and gas resources under the Trump administration," said Vincent DeVito, recently appointed by U.S. Interior Secretary Ryan Zinke as a special counsel to the department for energy policy. "President Trump and the administration are definitely committed to energy dominance. And as Secretary Zinke said just a few weeks back in Alaska, the path to energy dominance goes through Alaska."
A "natural extension"
A longtime Alaska-based agency official had a less political take.
David Johnston, supervisor of leasing and plans for BOEM in Alaska and a former state government official, described Hilcorp's move into federal waters as a "natural extension" for the mature Cook Inlet basin and for that particular company.
For most of Cook Inlet's oil and gas history, activity focused on more northern state territory, he said. "The significant discoveries were made in state waters to the north, and that was where investment was flowing," he said.
Hilcrop, which has "revitalized a lot of the oil and gas fields down in the Cook Inlet," could see potential for similar success in the overlooked and more southern federal territory, he said.
Since it arrived in Alaska in 2011, Hilcorp has expanded its operations and is now a major player on the North Slope as well as in Cook Inlet. The company bought assets that BP sold after the Deepwater Horizon disaster and now operates some long-established North Slope fields.
Johnston said Hilcorp appears to be able to cope with Alaska's remoteness and other challenges better than some other independents.
Hilcorp has not escaped Alaska problems.
A Hilcorp natural gas pipeline in Cook Inlet leaked for several months before the company was able to make repairs in May. The leak was discovered in December, but sea ice stymied efforts to address it.
Offshore Liberty project
In the offshore Arctic, Hilcorp is operator and half-owner, with BP Exploration (Alaska) Inc., of the ambitious Liberty project in the Beaufort Sea. If developed, it would be the first producing oil field located entirely in federal waters off Alaska.
Hilcorp is pursuing what has become the third development plan for Liberty, following two previous BP plans that were abandoned.
A draft environmental impact statement for Hilcorp's Liberty development plan is expected later this summer, said Jim Kendall, BOEM's Alaska director.
There is no guarantee that Hilcorp will have more success than BP did in starting Liberty production, he said. "We can't predict the future. But the process is moving forward and all the boxes are being checked," he said.
The state received no bids for the Alaska Peninsula territory offered for oil and gas leasing.
Related stories from around the North:
Canada: Arctic offshore drilling too dangerous: Trudeau, Radio Canada International
Finland: Finland looks to put education, environment at top of Arctic agenda, Yle News
Germany: Cheap oil from the Arctic? Fake news, says climate economist Kemfert, blog by Irene Quaile, Deutsche Welle
Norway: Norway offers oil companies 93 new blocks in Arctic waters, The Independent Barents Observer
Russia: Gas company Novatek to build four artificial islands in Russian Arctic, The Independent Barents Observer
Sweden: Swedish government unveils new climate law, Radio Sweden
United States: Trump's Interior secretary vows to reinvigorate Alaska oil industry, Alaska Dispatch News