July registers fifth lowest Arctic sea ice extent in satellite record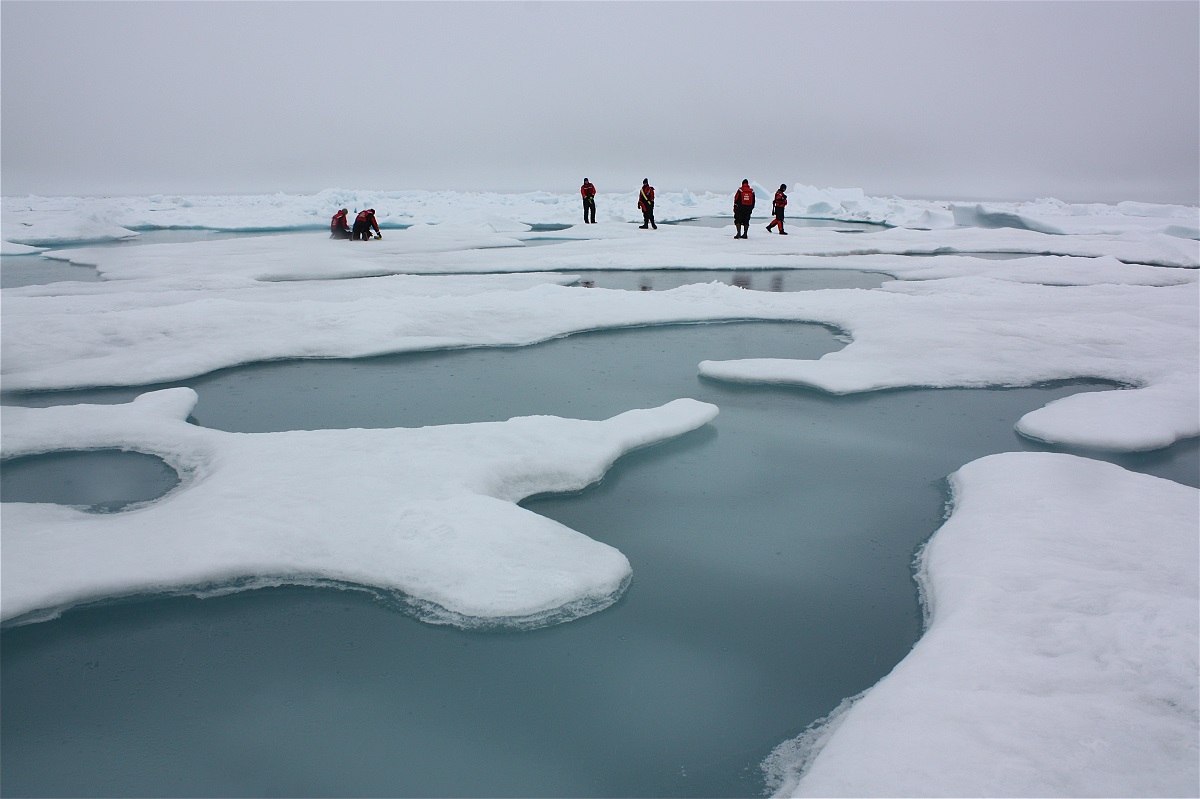 Average sea ice extent for the month of July ended up the fifth lowest since satellite records began in 1979, according to the latest report released by the Colorado-based National Snow and Ice Data Center (NSIDC).
Arctic sea ice extent for July averaged 8.21 million square kilometers (3.17 million square miles) and was 1.58 million square kilometers (610,000 square miles) below the 1981 to 2010 long-term average, the report said.
"Compared to where we were 20-30 years ago, there is a lot less sea ice than there used to be," Mark Serreze, director of the NSIDC, said in a phone interview from the University of Colorado, in Boulder. "We're not at record lows, we're still above of what we saw in 2012, that was the record low, but we'll see how things shape out for the rest of the summer. A lot is going to depend on whether conditions up there and we just can't predict that."
Complex air temperature pattern
The slowdown of sea ice loss in July was driven by a complex air temperature pattern over the Arctic, Serreze said.
Temperatures were 1 to 2 degrees Celsius above average over Alaska, extending into the Beaufort Sea, while the Kara and Barents Seas saw temperatures 2 to 4 degrees Celsius above average. By contrast, temperatures were 2 to 4 degrees Celsius lower than average over Greenland, East Central Siberia, and the Laptev Sea.
"We know that we are losing the ice because the globe is warming, this is pretty clear," Serreze said. "But what we see from year to year is that the rate of loss that we get through the summer very much depends on the weather conditions: it might be a warm summer, it might be a little bit of a cooler summer. And right now through July it's not been all that warm."
Yet he still thinks that September will mark the second or the third lowest ice extent ever since satellites started recording ice extent in 1979, Serreze said.
"Things are not getting better, put it that way," he said.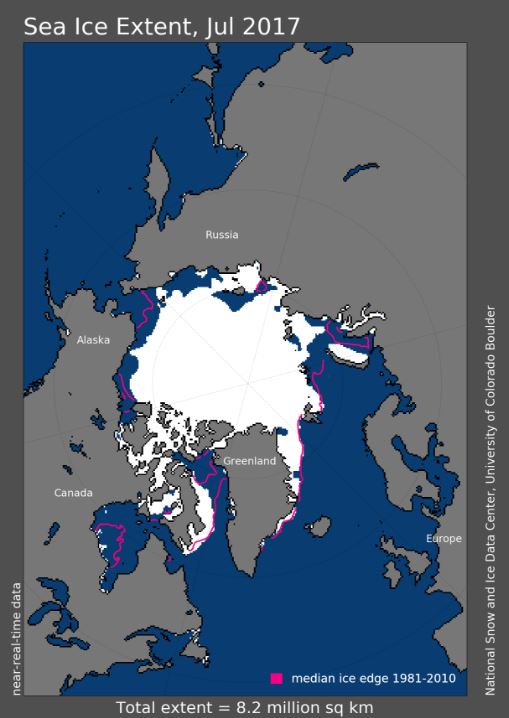 Global warming could bring regional cooling
The loss of sea ice could also be a major factor in the disruption of ocean currents that bring warm air to parts of northern Europe that otherwise would experience much colder temperatures based on their latitude, Serreze said.
In the far northern Atlantic, warm water flowing northward from the tropics is cooled by the atmosphere, becomes denser, and eventually sinks to great depths.
The descending water is key in driving a sub-surface and surface ocean circulation system called the Atlantic Meridional Overturning Circulation (AMOC), which is part of the global ocean conveyor belt of heat and salinity, the NSIDC report said.
Where the Atlantic water sinks has a very important effect on the climate of Northern Europe; the heat that the ocean loses to the atmosphere is what keeps Northern Europe quite warm relative to its latitude, the report said.
"For example, if you compared say Winnipeg to somewhere in Northern Europe on the same latitude, of course Winnipeg is a lot colder in the winter," Serreze said.
"There is thinking out there that we could disrupt that circulation in ways and if we did disrupt that circulation, we might not bring as much heat up into these higher latitudes and so we can have a regional cooling over a place like northern Europe."
Related stories from around the North:
Canada: Canada's science minister in North to observe climate change, Radio Canada International
Finland: U.S. pullout from Paris climate pact condemned by Finnish leaders, Yle News
Greenland: Greenland on the horizon, blog by Irene Quaile, Deutsche Welle
Norway: As Arctic weather dramatically changes, world meteorologists take on more joint forecasting, The Independent Barents Observer
Russia: Gas pipelines threatened by methane explosions on Russian tundra, The Independent Barents Observer
Sweden: Sweden's climate minister : U.S. withdrawal from Paris sends a bad signal, Radio Sweden
United States: As sea ice gets scarcer, polar bear attacks on people become more frequent, Alaska Dispatch News