U.S. transportation secretary announces efforts to speed up project development in Alaska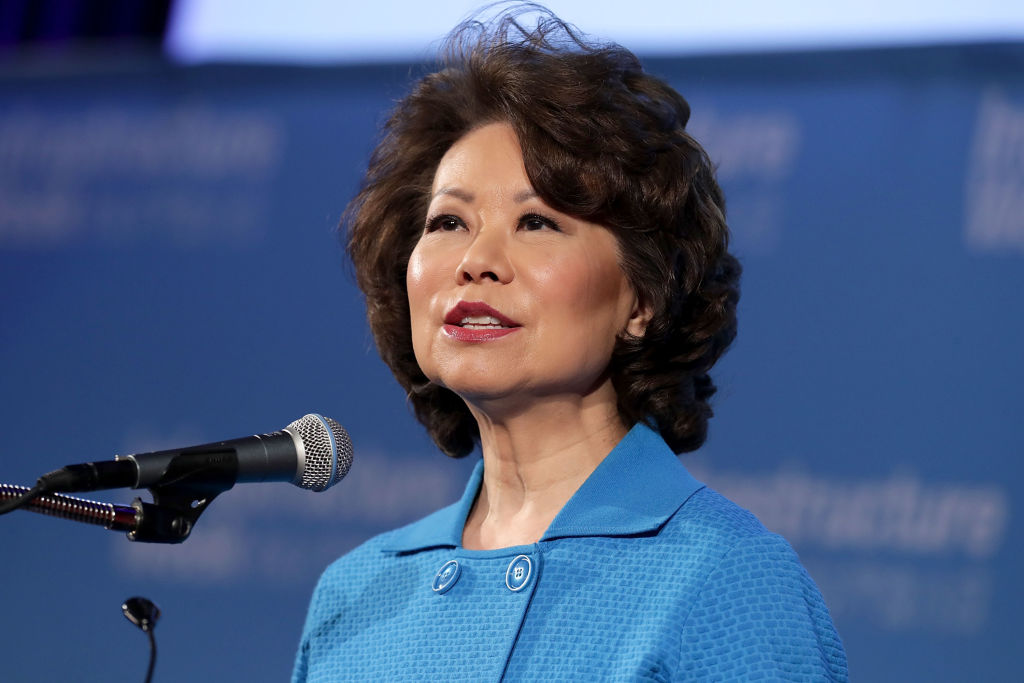 U.S. Transportation Secretary Elaine Chao, visiting Alaska for a two-day trip, announced measures on Thursday to streamline what she called the "burdensome" federal regulatory process in Alaska and to accelerate a long-delayed project to reroute the Sterling Highway near Cooper Landing.
After a day meeting with Alaskans to talk transportation, she announced a new draft agreement between the state and the Federal Highway Administration. She said the agreement would allow the state, not the national government, to conduct environmental reviews for federally assisted highway projects in Alaska.
Chao, speaking with reporters in Anchorage, said she came to Alaska at the invitation of Republican U.S. Sen. Dan Sullivan, a member of the Commerce, Science and Transportation Committee. Her trip also included a visit to the Prudhoe Bay oil fields Wednesday.
Sullivan convened a closed-door transportation summit Thursday that gave Alaskans who work in areas such as aviation, shipping and tribal transportation a chance to share concerns with Chao.
Sterling Highway upgrade
Chao, the wife of Senate Majority Leader Mitch McConnell, R-Kentucky, said she heard repeatedly from Alaskans about the federal government's "onerous" regulatory process. She heard that "inter-agency squabbling" and redundant studies by different agencies are "hampering" Alaska projects.
Chao praised the U.S. Fish and Wildlife Service for telling her agency Thursday that it is willing to initiate a land-exchange with Cook Inlet Region Inc., a regional Alaska Native corporation. That will accelerate efforts to upgrade the Sterling Highway in the Cooper Landing area, she said.
Gov. Bill Walker issued a statement after Chao's announcement, thanking her for supporting a re-examination of alternatives for that bypass from Mile 45 to Mile 60.
The project will reduce congestion, improve safety and relocate a portion of the Sterling Highway away from the Kenai River, Walker said.
Environmental studies on the project began in 1975, he said.
Moving traffic away from the river
The re-examination opens the door for the so-called Juneau Creek Alternative. The alternative is supported by many Alaskans because it moved the road away from the Kenai River to the greatest extent, Walker's statement said.
"It is critical to the safety and health of both Alaska motorists and our world-class salmon fisheries that this complicated project move forward," Walker said.
Also, Chao said a draft memorandum of understanding will be published in the federal register Friday to give the state authority to conduct environmental reviews for federally assisted highway projects under the National Environmental Policy Act.
After a 30-day comment period, the agreement is expected to be signed by state and federal officials by mid-October, she said.
Once in place, it will help slash project development timelines without compromising environmental quality, she said. Only six other states have a similar agreement.
Federal funding
The Federal Highway Administration provides about $500 million annually to support transportation projects in Alaska, said Marc Luiken, commissioner of the state Department of Transportation and Public Facilities. The state provides a 10 percent match to help pay for the projects.
In conducting environmental reviews, the state will still have to meet the same state and federal regulations that ensure protections will be honored, Luiken said. The agreement calls for the Federal Highway Administration to monitor the state's efforts.