Canadian Coast Guard wraps up busy Arctic season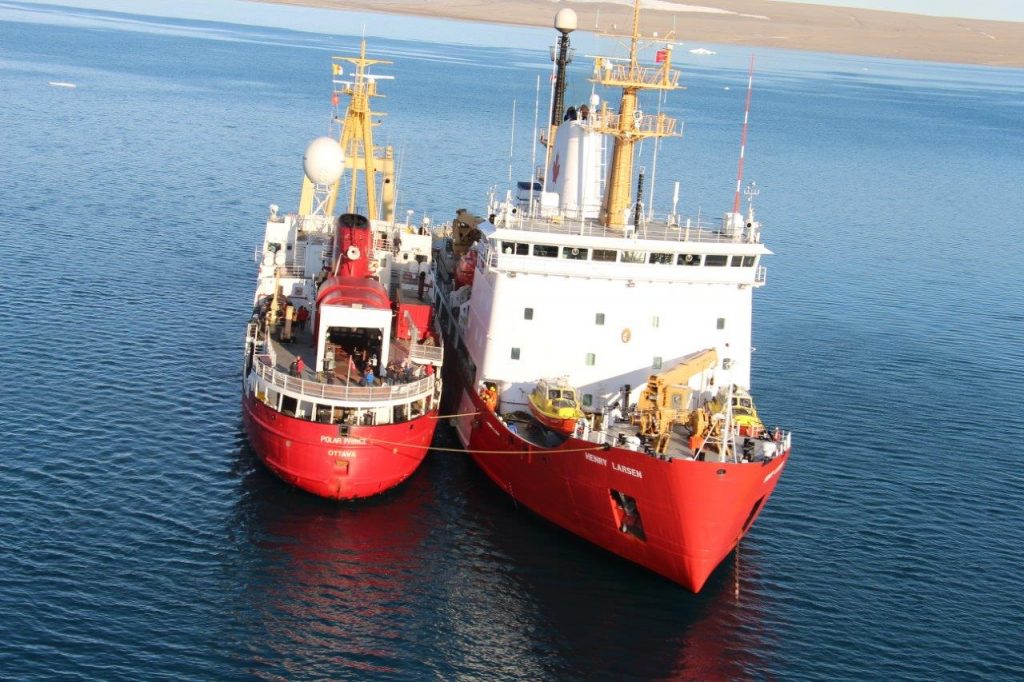 The Canadian Coast Guard is wrapping up its annual Arctic season as vessel traffic in the northern latitudes grinds down to near complete stop with the rapidly building fall ice chocking up maritime transit routes.
It was a busy shipping season in the Canadian Arctic that saw 31 complete and 14 partial transits through the Northwest Passage. In addition, 161 ships made 304 voyages to Arctic waters under Canadian jurisdiction, the so-called Northern Canada Vessel Traffic Services Zone – also referred to as NORDREG.
As of Oct. 17, the Coast Guard provided ice breaking/ice escort assistance to 61 vessels during the 2017 Arctic season, according to official statistics provided to Radio Canada International.
These vessels resupplied 40 remote Arctic communities – 26 in Nunavut and 14 in Nunavik, in northern Quebec – that are accessible only by ship and aircraft.
In addition, Canadian icebreakers served as platforms for extensive scientific research, officials said.
During the 2017 summer shipping season in the Arctic, the Coast Guard did not receive any requests for search and rescue (SAR) assistance from commercial vessels. But the Coast Guard responded to about 30 SAR calls in the Arctic, mostly related to small craft, officials said.
Busy end of season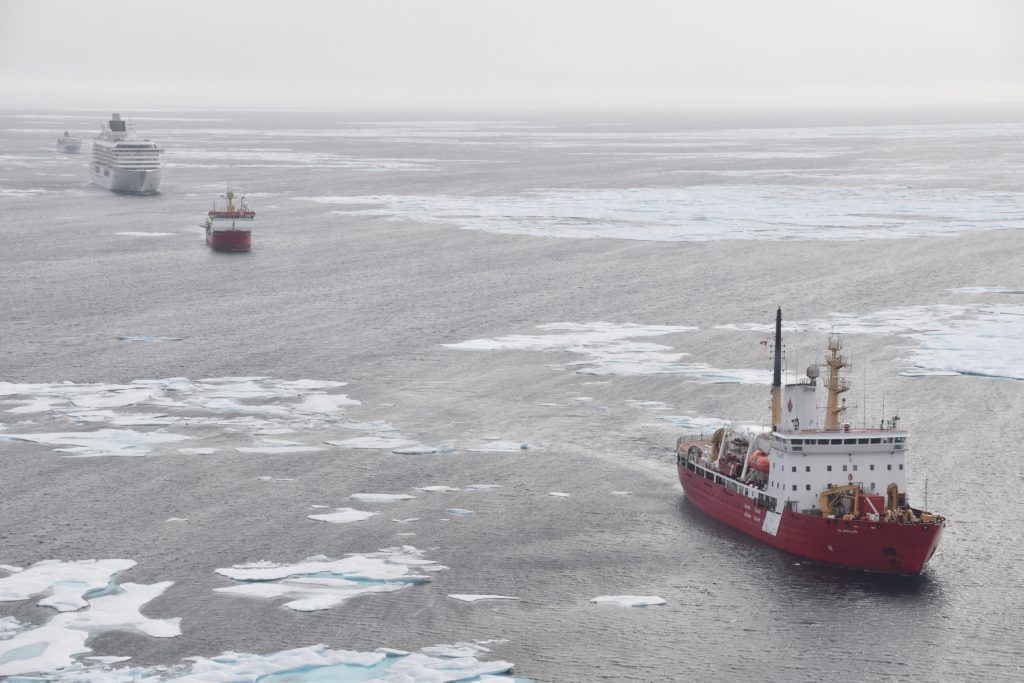 With their work in the Arctic nearly complete, five out of seven Canadian icebreakers are either on their way or have already returned to their homeports to prepare for programs and operations in the south over the winter months, said Stacy Dufour, Superintendent of Icebreaking, Escort and Flood control service for the Central and Arctic Region of the Canadian Coast Guard.
"We have two left, the Louis S. St-Laurent and Henry Larsen that are still operating in the Arctic," Dufour said in a phone interview from Montreal, Quebec. "The last one that is going to leave the Arctic is the Henry Larsen, she will remain in the Arctic for assistance with shipping until mid-November."
The Henry Larsen is going to provide assistance to vessels that are resupplying communities in the southern Arctic, around Hudson Bay and Hudson Strait, Dufour said.
"We're there to assist tankers, general cargo to resupply the communities along the strait and around the bay," Dufour said. "And we expect some tankers to complete the season by early November."
The icebreaker will also be assisting researchers from University of Manitoba in Hudson Bay, he said.
"It should be a busy end of season for us," Dufour said.
The Louis S. St-Laurent is currently accompanying a bulk carrying vessel that is taking a load of iron ore from the giant Baffinland Iron Mines near Milne Inlet in Nunavut, Dufour said.
Redeploying Coast Guard icebreakers to home ports
The Coast Guard will now be closing its operations near Baffinland, he said.
The Marine Communications and Traffic Services Centre (MCTS) in Iqaluit will continue to serve Arctic mariners until the end of December 2017 and will reopen in May 2018, Coast Guard officials said in a statement.
During the four-month seasonal closure, Arctic vessel traffic and NORDREG desk operations are managed by the Marine Communications and Traffic Services Centre in Prescott, in Ontario, officials said.
The Coast Guard icebreakers Pierre Radisson, Des Groseilliers and Amundsen will be based in Quebec City for the winter. The Terry Fox and Louis S. St-Laurent will winter in St. John's, Newfoundland. Canadian Coast Guard Ship (CCGS) Sir Wilfrid Laurier will be the only icebreaker stationed on Canada's Pacific Coast in Victoria, on Vancouver Island.
The Coast Guard is expecting even more busy shipping seasons in coming years as climate change makes the Arctic increasingly accessible to maritime traffic. The Coast Guard is forecasting that it will add 21 additional operational days in the Arctic in coming years to fit the increasingly extended shipping season, officials said.
Arctic Coast Guard Auxiliary unit
The Coast Guard is also working to bolster its SAR programs in the Arctic by expanding Coast Guard Auxiliary units in all coastal Inuit communities and by establishing the first in-shore rescue boat station in the North, Dufour said.
Many search and rescue incidents originate in those small communities where most people still rely on fishing and hunting for food, Dufour said.
"They go on a hunting trip, they are supposed to come back the next day but they never do," Dufour said. "It would be a good asset to have these people with that local knowledge to assist us to solve those search and rescue incidents very-very quickly."
Coast Guard officials have been visiting several Arctic communities over the last two weeks to meet with interested persons regarding the in-shore rescue boat station, Dufour said. Three more information sessions will be held at the following locations:
Kuujjuaq, QC on October 17 at 6:30 p.m. – Katittavik Town Hall
Iqaluit, NU on October 18 at 6:30 p.m. –  Elders' Qammaq
Rankin Inlet, NU on October 23 at  6:30 p.m. –  Siniktarvik Hotel and Conference Centre
Related stories from around the North: