Elder keynote address highlights generational parallels in Alaska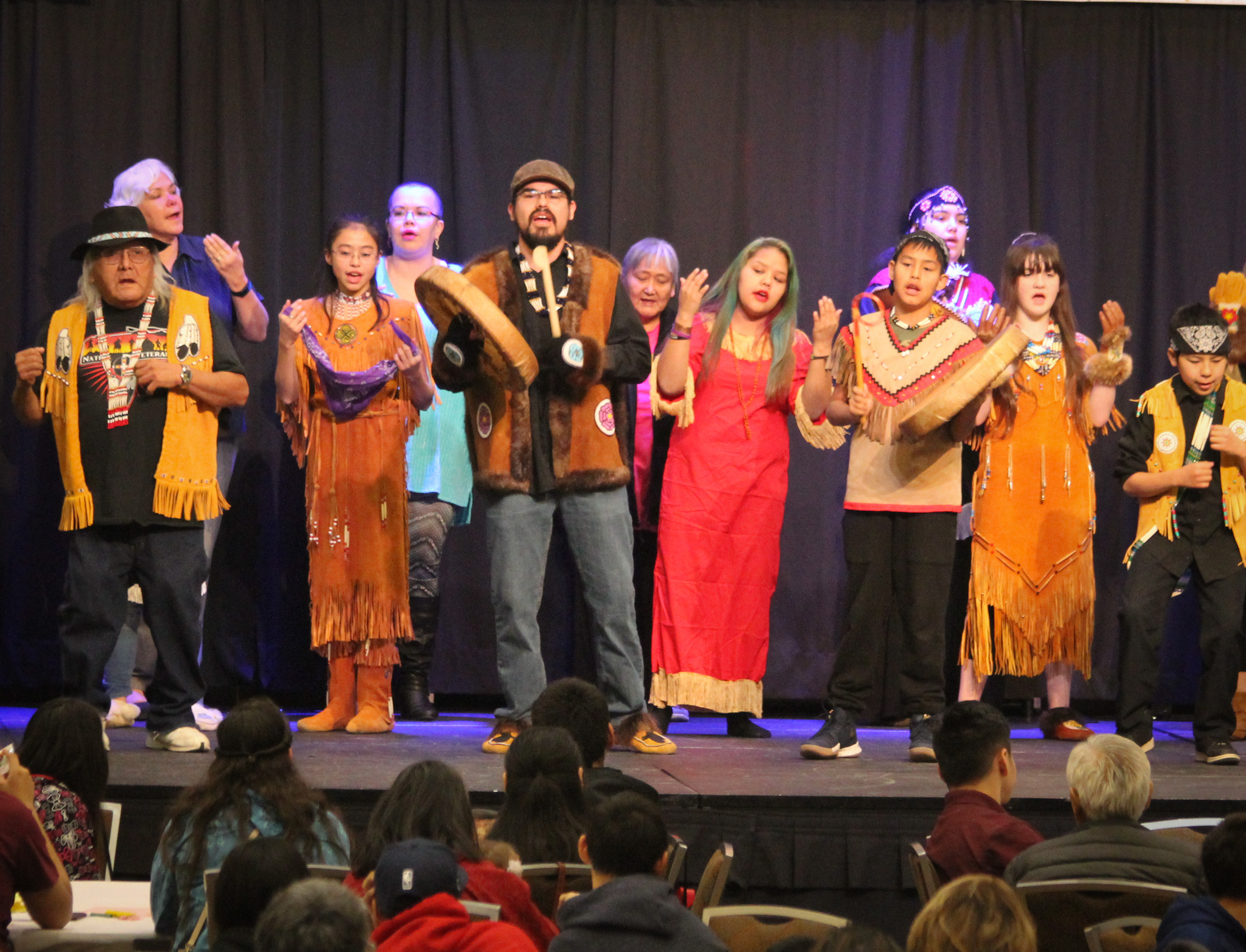 The Acilquq Dance Group performing an invitational song on stage to kick off the second day of this year's Elders and Youth conference in Anchorage. The three-day gathering of more than a thousand people from across Alaska takes place just ahead of the Alaska Federation of Natives convention each fall.
Today heard a keynote address from Clare Swan, a Dena'ina Athabascan elder from the Kenaitze tribe on the Kenai Peninsula. Swan's speech focused on the changes she's seen in her lifetime, including the effects of commercial pressure on subsistence fishing, and population growth in Southcentral Alaska. In spite of immense changes, Swan told the younger generation much of their work remains the same as decades ago.
"While this world is very different, and being a teenager is very different from the time I was, we all walk the same paths," Swan said. "And you guys, wherever you go, wherever you build – there's a Dena'ina word, that's susten. It means 'breaking trail.' You will always be breaking trail for the rest of the people to come."
The conference held break-out sessions focused on regional and language issues, as well as workshops on topics as varied as moose-hid tanning and cedar weaving to suicide prevention and college prep advice.
The audience also heard about a change in security protocols at this year's AFN, which kicks off Thursday. AFN board member Georgianna Lincoln said there will be metal detectors at the entrances of the downtown Dena'ina convention center.
"The board wanted us to have a safe, and productive convention, but one where we know we're in a safe environment," Lincoln said. "And unfortunately with what's happening around the world outside of our native communities we often don't see that."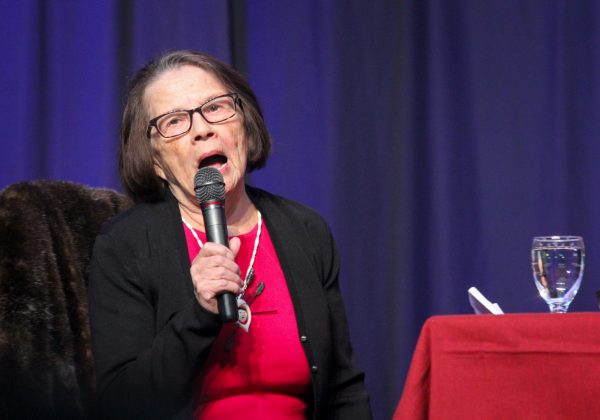 The Ahtna Heritage Dancers performing at the start of Elders and Youth Day 2. (Photo by Zachariah Hughes, Alaska Public Media – Anchorage)
AFN's Director of Communications Jeff Silverman clarified that the decision to install metal detectors was made by the Dena'ina Convention Center. He added the move isn't a response to any specific threat, but was a "sign of the times." Items prohibited will include explosives, alcohol, drug paraphernalia, as well as noise-makers, signs bigger than 14 inches and large objects that could be used for demonstrations. Though there will be exceptions for elders and artists entering the building, attendees are warned there could be long lines on Thursday morning.
Today also saw the launch of a new political group meant to bolster native influence in elections and legislation. The new entity, Native People Action, "aims to ensure traditional values are reflected in tribal, local, municipal, state and federal government." Executive Director Grace Singh said part of the groups focus is mobilizing new voters on issues of public safety, education and aspects of traditional life like subsistence — as well as providing information to voters ahead of the 2018 elections.
The 34th annual Elders and Youth conference wraps up Wednesday.
Related stories from around the North:
Canada: Colonialism still present in Arctic, says premier of Canada's Northwest Territories, Eye on the Arctic
Finland: Barents bishops ask Arctic Council to promote fossil-free future, Yle News
Greenland:  Companies ill-prepared to respect indigenous rights in Arctic, study finds, Blog by Mia Bennett
Iceland:  Norwegians and Icelanders let Alaskans in on the secrets to economic prosperity, Alaska Public Radio Network
Norway: Establishment of Álgu Fund marks new beginning in Arctic Council, indigenous peoples say, The Independent Barents Observer
Russia: More protected lands on Nenets tundra in Arctic Russia, The Independent Barents Observer
Sweden: Treatment of Sami people among Swedish shortcomings : Amnesty International report, Radio Sweden
United States: New bill aims to reverse Obama restrictions on Arctic offshore drilling, Alaska Public Radio Network