Gulf of Alaska quake prompts alerts, evacuations and review of response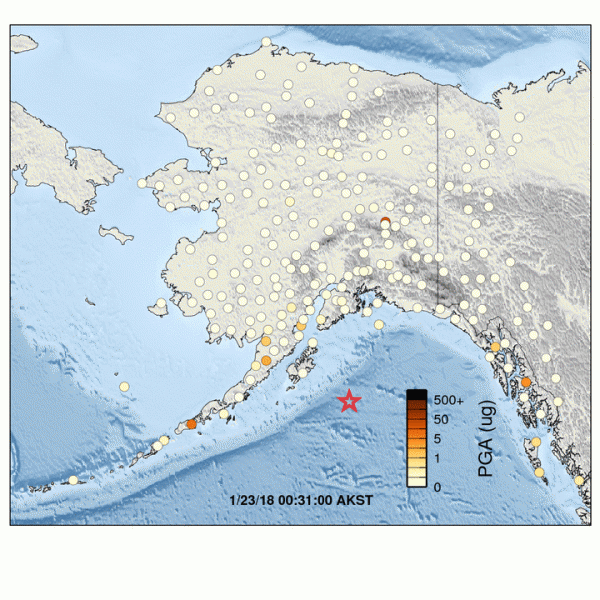 A 7.9 magnitude earthquake in the Gulf of Alaska early Tuesday prompted emergency alerts from the National Tsunami Warning Center in Palmer, as well as state emergency management officials.
Hundreds of Alaskans in coastal communities evacuated their homes in the middle of the night. Residents of Anchorage, where there is little threat of a tsunami, received tsunami warnings on their cell phones anyway.
In the end, even on the coast, the water level shifted less than a foot.
Still, nobody knew that when the earthquake struck.
"Am I in danger?"
"It felt like the entire tower up on the 15th floor was swaying in a big circle," Lauren Bell said. Bell is visiting Anchorage for a symposium and staying at the Hotel Captain Cook. "I felt like you kind of feel when you're out on the water on a small boat and the waves are rolling by and you're kind of trying to keep your balance. The shades were clacking, clacking, clacking."
Originally from Homer, Bell is a marine ecologist and now lives in Sitka. She knows about the danger of tsunamis. So, like many people in Anchorage who got the alert on her cell phone warning of a tsunami, she wondered: Am I in danger? What about my loved ones on the coast?
In Anchorage, next to relatively shallow Cook Inlet, not so much. But in places like Sitka and Kodiak, those cell phone alerts and the broader Emergency Alert System caused hundreds of people to leave their homes and head for higher ground as tsunami warning sirens blared.
It took a couple hours to learn they were not in danger and that the waves caused by the earthquake peaked at less that a foot.
Peggy Johnson, a watch stander at the National Tsunami Warning Center, said the tsunami was small because of the type of earthquake that occurred.
"Because there was no vertical motion, or very minimal vertical motion, there was no significant tsunami generated," Johnson said.
Better safe than sorry
The Warning Center had seismic data about the quake's location and size within four minutes, and a computer model showed what areas were at risk, Johnson said. The Warning Center has the ability to trigger various alerts, including the cell phone alerts, which is what happened soon after the earthquake, she said.
"When it's this large we have to send out a message that, in this case, for the size of the event and the location, it involved a warning and advisory for basically all the coastline of Alaska," Johnson said.
Johnson said she has some concerns that Alaskans might not take the next tsunami warning seriously, but added that the Warning Center prefers to take a cautious approach.
"We'd rather evacuate more people when we didn't really have to but they're safe, rather than to do the opposite of being conservative and not evacuate when we should have," Johnson said.
Evacuating in advance
Even with advanced computer modeling of tsunamis, state Department of Homeland Security and Emergency Management spokesperson Jeremy Zidek said it is difficult to know for sure how large the tsunami waves might be. And with larger earthquakes, the risk is too great to delay warnings until all the information comes in, he said.
"We can't wait until those first waves start to arrive and we know that it's a severe tsunami wave to evacuate people," Zidek said. "We have to evacuate them in advance."
Alerts about a tsunami pinged Anchorage cell phones because the zones for such alerts overlap, and the state errs on the side of alerting more people rather than fewer, Zidek said.
An opportunity to review the alert system
State emergency managers are still putting together an after-action review by talking to the people they were working with in the affected communities, Zidek said. After catching up on sleep, that was happening through the day Tuesday, and it will evolve into a more comprehensive look at how their alert system worked and how communities received the notifications, he said.
"Initially, when we look at it, they did take action, they followed their evacuation plans, and it looks like people heeded those warnings. That is how the system is supposed to work, and we're glad that that happened," Zidek said.
Whether there's an official warning or not, emergency management officials say that if an earthquake lasts for 30 seconds or more, or if it's so strong it's difficult to stand, people in coastal communities should evacuate, heading inland and to higher ground as quickly as possible.
Related stories from around the the North:
Canada: Canadian military trains to respond to Arctic earthquake, Radio Canada International
Greenland:  Greenland earthquake and tsunami – hazards of melting ice?, Blog by Deutsche Welle's Iceblogger
Sweden: Mining company LKAB won't pay for earthquake damage to homes in Arctic Sweden, Radio Sweden
United States: Tsunami warnings cancelled for Alaska and Canada, Alaska Public Radio Network