Lack of services in Arctic is killing Inuit, witnesses tell inquiry into violence against Indigenous women in Canada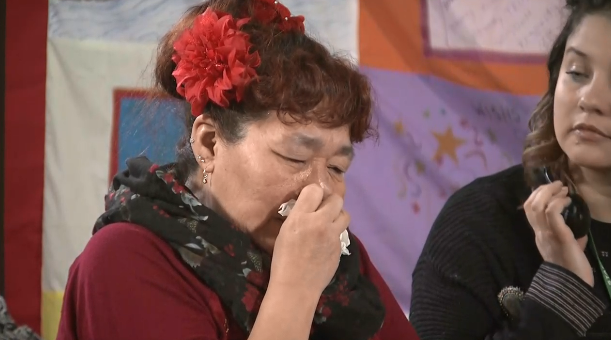 The lack of mental health and support services in remote Arctic communities is killing Inuit woman say witnesses at Canada's National Inquiry into Missing and Murdered Indigenous Women and Girls.
Sophie Nashook, a witness from the community of Pond Inlet in Canada's eastern Arctic territory of Nunavut, began Wednesday morning's session remembering her sister-in-law Della Ootoova who was found dead in her Iqaluit apartment 2008 under suspicious circumstances. 
A coroner's report noted there were blunt force injuries all over Ootoova's body.  Her husband Amos Ootoova was initially charged with second-degree murder, but the charges were later stayed.
Nasook decried the lack of resources available to women in Nunavut facing domestic abuse.
"There is nowhere to go, no shelter, no one to talk to, " Nashook said in Inuktitut in testimony that was livestreamed across the country.
"Why do men hurt and beat women?," she said through tears. "I thought the point of our unions was caring."
Lack of community counselling a hidden crisis
Few communities in Arctic Canada have permanent mental health workers or community-based programs providing ongoing care and support.
Instead, most communities have counsellors and social workers flown up from southern Canada to work on short, rotating contracts. Conversely, people are sometimes flown south for counselling in one of Canada's large urban centres.
Many Inuit say the vast majority of mental health workers from the South are well intentioned, but that they don't speak Inuktitut, often have only limited knowledge of Inuit culture, and that their limited time in the communities means there's no continuity of care.
Nashook  said the lack of ongoing community-based counselling in the Arctic lets down everyone from violence victims to family members.
"Twice I have walked out of the mental health services offices, struggling," she said.
"When you go to other cultures and talk and they say 'You'll feel better after six weeks,' (well) I have been angry about these sorts of conversations.
"Why did you just say that? I will have no one to continue the aftercare with."
Child welfare services need massive overhaul say witnesses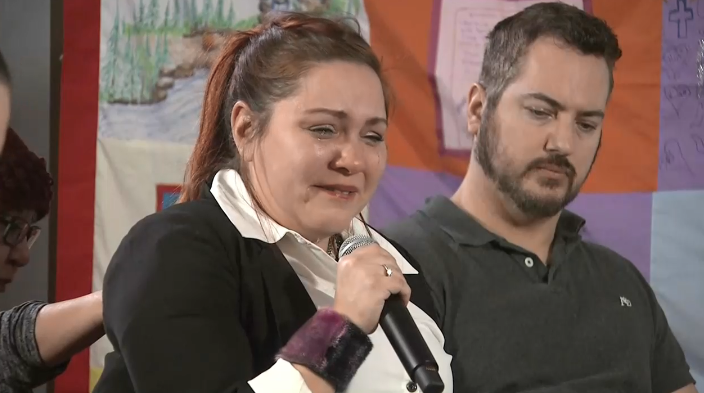 Wednesday's testimony built on many of the themes the inquiry heard yesterday, where witness after witness spoke of how the lack of services and intervention in childhood sexual abuse leads many Inuit women into lives of cascading violence in adolescence and adulthood.
Nikki Komaksiutiksak, once a famous throat singer, who now works in southern Canada, testified on Tuesday afternoon how childhood neglect and abuse led her cousin Jessica Michaels into a spiral of self-destruction that culminated in an early death. Although it was classified as a suicide,  Komaksiutiksak believes violence was a factor.
Komaksiutiksak also questioned how different her and her cousin's life might have been had they been able to stay in Nunavut instead of  being sent into foster care and group homes in southern Canada, saying she struggles with the after-effects to this day.
"You don't know who you are, who your family is," she said.
Earlier on Tuesday, witness Laura MacKenzie said the lack of  intervention in child abuse cases set up Inuit girls for a lifetime of violence and victimization, and pleaded with those at the inquiry and watching the live feed to break the silence around child sexual abuse in Nunavut.
Testimony continues this afternoon.
The inquiry's hearings in Rankin Inlet, a community of approximately 2800 people in Canada's eastern Arctic territory of Nunavut, run until February 22 and are being livestreamed on the inquiry's Facebook page and on CBC North.
Write to Eilís Quinn at eilis.quinn(at)cbc.ca 
Related stories from around the North:
Canada: Inquiry into violence against Indigenous women hears first day of testimony in Canadian Arctic, Eye on the Arctic
Denmark: Nordics report high abuse levels against women, Radio Sweden
Sweden:  Reports of violent crime increasing in Sweden's North, Radio Sweden
United States: Survey finds violence against women widespread in Western Alaska region, Alaska Dispatch News